Barzal on Bear's skills camp: If I could spend a month there, I would
For the Indigenous youth, the hockey camp in Ochapowace First Nation affords them the chance to dream big. For Mathew Barzal, it's a chance to make lifelong connections.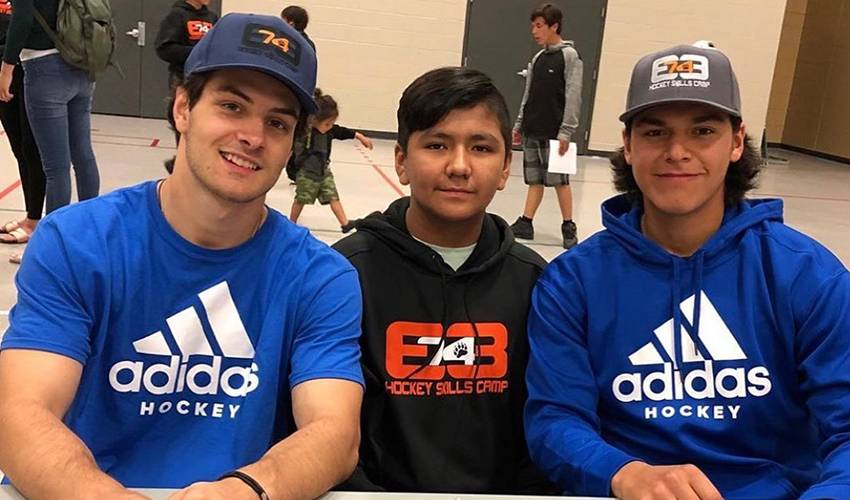 For the Indigenous youth, the hockey camp in Ochapowace First Nation affords them the chance to dream big. For Mathew Barzal, it's a chance to make lifelong connections.
Every summer in a serene Saskatchewan community, over 100 kids from Western Canada and others from Ontario, strap on their skates and head out onto the Chief Denton George Memorial Multiplex, where they're greeted by hometown hero Ethan Bear and instructors comprised of his former teammates from the 2017 Western Hockey League (WHL) champion Seattle Thunderbirds.

Barzal, the New York Islanders young superstar and 2018 NHL Rookie of the Year, is happy to lend his support.
"Ethan was one of my best friends for four years in junior," Barzal told NHLPA.com of the 124th overall selection of the Edmonton Oilers in 2015. "He's like a brother to me. Right off the bat, he's a guy I respect so much and if he needs a favour, there is no hesitation from me. All my former teammates come out for this – we won a championship together – so we'll always have that bond."
Bear, who made his NHL debut March 1, 2018, is grateful to have Barzal and their Thunderbirds' teammates on board.
He's hardly surprised by it, but also proud to share his own journey with his fellow players.
"It means a lot," said the 22-year-old blueliner. "But at the same time, I've come to expect that. For me, to step out of my comfort zone and leave the reservation, it was a big deal. It was a change I had to make. So when I bring the guys out, it's really important to show them who we are and where we come from. They all get a glimpse of it and they leave in awe of the place we're from."
Barzal, selected 16th overall by the Islanders in 2015, has been to all three of Bear's camps. The British Columbia native is grateful for what it represents, from giving young players the chance to experience the joy of playing hockey, to developing an appreciation for the community and its people.
The centre views it as an ideal spot to forget about the NHL game and put aside any little life's worries, even if it's for seven days.
"The big thing is the kids," said Barzal. "The camp's in Canada, obviously, but you feel as though you are in a different part of the world when you're there – just the things you see, how secluded it really is, the way of living, pace of life, and traditions. For a week in the summer, it's fun to go out there, take a deep breath, put the phone away, and just enjoy the time with some of your best buddies and some great kids. It's like living a different life for a week. It's fun to be a part of."
While certain kids have some familiarity with the game, others are relatively new to it. It's one of many things that give Barzal pause for thought.
"Some of these kids, they may have been out on ice three or four times before. In a way, we are teaching them how to play hockey. If we can get those kids out of the house and onto the ice, have them enjoy it for a week, it's great to see that. These kids love being out there and we love seeing that reaction."
So does Bear, a Western Hockey League (West) First Team All-Star selection in 2016 and 2017, and 2017 Bill Hunter Trophy recipient as the league's top defenceman.
"The guys show the kids they are just regular people," said Bear. "They're working out, they're teaching, they're hanging out, talking to them face-to-face – it's a really cool experience for the guys and the kids too."
While Barzal and the kids at the camp have little in common, a shared love of hockey is the bond that connects them.
It's something he thinks of every time he laces up his skates during his days in Ochapowace First Nation.
"Some kids have been there three years in a row, so you get to know them. You can tell that some of these kids are very underprivileged, and they haven't grown up in situations like a lot of us have, so you want them to enjoy the time and take something away from it. It shows you a little different meaning of life. It an eye-opening thing and something that you take away with you every year."
Barzal can only think of one negative, which is actually a positive.
If the six-foot, 187-pounder had his way, his stay at the camp would be much longer.
"It's the most relaxing week I have of the off-season… sitting around the campfire, going out on the pontoon boat. The pace is very slow and very nice. I live in Vancouver and New York, so the pace in those cities is much faster. If I could spend a month there, I would."
That's why Barzal makes sure to enjoy every minute he can.

He didn't have to wait long this year to add another memorable moment to his long list.
"There are two little girls that over the past three years I've gotten to know. I hadn't seen them in over a year, and when I got to see them this time, they had big smiles and came over and gave me a big hug. The whole week, they were just following me around. They are so happy to spend time with us. It's pretty cool."
It's also had a profound impact on Barzal.
"I'll never forget this. To be part of it… it's so different and unique. I truly love going out there."
The man behind the camp is honoured to share in the experience.
"To take time out of their summers and see where we live, it's cool to do that with them," said Bear. "I'm proud to be able to give back, getting the chance to encourage these kids in every way, and getting them to try new things. I don't want them to be afraid or discouraged, to know that it's okay to fail and to try something new. In life, sometimes you're afraid to take an extra step, but if you take that step, you might find something you love."
Bear's proud to take that walk with them.
"When people look right at you, they can tell if you are genuine. I grew up with every person in my community caring about me because it's a big family. I try to take time and give the best advice possible to these kids. I'm truthful… and I care about every one of them."