Player of the Week | Nathan MacKinnon
Nathan MacKinnon led the league with seven points, alongside Colorado Avalanche captain Gabriel Landeskog, while building his season-opening point streak to eight games.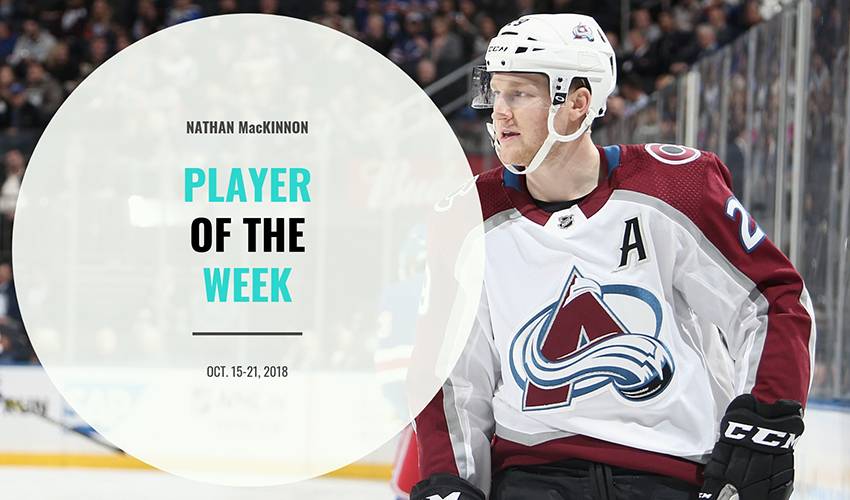 Nathan MacKinnon
OCT. 15-21, 2018
2-5

–

7 OVER 3

GP

EIGHT-GAME SEASON-OPENING POINT STREAK
8 GOALS (T-2), 14 POINTS (T-2) IN LEAGUE SCORING
---
Nathan MacKinnon took another step towards face of the franchise – for both the Colorado Avalanche and an iconic Canadian coffee chain.
MacKinnon (8-6–14) extended his opening-day point streak to eight games, all while breaking a franchise record to earn for consecutive goals to start the season. The centre's eight goals and 14 points are also tied for second in overall league scoring.
All the while, the spotlight was on No. 29 as part of his ongoing involvement with Tim Hortons in commercial spots for the coffee chain. While the commercials and ensuing blooper reels have been huge hits, nothing has been more impactful than a special moment he shared with fellow Nova Scotian, Sidney Crosby, and the Kenya Lions.

LOOKING BACK

OCT. 16
1-0

–

1, 3 SOG, 22:33 TOI
---
COL 2
NYR 3, F/SO
While the Avs didn't skate away from New York with a win, MacKinnon started his week off much like every other game thus far in the season – by scoring a goal. The alternate captain made it a tie game with a marker late in the second period, helping his team earn a point in a shootout loss to the Rangers Tuesday night. MacKinnon's goal also broke a franchise record, being scored in his sixth straight games to start the season to best Mats Sundin (of what was then the Quebec Noriques) who scored in five straight outings in 1992-93.

"It's cool to have a record. Beating a guy like Sundin is pretty special," MacKinnon said. "With this year, expectations were different for me coming in. Last year, no one really
expected much, probably another 50- or 60-point year. I just wanted to have a good start and get the ball rolling in the right direction."

The goal also extended teammate Mikko Rantanen's assist-streak to six games.

OCT. 18
0-3

–

3, 5 SOG, 21:42 TOI
---
COL 5
NJD 3
The second of a four-game road trip took the Avalanche to New Jersey, where team captain Gabriel Landeskog would help hand the Devils their first loss of the season while notching his third NHL career hat trick. Though he didn't light the lamp, MacKinnon picked up a trio of assists to carry his point streak into a seventh straight game while also leading the game's forwards with 21:42 of ice time.
OCT. 20
1-2

–

3, 5 SOG, 20:58 TOI
---
COL 3
CAR 1
MacKinnon brought his point streak to eight games with an assist on Landeskog's opening goal of the night at PNC Arena. The 2017-18 Ted Lindsay Award finalist assisted on Landeskog's second goal of the night before putting the game away on a picture-perfect release over the glove of Curtis McElhinney with just over three minutes left.
LOOKING AHEAD
Colorado heads to Philadelphia Monday for a matchup against the Flyers to complete their road trip before heading home to take on the Tampa Bay Lightning Wednesday night. MacKinnon eyes extending his hot streak to nine games alongside Rantanen, as the pair could become the sixth and seventh players for the club to own nine-game point streaks to open a season.