Nylander highly motivated playing with and against teammates
William Nylander had one mission in mind when it came to Smashfest VII: get the better of anyone who wears a blue and white hockey sweater.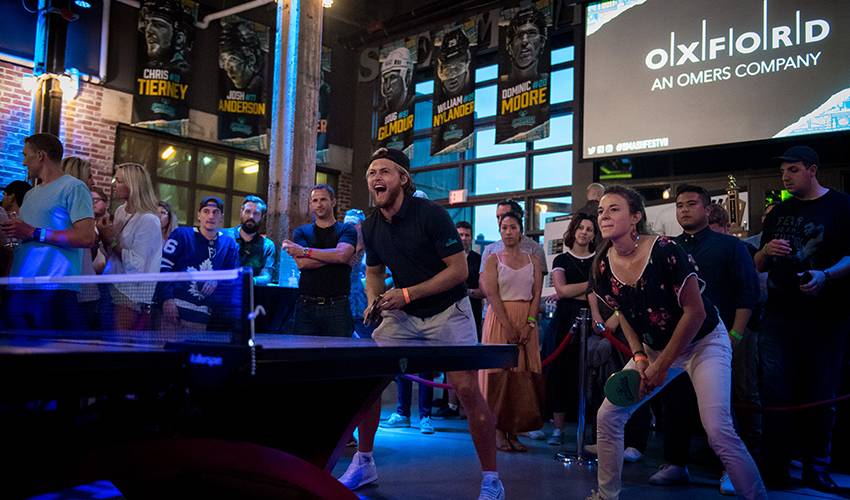 William Nylander had one mission in mind when it came to a recent charity event: get the better of anyone who wears a blue and white hockey sweater.
Flying in all the way from Sweden for the recent Smashfest ping-pong event that took place in Toronto, Nylander, there to support former Maple Leafs teammate and current free agent Dominic Moore, had one specific goal as to what he wanted to accomplish that evening.
He hadn't made the trek from Europe to walk away empty-handed, did he?
"Of course not," Nylander said with a grin. "There are some pretty good opponents here, so we'll have to see. But, it's more about my teammates than anyone else. As long as I can do better than them, I'll be very happy."
Good-natured ribbing aside, the 22-year-old was able to achieve what he had set out to do.
While Anaheim Ducks forward Patrick Eaves was busy serving up his fourth straight Smashfest title, Nylander, participating in his first Smashfest event, celebrated a crown of his own.
Taken by Toronto with the No. 8 pick in the 2014 NHL Draft, Nylander took top honours in the Pro-Am tournament, with his team getting the best of Malcolm Subban's of the Vegas Golden Knights in what was a close match.
Nylander, son of longtime NHL forward Michael Nylander, is hoping his winning ways carry on once the puck drops on the 2018-19 campaign.
"I got to travel a little bit, but I've mostly been hanging out in Sweden with some friends," the centre started. "I've also come to Toronto to spend some time over the summer, which is amazing. I'm just really looking forward to the new season and hopefully it can be a big year for us."
While he's spent a fair bit of time on the links during the off-season, Nylander, whose brother Alexander was selected 8th overall by the Buffalo Sabres in the 2016 NHL Draft, would love to put away his clubs until later on in 2019.
"The golf game is not bad," he said. "We'll see what happens, but I'm pretty happy with it these days."
With the Maple Leafs coming off a 105-point regular season that was followed by a disappointing first-round playoff exit against Boston, it's a highly motivated group – one that now includes offensive star John Tavares – that will set their sights on much loftier goals.
"I'm super excited," said Nylander, who recorded 20 goals and 61 points in 2017-18 after netting 22 goals and 39 helpers in his first full NHL campaign. "We have a great team and it's going to be lots of fun. We're built pretty well to go pretty far. And it's always nice to come back and see everyone before it starts up again. Everyone is really looking forward to the season."
Including the man who already has one trophy to his name.