From WHL to NHL, Engelland has always backed teammates
While there wasn't much flash to Deryk Engelland's game, it was simplicity that made him a success during his Moose Jaw days.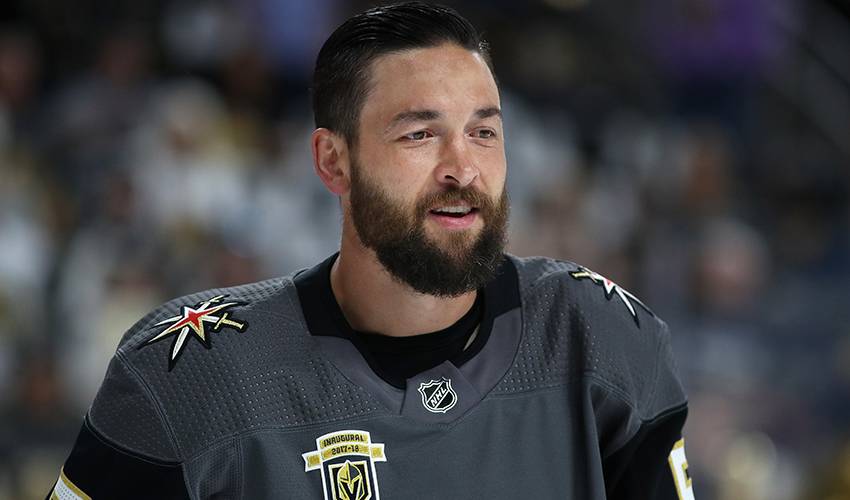 As Deryk Engelland delivered an emotional speech in front of 18,191 fans before the Vegas Golden Knights first-ever NHL home game, Curtis Hunt sat in front of his television in Saskatchewan, marveling at the player he coached over 15 years ago.
Although they haven't kept in touch since the 2002-03 Western Hockey League (WHL) season, the one in which Hunt was the Moose Jaw bench boss and Engelland the Warriors tough-as-nails defenceman, there was a "fatherly-type pride" when the veteran blueliner and Vegas resident, microphone in hand, addressed the crowd in the wake of the mass shooting that took place on the Las Vegas Strip on October 1, 2017.
"When I heard that speech, it was very moving and Deryk was excellent," recalled Hunt. "It showed the leader he was."
Hunt, whose first full season coaching Moose Jaw came in 2002-03, was immediately impressed by the rugged blueliner.
"The thing about Deryk on the ice was that he was just a good, honest, stay-at-home defenceman," he recollected. "There were no problems off the ice. The thing that stands out for me is that he was a team guy. The Western League is a tough league and back then, it was probably more so than ever. And Derek took care of his teammates. But it was more than just the physical part on the ice."
Off the ice, the quiet blueliner also had his teammates' backs.
"He was a guy that worked hard, stayed to himself, but did the right things," recalled Hunt, who was named the 10th general manager of the WHL's Prince Albert Raiders in 2015, the team he won the Memorial Cup with 30 year earlier.
In 2002-03, Engelland's final season with the Warriors, the strapping defenceman played a big role in helping the team make it to the second round of the playoffs.
"He was just a tremendous team guy in every way," said Hunt. "Deryk always gave everything he had and he could rally the guys in the big games. We became a team because of players like Deryk. He cared about the team. It was never about him. It was about the group. His leadership, maturity and taking players under their wing was so important for us."
While there wasn't much flash to Engelland's game, it was simplicity that made him a success during his Moose Jaw days.
"Efficiency," stated Hunt. "In Prince Albert, we talk about our 'D' and how to teach them to play the easy game. What I mean by that is whether it's a two-foot pass or a 10-foot pass, make the efficient, simple play and protect the middle of the ice. There wasn't anything flashy about Deryk's game. It was just efficient. He was the guy going on the ice when the other team's top-line players are making their way on. Nothing in particular stands out about his game. And maybe that's the best thing I could say about him. There are no bad memories of Deryk. It was just always about him doing whatever was best for the team. He came to play every night."
It was one memory, among many, that came to Hunt's mind the night Engelland, who has also played with Pittsburgh and Calgary during his time in the NHL, spoke to the nearly 19,000 people packed into T-Mobile Arena in Las Vegas last October.
"You're proud of him in an almost fatherly way," said Hunt, of the 36-year-old alternate captain and veteran of 548 big-league games. "I haven't talked to Deryk since he left – we just run in different circles – but I couldn't be happier for him. It's like those kids that come through your program and then you end up seeing them in some way. You're so happy for them, pursuing their own dreams. For him, he's obviously had a tremendous career in the National Hockey League."
And still doing the things that put a smile on his former coach's face.