A personal-best season continues to get better for Chandler Stephenson
Stephenson finished the regular season with a career-best 65 points.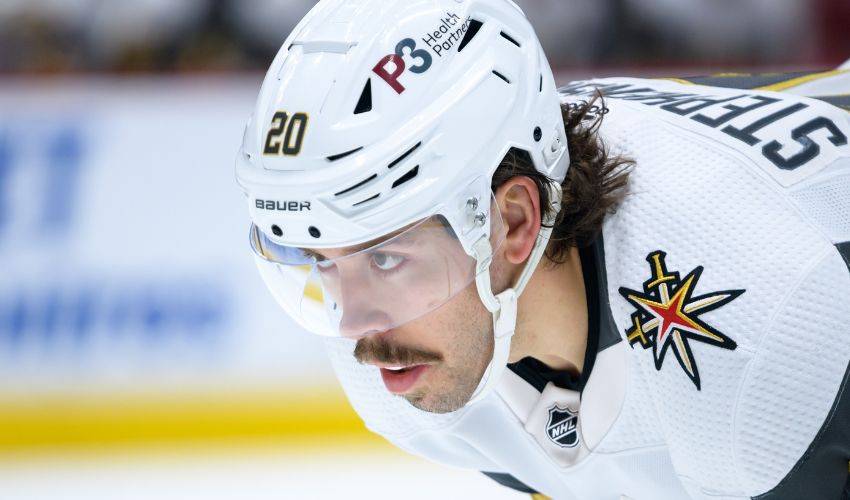 Feature photo: Getty Images
---
Chandler Stephenson hit the hockey jackpot when he joined the Vegas Golden Knights just over four years ago.
It was a deal that ended up being a game changer for the native of Saskatoon, Saskatchewan, a scenery switch that eventually would put him front and centre on his new team.
Having defeated the Golden Knights the previous season in the Stanley Cup Final as a member of the Washington Capitals, Stephenson was traded to the Golden Knights in December 2019. The forward made a strong impression early, earning 22 points in 41 regular-season games in 2019-20.
It only got better from there.
Fast-forward to the current season, and Stephenson finished with a career-best 65 points, good enough for second on the Golden Knights. His 49 assists were also a personal-best number, as was his 58.09 win percentage in the faceoff circle.
"The personal highlight would be getting the opportunity I've got since joining the team," he told NHLPA.com. "I have played with some of the best players in the league in Mark Stone, Max Pacioretty and Phil Kessel. I have been able to be myself and find my game and get my confidence back."
And then some.
Stephenson produced a career-best seven-game stretch this season from December 11 to 23 (3 goals, 11 assists). His 20 points in the month of December tied him for sixth in the NHL.
In early February, he replaced an injured Matty Beniers (Seattle Kraken) at the NHL All-Star Game in Florida, and competed in the Fastest Skater competition, finishing third with a time of 14.197 seconds. His on-ice ability does not go unnoticed by his teammates.
"The speed and skill he brings, he's a pretty dynamic weapon," Golden Knights captain Mark Stone said of linemate Stephenson in an NHL Network interview.
Golden Knights head coach Bruce Cassidy is also quick to agree.
"He's got such deceptive speed," Cassidy said in a post-game interview on December 14 after Stephenson posted a four-assist performance. "You can pre-scout it, say 'he can really go,' and all of sudden until you see him fly by you with an effortless stride, I don't think you truly appreciate it."
Stephenson's focus remains on honing those skills to bring a Stanley Cup to Vegas.
The 28-year-old's most recent shot at the Cup came in 2021 when the Golden Knights were eliminated in the Western Conference Final.
If team chemistry and cohesiveness count for anything, Stephenson likes what he sees in this year's edition of the Golden Knights.
"The team is really close this year. All the years, we've had awesome groups, but Phil [Kessel] was a big addition as a player. Not only that, but how he is off the ice and in the room as a guy. Everyone gets along and enjoys being around one another every day."
Stephenson has high praise for those who pack the stands at T-Mobile Arena for every home game.
He is eager to help deliver the city its first NHL crown.
"The fans are the best in the league. They support us all season long and have since day one when Vegas came into the league. It doesn't matter what day of the week it is, it's sold out and they are there to cheer us on. Come playoff time, it's the exact same thing but it's even louder and better which I didn't think was possible. They give us so much energy and we feed off them."
Stephenson has carried his standout season into the Golden Knights First Round series against the Winnipeg Jets, putting up six points in four games. Vegas currently leads the series 3-1.