My Top 5 | Rookie Goal-scorers
These young guns have taken their best shot, literally, in 2017-18. While they might be short on NHL experience, this handful (plus one) of rookies is seriously big on talent.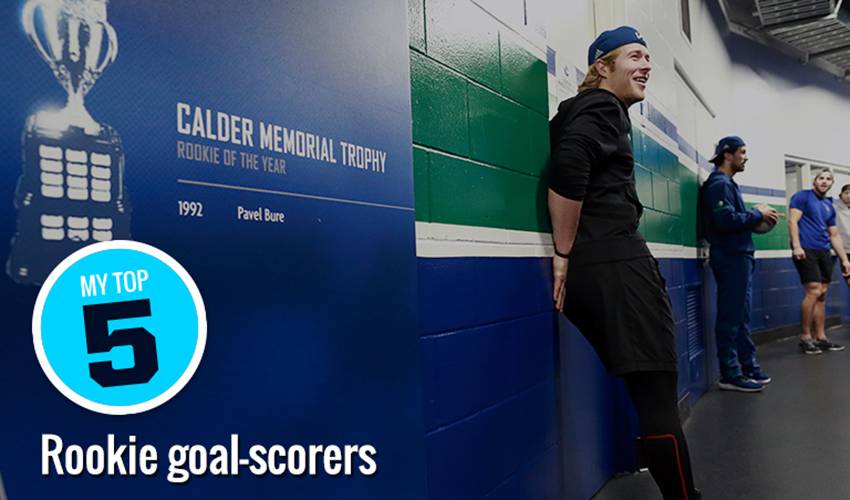 These young guns have taken their best shot, literally, in 2017-18. While they might be short on NHL experience, this heaping handful of rookies is seriously big on talent.
Featuring a pair of ties – for third spot and fifth – these rising stars have risen to the challenge and delivered for their respective teams.
Which rookie will net the most goals this season? Here's a look at which Players are leading the way so far.
Top Rookie Goal-scorers of 2017-18
---
1. Brock Boeser

–

20
Selected 23rd overall by the Vancouver Canucks in 2015, the Minnesota native has been the toast of the Canadian west coast, racking up 20 goals in 2017-18. The 20-year-old right-winger has six power-play tallies and four game-winning markers.
2. Clayton Keller

–

13
The seventh overall selection of the Arizona Coyotes in 2016, Keller has been a lamp-lighting machine for the Western Conference squad. In 38 games, the Missouri native has three power-play goals and one game-winning tally, while averaging 18:50 of ice time.
T-3. Mathew Barzal

–

12
What's a nice way to head into the Christmas break? For Barzal, who patrols centre for the New York Islanders, it was four goals in two games, including a hat trick (on four shots) against Winnipeg on December 23.
T-3. Alex DeBrincat

–

12
The 5-foot-7, 165-pounder has been a heavyweight contributor to the Chicago Blackhawks in 2017-18. Hailing from Michigan, DeBrincat, the 39th overall pick in 2016, has notched two power-play goals for the Original Six club.
T-4. Yanni Gourde

–

11
At 26, Gourde is finally getting a shot at full-time NHL duty – and he's certainly making the most of it. After playing in 298 games in the American Hockey League, the pride of Saint-Narcisse, Quebec is bringing the thunder to the Tampa Bay Lighting, including three power-play goals, one short-handed marker and one game-winning tally.
T-4. Adrian Kempe

–

11
The 29th overall pick of the Los Angeles Kings in 2014, Kempe has already contributed three game-winning goals in 2017-18. On October 18, the native of Sweden registered his first NHL hat trick in a 5-1 triumph over the Montreal Canadiens.
T-5. Kyle Connor

–

10
The 21-year-old winger, drafted in the first round by Winnipeg in 2015, has posted 10 goals as part of his 20-point campaign so far for the Jets. He scored a pair for his first multi-goal NHL career game against the Vegas Golden Knights Dec. 1.
T-5. Jakub Vrana

–

10
Vrana was selected in 2014 by the Washington Capitals in the first round. The Czech forward scored in back-to-back games earlier this month against the Colorado Avalanche and Boston Bruins, respectively, Dec. 12 and 14, and has also picked up two game-winning goals as part of 16 points over the course of the 2017-18 season so far.
T-5. Jesper Bratt

–

10
Bratt is part of a New Jersey Devils squad that's on a roll right now, having won their last four consecutive games. The 19-year-old winger was plucked in the sixth round in 2016 by his current club and has five multi-point games as part of 23 points so far in his 2017-18 campaign.