Da Beauty League players bringing their best home
There's something about Da Beauty League that brings out the best in NHL players, on and off the ice.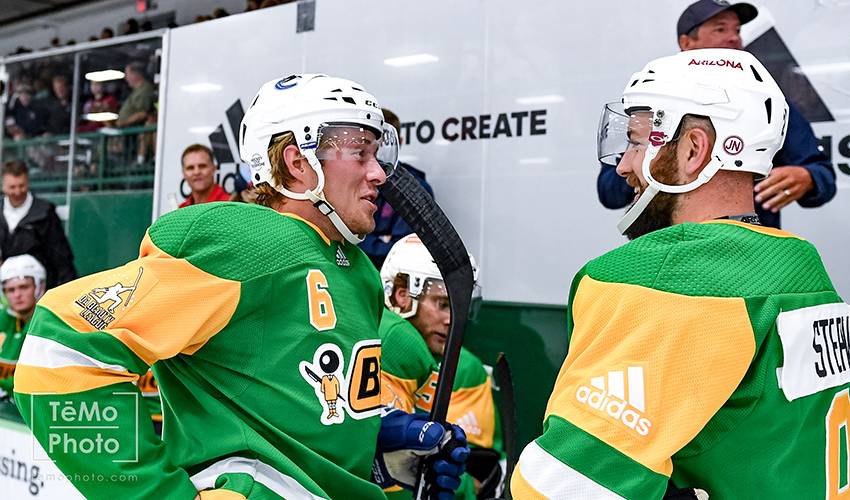 There's something about Da Beauty League (DBL) that brings out the best in NHL players, on and off the ice.
Created in 2015, the Minnesota-based summer hockey tournament annually attracts several big NHL names – along with top NCAA and American Hockey League players – who play in a 4-on-4 format (plus goalies) in two 23-minute halves.
Held at Braemar Arena, this year's edition of DBL features notable big leaguers like Brock Boeser, Nick Bjugstad, James van Riemsdyk, Dustin Byfuglien, Jake Guentzel, Ryan McDonagh and Tyler Pitlick.
Mark Parrish, Brian Lawton, Keith Ballard, Erik Rasmussen, Chris McAlpine and Ben Clymer are the coaches.
Playoff action begins with the semi-finals on August 20th at 6pm and 7:15pm. The championship is slated for August 22nd at 7pm.
"When there are refs, a scoreboard, fans and other NHL players on the ice you naturally compete harder which helps getting ready for the season," said Vancouver Canucks rising star Brock Boeser. "The best part is being able to play against other pros in a game-like situation while having fun. There's also great fans cheering you on and that makes you play harder."
Boeser, who had his rookie campaign derailed by a lower-back injury on March 5, has 12 goals and 27 points in six games to lead all DBL scorers.
The right wing has caught the eye of several fellow NHLPA members, including Pitlick, who had 14 goals and 27 points for Dallas in 2017-18.
"Brock Boeser has impressed me the most," said the 26-year-old centre. "The guy can score goals."
Pitlick, who signed as a free agent with the Stars on July 1, 2017, has also impressed during this year's tournament. In eight games, he has 11 goals and 21 points.
"Tyler has been a guy I've played against my whole life and he keeps getting better and better," praised Florida forward Nick Bjugstad.
Coming off a 49-point campaign with the Panthers, Bjugstad sees DBL as a great opportunity to get a head start on the 82-game NHL season.
"The best part is competing in the middle of summer while getting back into hockey game-shape," said the native of Blaine, Minnesota. "You're actually working your butt off, but it doesn't feel like it since it's such fun environment. It forces you to start playing in game-style situations while still working on skills. It gives me the chance to try different skills I'm working on in the summer."
It's a sentiment echoed by Pitlick.
"The best part about the league is seeing guys you grew up playing against, and getting a little competition going in the summer," he said. "It's helped me get in shape and get timing down going into training camp."
DBL Media Relations director Aaron Morem has rave reviews for the players.
"All the players who participate at DBL know that when they arrive it's all about having fun, embracing the fans and the great atmosphere around them," he said. "The guys are incredibly dedicated to making all the kids happy to watch them play, get an autograph or take a pic after the game. At one point in time, the guys who now play here were the kids in the stands waiting for autographs and when years have passed, I'm sure one of those Minnesota kids will be playing in our league.
"Our goalies and skaters have showcased their skills and played great hockey this summer to a passionate fan base. Thanks to the players and entire DBL staff for taking the time. I couldn't be happier for everyone involved as our league continues to grow."