Back where it all began for Cammalleri
The long and winding road of Mike Cammalleri's pro hockey journey took a turn back to where it all began this season.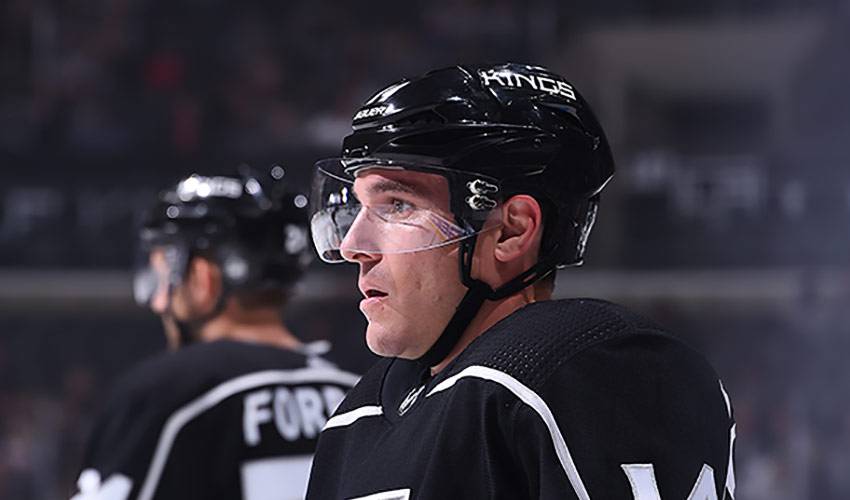 The long and winding road of Mike Cammalleri's pro hockey journey took a turn back to where it all began this season.
Sixteen-plus years ago, the Los Angeles Kings selected Cammalleri after his sophomore season at the University of Michigan in the second round (49th overall) of the 2001 NHL Entry Draft.
He turned pro a year later and spent his first five seasons in the Kings organization. After stops with the Calgary Flames, Montreal Canadiens, Calgary again and the New Jersey Devils, the 35-year-old Cammalleri finds himself back with the Kings again.
His first go-around in Los Angeles ended on April 5, 2008 with a 4-3 win at home against Anaheim and he returned 3,470 days later, on Oct. 5, for a 2-0 win at home against the Philadelphia Flyers in the season curtain-raiser.
Cammalleri had a list of suitors after the Devils decided to buy out the remaining two years of his five-year contract last June. He chose the Kings because of his relationship with Hockey Hall of Famer Rob Blake, the rookie Los Angeles general manager who was a teammate of Cammalleri's in his first stay with the Kings. The forward wanted to help push the Kings back into the playoffs, something Cammalleri hasn't experienced since 2011. His new club certainly is off to a good start at 9-2-1, tops in the Pacific Division.
"It was a quick decision because of Rob," Cammalleri said.
"For me, I'm coming back with a different perspective, with a wife [Jennifer] and three kids. Our living habits are different. We're worried about things like what schools should they attend."
The veteran forward remarked there was plenty of familiarity in returning to Hollywood. He and his family decided to settle in the same neighbourhood Cammalleri lived in his previous stint in Los Angeles.
There was Blake, of course, and his old linemates, Anze Kopitar and Dustin Brown, as well as goalie Jonathan Quick. But this trio was of the only remaining players from Cammalleri's earlier days in Los Angeles.
He remarked that even though Brown and Kopitar haven't been teammates for a decade, he kept in touch through what Cammalleri called the "Instagram effect."
In his first two pro seasons, he shuttled back and forth between the Kings and then-AHL team, the Manchester Monarchs (now the Ontario Reign).
His third pro season, however, was a breakout year. Cammalleri spent the entire 2004-05 season in Manchester because a lockout cancelled the NHL season. He checked in with a league-leading 46 goals and his 109 points in 69 games were good enough to finish runner-up in the AHL points race to Jason Spezza.
All of sudden the smallish 5-foot-9 Cammalleri was coming up big as a pro. He enjoyed an MVP season for the Kings in 2006-07 (34 goals and 80 points) and that spring helped Canada win the 2007 IIHF World Championship in Moscow, scoring four goals and seven points in Canada's perfect 9-0 run to gold.
But as good as he has been on the ice, Cammalleri always has stood up for himself off the ice. That's why he's been such a popular teammate wherever he played.
He took the Kings to salary arbitration in 2007 and was traded to the Flames the following season.
He then was moved to Montreal, where he enjoyed an incredible Stanley Cup playoff run, leading the upset-minded Canadiens to the 2009-10 Eastern Conference final.
Cammalleri scored 13 times in 19 games and was especially clutch in a first-round upset against Alex Ovechkin and the Washington Capitals, later dethroning Sidney Crosby and the defending-Stanley Cup champion Pittsburgh Penguins in the second round.
In total, he has scored 25 or more goals in six of his 15 seasons.
When you've played for as many teams as Cammalleri and as long as he has, every stop brings back a memory or two. Last week, he played in front of family and friends in his hometown of Toronto on Monday and a few days later returned to the scene of that incredible playoff run in Montreal.
"I've been on some good teams and I've had some great experiences in all of them," Cammalleri said.