Kane Coming Into His Own in Atlanta
Young Thrashers winger is making settling into the NHL look easy as an 18-year old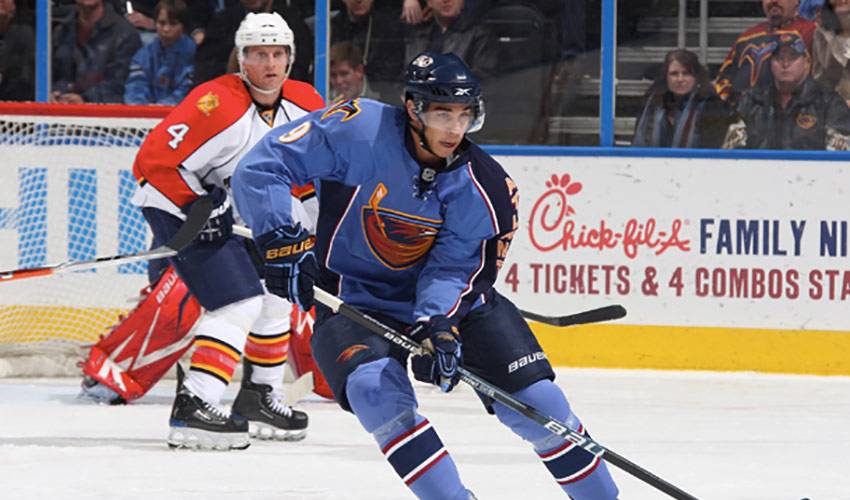 Evander Kane took two Giant steps even before he skated in his first NHL game.
The 2009 NHL Entry Draft wasn't only a meaningful one for a highly-regarded forward who hailed from Canada's West Coast.
Selected fourth overall by the Atlanta Thrashers, Kane became the highest drafted born-and-raised player from Vancouver since Paul Kariya was taken fourth overall in 1993 (Barry Beck was the highest at second overall in 1977) and the highest drafted Vancouver Giants player in the history of the franchise (surpassing Gilbert Brulé, who was drafted sixth overall in 2005).
The significance of the achievements weren't lost on Kane.
"I think it's a special honour and a special thing for me," said Kane, who was nominated for the Jim Piggott Memorial Trophy as the Western Hockey League rookie of the year in 2007-08, which was awarded to Brayden Schenn of the Brandon Wheat Kings. "Being a Vancouver Giant is obviously a great privilege and I know being part of that organization I know was tremendous for me. Hopefully there can be somebody else that goes higher than me one day.
"I had a feeling that Atlanta could be a team that I could possibly go and fortunately enough they decided to pick me and I'm more than excited to be a part of their organization."
Kane enjoyed an impressive start to the 2008-09 WHL season, recording at least a point in each of his first 22 games. He notched his first WHL hat trick on October 10, 2008, and soon after, the WHL selected Kane to represent the league at the 2008 Canada-Russia Challenge. A bruised heel he suffered on November 15 in a game against the Kelowna Rockets kept him from competing for Team WHL.
Kane recovered and earned a spot as an injury replacement at the 2009 World Junior Championships with Team Canada, winning a gold medal.
Later that month, he participated in the 2009 CHL Top Prospects Game as captain for Team (Don) Cherry.
"I was disappointed to get released in the first place but when (coach) Pat Quinn called me I was extremely excited and hopped on the next plane the next morning," recalled Kane. "It was a great experience and great playing in front of those Canadian fans. That was my goal, coming in. I knew I was going to start off as the 13th forward and I wanted to get an important role when big games came around and I thought I did that."
Near the end of the regular season, Kane broke the Giants' single-season goals record with his 44th goal of the campaign as part of a two-goal effort against the Tri-City Americans. The goal surpassed Adam Courchaine's 43-goal mark recorded in 2002-03.
Kane finished his second WHL season with 48 goals and 96 points, fourth in league scoring. He received WHL West First Team All-Star honours along with teammates Pierro-Zabotel and Jonathon Blum. In the subsequent 2009 playoffs, Kane had 15 points in 17 games.
"Playing for (coach) Don Hay helped my game become a lot more complete," praised Kane. "It showed me how to be a professional and the Vancouver Giants are a first-class organization and I probably won't be here without them. So I have to give them a lot of credit."
Kane deserved top marks for his showing at Atlanta's training camp for the 2009-10 season.
His strong play earned him a roster spot, which Kane certainly put to good use once the puck dropped on the campaign.
Kane recorded his first career NHL point in his big-league debut on October 3, 2009, earning an assist on a goal by Rich Peverley against the Tampa Bay Lightning. His first goal came five days later, on October 8, in a 4-2 win over the St. Louis Blues. He played his first NHL game in his hometown a couple months later against the Vancouver Canucks on December 10.
As for his signature goal?
"I think just coming on the left wing and putting one upstairs just at the top of the circle, that's my favorite type of goal and hopefully I can score a lot of those."
The Thrashers would love nothing more than to see Kane net any type of goal as the Southeast Division residents look to get back to the post-season for the first time since 2006-07.
For his part, Kane is committed to honing his skills at hockey's elite level.
"You want to get better in all areas, especially skill development," said the 18-year-old. "Making the jump to the NHL is a jump in all areas."
Perhaps it's a giant task for some, but not for one of the game's bright young stars.