Evander Kane spreads holiday cheer around Edmonton
Earlier this month, the 14-year NHL veteran hosted 120 high school students for a holiday shopping spree.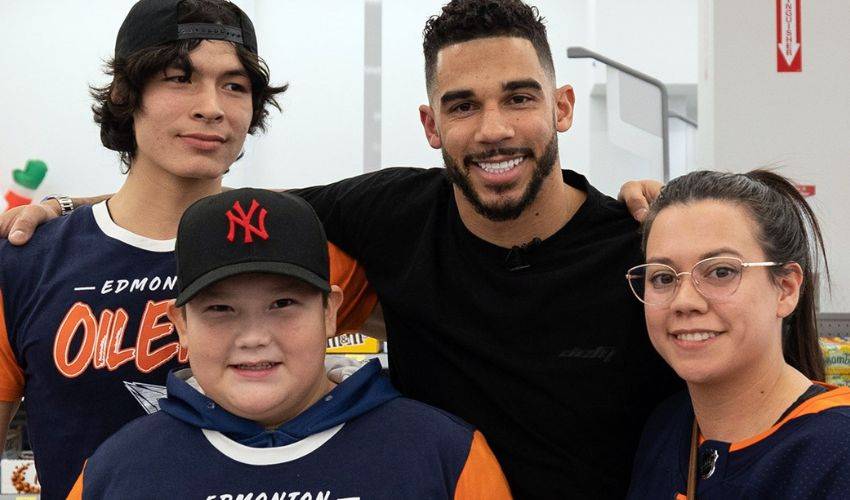 Feature Photo: IG / @EdmontonOilers
---
He isn't currently able to assist on the ice, but that hasn't stopped Evander Kane from finding ways to make a difference in Edmonton.
Still recovering from a severe wrist injury suffered in a November 8 game against the Tampa Bay Lightning, the 31-year-old Kane has put his extra time outside of the arena to good use.
Earlier this month, the 14-year NHL veteran hosted 120 high school students for a holiday shopping spree, where he provided everyone with Oilers merchandise, along with $250 to spend on presents for themselves.
"I've done that before, in Buffalo a couple of times when I played there," started Kane, who recorded 13 points in 14 games prior to his injury. "I would say this one is probably the best one we've done yet. Seeing the families, the kids, siblings, and just how excited they were, it's a very nice feeling. I left that night thinking about if I could have done more."
When he was told some students used the money to purchase groceries, Kane provided another $250 so they could buy items for themselves.
"It shows you the maturity level and kindness of some of these older kids, where their priorities are. I wanted to make sure they treated themselves, something that they could have of their own."
Video of the event included a woman in tears upon realizing her child could have what they wanted for Christmas.
"I don't have the means to get stuff for Christmas, so this is a blessing," she said.
It was one of many emotional scenes that evening.
"It reaffirms why you do it, especially during the holiday season, and what that is all about," said Kane. "The first interaction I had that night was with a grandmother who had full custody of her two granddaughters. She was talking to me about Christmas, and if there wasn't this kind of opportunity, there probably wouldn't have been anything under the tree. That breaks her heart. You think of those two little granddaughters and the last thing you want to see is that they would be disappointed on Christmas day. That was a real kick to the heart at the start of the evening."
Kane had conversations with the shoppers throughout the event, all of them memorable interactions.
The fourth overall pick of the Atlanta Thrashers in 2009 did his best to speak with everyone, even if it was a brief chat.
"I like to be able to engage with everybody. With events like this, you want to make sure you get the chance to speak to everyone you can, even if it's a quick conversation, whether it's with the kids or the parents. That really means a lot to me, to be able to talk to people, ask some questions, answer some questions, just finding out about their lives, and listening to what they are sharing with you."
Kane's acts of kindness didn't end there.
On Thursday night, ahead of Edmonton's home game against the St. Louis Blues, he met Cecily, a young girl who is raising money to help other kids who are battling cancer.
Kane took to social media after meeting Cecily and posted a photo of them together, both sporting big smiles.
"She just had surgery and is doing her treatments now. She's really an entrepreneurial young girl. She makes stuffed animals and sells them to raise money. She also makes these really cool patches. She actually gifted me with one of them. She's a very mature nine-year-old. Going through that, it's just incredibly impressive with how she is handling it."
Yet another example, noted Kane, of why it's easy for him to put his injury into perspective.
"It's 100 percent easy to look at your own situation and realize there are so many people going through far worse things. Part of life is when you have an opportunity like this, you ask yourself, 'How do you want to use that time?' I wanted to make sure I used the time I had off in a positive way and get out there in the community and meet people."
There could be more stories to share in the coming weeks.
Kane is considering other opportunities to spread a little kindness over the holidays and into the new year.
"It's been great for me. It's going to be something I'll probably continue to do for however long I'm out."