LaRose is in bloom in Carolina
Tenacious forward works hard on ice and keeps things light off it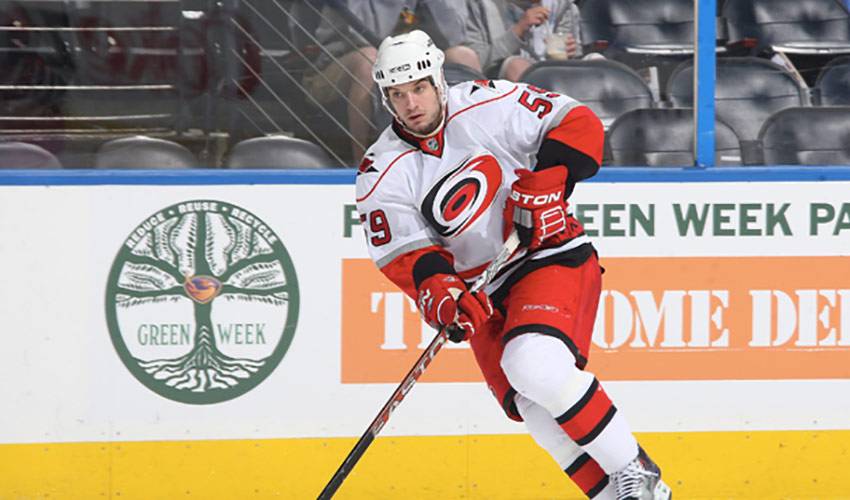 There are a lot of reasons Chad LaRose could be miserable these days.
But he's not and that should come as no surprise to anyone who knows the popular Carolina forward.
"It's been a rough one, hasn't it?" LaRose said with a chuckle, as he drove home after a recent Hurricanes' practice. "I was injured early in the season and out of the lineup. It wasn't easy to have to sit and watch."
LaRose, who was one of Carolina's most consistent forwards in 2008-09, a season in which he recorded career-best NHL numbers in goals (19) and points (31), missed 17 games with a lower-body injury from December 11 to January 16.
It didn't end there.
LaRose was placed on injured reserve on February 5 and missed seven more games with an upper-body injury.
To make matters worse, the Hurricanes, who made it to the Eastern Conference finals in 2008-09, struggled mightily, sitting near the bottom of the standings.
"It doesn't matter if you are playing or not, when you lose, you feel it as well," said LaRose, who had 11 points in 18 playoff contests in 2008-09. "I went to every home game we had to watch the guys."
For LaRose, the toughest part of being on the sidelines wasn't dealing with the physical aspect of the injuries.
"Mentally, it wears you down," said the right-winger, who skated in his first NHL game on December 6, 2005, netting his first NHL goal 11 days later against the New Jersey Devils. "But I really didn't want to let it affect me in a big way. I decided the best approach was to take any of the things that happened and learn from them.
"And I didn't have the start to the year I wanted," he continued. "I wanted to build on what I was able to achieve the year before. It was definitely a tough start. I had high expectations for myself and all of us had high expectations for the team. I don't think any of us anticipated things would turn out how they did."
What appeared to be a lost campaign, at least in terms of making the playoffs, has turned around somewhat for the Hurricanes.
One of the league's top teams over the past 15 games, Carolina has fought their way back into the post-season picture. And while it will still be a tough task to make it to the final eight in the East, LaRose and his teammates aren't throwing in the towel.
But they also aren't going to get too far ahead of themselves.
"We've played well lately," said LaRose, who led the Ontario Hockey League's Plymouth Whalers in scoring in 2002–03 with 117 points in 67 games. "We've got good character guys and you just knew we weren't going to lay down and call it quits. We've rebounded well. But we also know we can't start looking down the road. For us, it's going to be taking things on a game-by-game basis."
One look at how tight the standings are, both in the East and the West, and it's plain to see why LaRose is thinking in such terms.
"Every team is tough," said LaRose, who went undrafted, but caught on with the Hurricanes in 2005-06. "It really is a case of making sure you win every chance you get."
For his part, LaRose, who won the 2002-03 Leo Lalonde Memorial Trophy (awarded each year to the best overage player in the Ontario Hockey League), will look to keep his perennial positive outlook as the games begin to intensify.
"I'm going to be upbeat and make sure the newer guys know that they are important in what we want to accomplish," said LaRose. "I want to be lively on the bench and try to get everyone pumped up."
Chipping in offensively is also on LaRose's "to do" list.
"There are so many ways to contribute, but of course you want to be able to score a timely goal or get an assist," he offered. "You always look to create something with every shift you take. Whether that's a hit, a goal or creating some energy, all you want to do is make an impact in some way."
It's why LaRose refuses to see things in a negative light.
"The start certainly wasn't what I wanted, but that doesn't mean you can't make it a memorable finish," said the 5'8", 180-pounder, whose hockey idol growing up was Steve Yzerman. "Whatever I can do to make a difference, I will."