Jovanovski Ready for Playoff Action
Coyotes defenceman returns to the post-season; eager to take a shot at capturing the Cup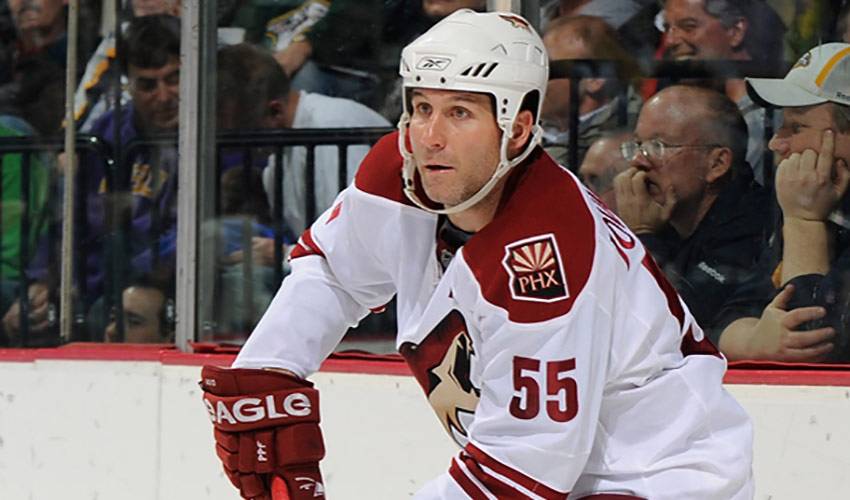 It's been four seasons since he skated in his last playoff game, but 2009-10 has brought one of the game's toughest blueliners back where he wants to be.
The last time Ed Jovanovski saw NHL post-season action he was wearing the uniform of the Vancouver Canucks. These days, the man with nearly 970 regular season games on his resume, is part of a Phoenix team that has defied the odds, an eager club ready to take on the Western Conference in a battle to get to the Stanley Cup final.
And while Jovanovski isn't the team's leading scorer or top plus/minus player, he is, according to those who know him best, a big reason why the Coyotes are ready to make their first playoff appearance since 2001-02.
Phoenix clinched a playoff berth on March 27, and in the process, reached the 100-point mark for the first time in franchise history.
"I think you could look at every single player on the roster and each one has made a very big contribution to the team," said defenceman Adrian Aucoin, who played with Jovanovksi in Vancouver. "I think someone like Ed is a perfect example. He's a heart and soul guy who gives nothing short of his best every shift."
Jovanovski played junior in the Ontario Hockey League (OHL) with his hometown team, the Windsor Spitfires. In his rookie campaign, 1993-94, he led all team defencemen in scoring, with 50 points in 62 games, and was named to the OHL All-Rookie Team, as well as the OHL Second All-Star Team.
In the off-season, Jovanovski was selected first overall by the Florida Panthers in the 1994 NHL Entry Draft. He suited up for one more OHL season and was named to the First All-Star Team before joining the Panthers in 1995–96.
It was a memorable rookie campaign for Jovanovski and the Panthers, who made it all the way to the Stanley Cup championship, where they were bested by the Colorado Avalanche.
Jovanovski solidified himself as an up and coming talent, when he was nominated for the Calder Memorial Trophy as the league's best rookie (won by Daniel Alfredsson of the Ottawa Senators), and named to the NHL All-Rookie Team.
On January 17, 1999, after three and a half seasons in Florida, Jovanovski was traded in a seven-player deal to the Vancouver Canucks. He was traded with Dave Gagner, Mike Brown, Kevin Weekes and a first-round draft choice in 2000 (Nathan Smith) for Pavel Bure, Bret Hedican, Brad Ference and a third-round draft choice in 2000 (Robert Fried).
Jovanovski furthered his reputation as a dependable defencemen in Vancouver. After one full season with the Canucks, he enjoyed a stellar 2000–01, leading all team d-men with 47 points in 79 games, while earning the first of three consecutive Babe Pratt Trophies (the fan-voted award for the Canucks' best defenceman). His efforts helped the Canucks return to the playoffs after a six-year absence.
With the Canucks, Jovanovski was a force both offensively and defensively, posting three consecutive seasons with over 45 points. (2000–01 to 2002–03)
After the 2004-05 NHL lockout, Jovanovski was on pace for a career year in 2005-06, but persistent groin injuries hampered his season. Still, he finished with 33 points in 44 games.
Jovanovski became an unrestricted free agent and joined the Phoenix Coyotes in July of 2006, signing a five-year, $32.5 million contract. Despite appearing in his first All-Star Game since 2003, injuries hampered his first campaign with the Coyotes, limiting him to 54 games.
In 2007–08, Jovanovski set a career-high mark in points with 51. He also appeared in his second consecutive All-Star Game. The following season, he contributed 26 points.
Jovanovski began the 2009–10 season missing 10 games with a lower-body injury in November and early-December, but he has played a significant role in putting Phoenix in the playoff picture.
"Regardless of whatever sport you play, the goal is to always push yourself to be better at what you do," said Jovanovski, who has to gold medals with Team Canada, the 1995 World Junior Championships and the 2002 Winter Olympics. "Each year, you expect more from yourself. I think it has to do with confidence. You can't teach it. You either have it or you don't."
His teammates will tell you Jovanovski certainly has it.
"One of the big parts of having a good team approach is in your leaders," said Aucoin. "Ed is a great example of that. It doesn't matter if you're a rookie or a veteran. When you see the way he works and how much he wants to win, it rubs off on everyone."