A Captial Task
Theodore is looking to help the Caps as they push for the Cup in 2010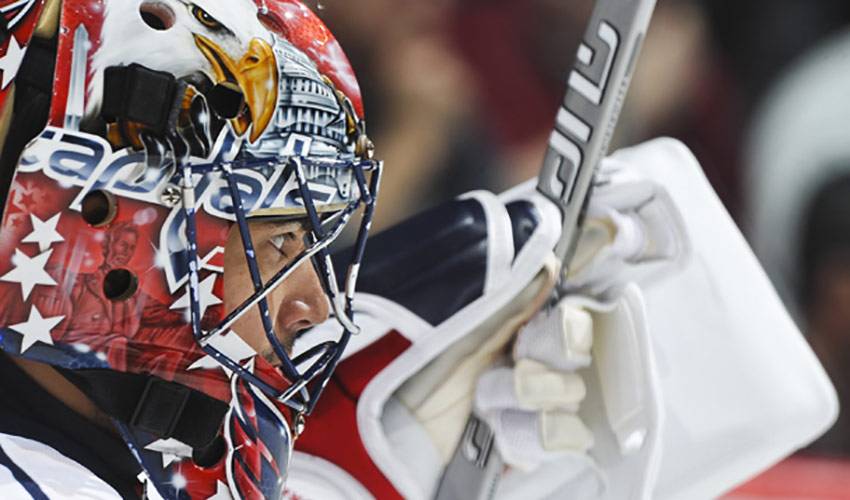 Whether it's stopping what appears to be a certain goal or coming up huge with the game on the line, Jose Theodore simply doesn't know the meaning of giving up.
He hasn't lost in 23 consecutive regulation games, a stretch in which he has a 20-0-3 record and a lofty .922 save percentage. So, it was no surprise that Washington Capitals' head coach Bruce Boudreau tabbed Theodore as his go-to goaltender for the 2009-10 NHL Playoffs.
Yet in spite of strong numbers, steady play and steely determination, there is still doubt as to whether the amicable 33-year-old from Laval, Quebec, can come through when the Stanley Cup is on the line.
A look at his past successes, however, suggests Theodore, who won the Vezina and Hart trophies, both in 2002, is more than capable of delivering Caps' faithful with their first Cup.
Although statistics from his first two years in the offensive-rich Quebec Major Junior Hockey League don't suggest it, Theodore, then with the St. Jean Lynx, played extremely well in his rookie and sophomore seasons.
In his first year in the 'Q,' Theodore won 12 games in 34 appearances.
The team made the playoffs, but it was a short-lived stint. Still, he was able to find a few positives in a year that saw him post a respectable 3.78 goals-against average.
"Obviously, I would have liked to have won more games, but it was a key year in helping me realize what it would take to make it to the NHL," said the 5'11", 180-pounder. "It's a very skilled league and you have to mbe up for the challenge every night.
After one more campaign with St. Jean, Theodore went on to have a monster 1994 season. Not only was he drafted by the Montreal Canadiens (44th overall), but he also found himself on a new QJMHL team, the Hull Olympiques.
Theodore responded with a stellar 1994-95 campaign, winning 32 games and earning five shutouts, including one in his very first game with Hull.
During his time with Hull, Theodore won numerous awards, including the Ford Cup as the 1995 Defensive Player of the Year, the Guy Lafleur Trophy as the Defensive Player of the Playoffs. Four years later, he was named to the Olympiques All-Time All-Star team.
On February 28, 2003, Theodore's No. 33 was retired by the team in an emotional ceremony at Hull's home arena.
"It is something I will always remember," said Theodore. "It was a great feeling and a true honour for me. I had a great time in Hull and it was something I never expected to happen."
Although it took Theodore a few seasons to make an impact at the NHL level, that's exactly what he accomplished. Patient and personable, the netminder never complained about lack of ice time, focusing on what he could do to improve his own skills.
When he finally assumed the starting position, Theodore was prepared for the challenges. Displaying great composure, he performed like a seasoned professional.
"It's always tough when you move up to play against the best players in the world," recalled Theodore. "Luckily, I had a lot of great people helping me out and making things easy for me."
Though things haven't always been easy, both on and off the ice, for Theodore, he has managed to endure.
In March, Theodore founded Saves for Kids, a fundraising program that benefits the Neonatal Intensive Care Unit (NICU) at Children's National Medical Center in Washington, D.C.
Theodore and his wife, Stephanie Cloutier, lost their two-month-old son, Chace, last August from respiratory complications related to a premature birth. It was at Children's National where the couple spent many hours during their son's 54 days.
At the end of the 2009-10 season, Theodore will make a donation to the NICU at Children's National based on his statistics, donating $2 for every save, $100 for every win and $500 for each shutout.
And although he doesn't bottom line remains the same: regardless of the arena, always try and make a difference.
His teammates will tell you he's done a very good job at just that.