A Pillar of Strength
Jose Theodore dealt with family tragedy & had a stellar 2009-10 season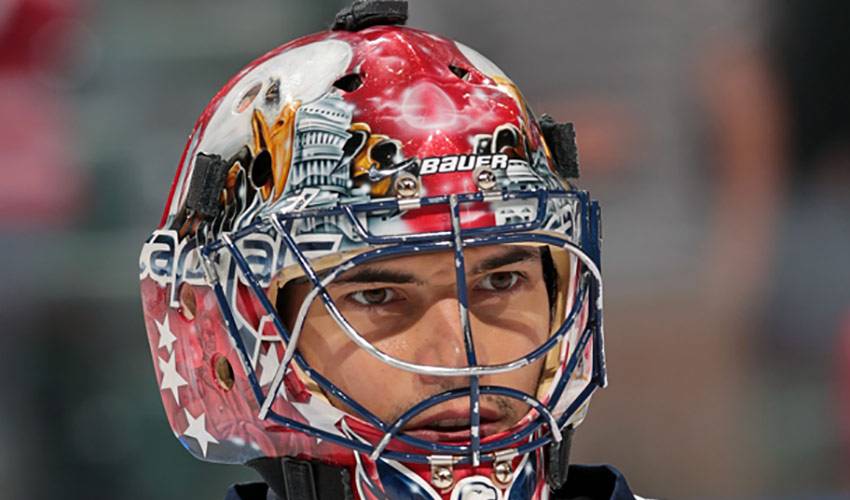 In a year filled with personal hardship, Jose Theodore showed the sporting world the true meaning of the word perseverance.
It was one of the most emotional moments he's ever had to deal with on a public platform, the evening when Theodore accepted the Bill Masterton Memorial Trophy at the annual NHL Awards in Las Vegas.
The award is given to the player who best displays perseverance, sportsmanship and dedication to hockey. For Thedore, it was bittersweet recognition.
The amicable goaltender who lost his infant son, Chace, to complications related to a premature birth last summer, gave a heartfelt speech when he took to the podium.
"It's a mixed feeling, I think," said the native of Laval, Quebec. "Obviously, it was a tough year emotionally, but I'm really proud of the way I handled myself. Then winning this award just brings back some tough memories or good memories, it depends, but it's tough. With all the support I had, it was just fun to see people around me that cared for that."
Currently an unrestricted free agent, Theodore's hockey career has certainly had its' fair share of both good and bad.
Theodore enjoyed a high-profile Quebec Major Junior Hockey League (QMJHL) tenure. He won a President's Cup as league champion with Hull and competed in the Memorial Cup with the Olympiques in 1995. He won both the Ford Cup as the top defensive player and Guy Lafleur Trophy as playoff MVP in 1995 and was a two-time QMJHL Second Team All-Star.
Selected 44th overall by the Montreal Canadiens in 1994, Theodore played eight seasons in Montreal, where he won the Vezina and Hart trophies, both in 2002. In 2006, he was traded to the Colorado Avalanche, where he played two full seasons.
Theodore then signed a two-year, $9 million contract with the Washington Capitals on July 1, 2008.
Internationally, Theodore has won gold with Team Canada at the 1996 World Junior Championships, skating off with the tournament's Best Goaltender award. He also started for Team Canada at the 2001 World Championships and was a backup for the 2004 World Cup.
And while he has had to contend with uncertainty at various junctures of his NHL life, nothing, he admits, compares to what he has had to endure off the ice.
"It's not an award growing up that you look at it and you aim for because a lot of times it means you had a sickness or a tragedy," said the 33-year-old. "So it's not something you look toward. But I always admired the people that won it, because I know they have to make comebacks and fight through a lot of adversity. For me, off the ice was really tough, but being on the ice for my teammates was just a way to forget about everything and forget a little bit about reality and going out there and playing hard. That was the time that I could really just enjoy myself for a bit."
Theodore found strength in reaching out to help others, highlighted by Saves for Kids, a charity he founded that benefits the neonatal intensive care unit at Children's National Medical Center in Washington, D.C.
"You're never ready to deal with that," offered Theodore. "And I wanted to give back to the community in Washington and I wanted to give back to kids, babies especially. So I did a charity skate for kids. And in a way it was just a way to focus and just show my mental strength to everybody."
Yet it was also taught Theodore an invaluable lesson about the game he loves. As competitive as any other athlete, the net-minder was able to view wins and losses in a much different perspective.
"It just makes you realize giving up a bad goal is not the end of the world," he said. "It happened three weeks before training camp opened. I didn't know how I was going to react focus-wise and everything. And to be able to have one of my best seasons I had, I'm really proud of that and I was looking forward to having a more normal summer, and next year being able to keep building up."
And as he's shown throughout his life, hockey or otherwise, be it in the best of times or in it's most difficult moments, Theodore finds a way to hold his head high.