Marleau & Sharks Hunting a Title
Skilled forward has been crucial in the Sharks push to the Western Conference Finals.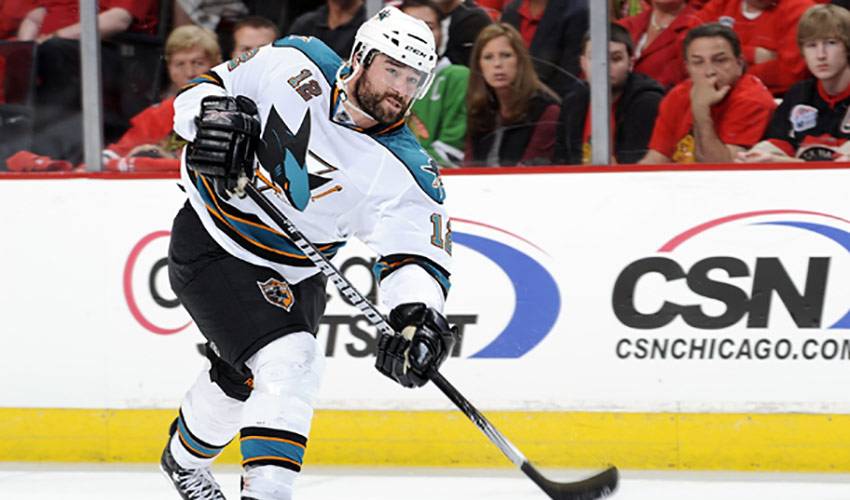 Patrick Marleau put himself in prime position to put the San Jose Sharks in perfect position to reach their ultimate goal of contesting the Stanley Cup.
With the game on the line and a trip to the Western Conference final within their grasp, Marleau, the Sharks Foundation "Sharks Player of the Year" as voted by Bay Area Media in 2009-10, didn't waste the opportunity to seal San Jose's return to a place they hadn't been to in six years.
It was Joe Thornton who set up Marleau for the deciding goal 6:59 into the third period as the Sharks eliminated the two-time defending Western Conference champion Detroit Red Wings with a 2-1 victory in Game 5 of their second-round semifinal matchup.
"I'm happy to see Pat having success," said Russ Farwell, in his second tour of duty (as President and General Manager) with the WHL's Seattle Thunderbirds, a man who has an extensive and impressive hockey resume, one that boasts back to back Memorial Cup Championships with Medicine Hat in 1987 and 1988. "He's does great things at both ends of the ice, but he doesn't always get the recognition. To me, he's the quietest superstar in the league."
The Sharks have recorded the second-best record in the NHL the past five campaigns, but hadn't made it past the second round.
That all changed on Saturday night in front of an appreciative home crowd.
"Just being able to shoot a little more is something I always try to work on," said Marleau, who recorded a remarkable 167 points in 53 games with AA club Swift Current in 1993-94. "I try to get better at every little aspect of the game and not really focus too much on any one piece."
It turns out Marleau's self-assessment of his game was just what he and the Sharks needed.
Since skating on to the NHL scene in 1997-98, Marleau, who patrols centre and left wing for San Jose, has raised the bar every season when it comes to improving his game.
A gifted playmaker with a natural touch around the net, the native of Aneroid, Saskatchewan, has been a major force for the Sharks throughout the years.
Marleau, the second player chosen in the 1997 NHL Entry Draft after Thornton, has always been carried a reputation as an impact sort, someone who can alter the face of the game with one shift or one shot.
In 1995-96, Marleau dazzled the hockey world with the Western Hockey League's Thunderbirds, recording 32 goals and 74 points. Seattle was knocked out of the playoffs by defending Memorial Cup champion Kamloops Blazers in five games, a team that featured Calgary captain and 2002 Ted Lindsay Award winner (formerly known as the Lester B. Pearson Award) Jarome Iginla, but they took three of the contests to overtime before losing to the Blazers.
Not bad for a 16-year-old who then went on to post 125 points in 1996-97, his final year with the Thunderbirds.
"I don't really set end results," said Marleau, who scored his first goal NHL goal, one that came against the Phoenix Coyotes, on October 19, 1997. "I just always try to do better than last year's goals."
Making it to the Cup finals has always been on Marleau's radar. The Sharks all-time leader in goals, assists and points doesn't need to be reminded one more victory will give San Jose the chance to bring California the state's first NHL championship.
"I think for young guys, getting to the playoffs and getting a taste for what it takes to win makes you even hungrier," said Marleau, whose three words to describe himself are "determined, positive attitude and hard working."
There's no doubting Marleau's appetite for success is at an all-time high.
Having recently won a gold medal with Team Canada at the 2010 Winter Olympic Games, scoring an NHL career-best 44 goals, Marleau, who is less than 50 games shy of 1,000 regular season contests, netting hockey's most cherished team trophy appears to be within his grasp.
"Pat was great in the Olympics and he's been solid in the playoffs," said Farwell, of Marleau, who scored the overtime winner in San Jose's Game 3, 4-3 win over the Red Wings, the 100th post-season game of his career. "He's not doing anything different than I've seen him do. He's just being himself."
It's just about the highest compliment a quiet superstar could ever ask for.