Clowe Gives His All On & Off The Ice
Newfoundland native helping Sharks quest for the Cup & giving back to his home province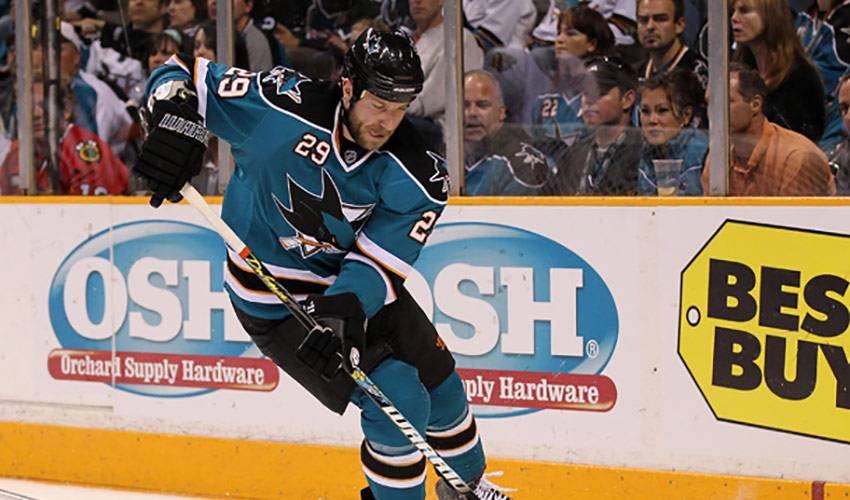 It appears Ryane Clowe has a special ability: he can turn even a casual hockey fan into a more passionate supporter…all in a day's work.
On July 30, 2009, Clowe, San Jose's do-it-all forward, hosted his first charity golf tournament in St. John's Newfoundland, an event that was originally going to benefit R.E.A.L., a program that helps pay for equipment and registration for local kids in need.
But when one of the tournament organizers, a man by the name of Trevor Melendy, whose daughter suffers from epilepsy, approached Clowe and asked if he'd consider adding Epilepsy Newfoundland and Labrador as a beneficiary of the event's funds, he received a quick response.
"He was very agreeable to the idea immediately," said Pamela Anstey, Information Officer with Epilepsy Newfoundland and Labrador (ENL). "He was absolutely pleased to help out in any way he could. That meant a lot to us."
It was enough to make a great impression on Anstey, hardly a huge hockey fan – at least up until last July.
"It was a little lost on me," offered Anstey. "When we were at the tournament, adults and kids were absolutely overjoyed at seeing the players up close and personal."
Clowe was joined by fellow NHLPA members, including teammate Joe Thornton, Jody Shelley, Adam Pardy, Michael Ryder and Teddy Purcell at the tournament.
"Even though these players have become celebrities, they are very honest and sincere in their willingness to want to help make a difference," said Anstey. "It was really nice to see how they interacted with everyone."
Including, Clowe, a player who has become increasingly more invaluable to the Sharks, a team one step away from making it to the Stanley Cup Finals, as they ready for the Chicago Blackhawks in the Western Conference finals.
Clowe played three seasons in the Quebec Major Junior Hockey League (QMJHL) with the Rimouski Océanic and the Montreal Rocket, starting in 2000–01. After recording 25 points in 32 games with the Océanic during his rookie campaign, he was selected by the San Jose Sharks in the sixth round, 175th overall, in the 2001 NHL Entry Draft.
He played two full seasons with the Cleveland Barons, San Jose's American Hockey League (AHL) affiliate, and was named the team's MVP in 2004–05, before he divided his time between the Barons and the Sharks in 2005–06. Clowe appeared in 18 games with the Sharks in 2005–06 and signed a three-year deal with the club.
Clowe netted his first career NHL hat-trick on January 6, 2007, in a game against the Columbus Blue Jackets. In the playoffs, he tallied his first post-season goal in their quarter-final series against the Nashville Predators.
He played in 11 games with San Jose in 2007–08, but went on injured reserve on October 28, 2007 with torn knee ligaments. Clowe returned to the lineup on March 30, 2008, in time for the 2008 Stanley Cup Playoffs, where he posted nine points in 13 games, second only to Joe Thornton.
On July 6, 2009, the Sharks re-signed Clowe to a four-year contract.
This season, the hard-checking forward contributed a career-high 57 points in 82 games.
"We believe Ryane is entering the prime of his career and can be a dominant player in this League for years to come," said Sharks Executive Vice President and GM Doug Wilson. "We feel he is an important piece to this team as his hard-nosed play, passion for the game and commitment to succeed are all part of his make-up."
Clowe has been an effective contributor in the 2009-10 playoffs, averaging almost a point per game as San Jose works toward their first-ever Cup final appearance.
And even though he's hit the big-time in his career, Newfoundlanders know first-hand Clowe is still a small-town guy at heart.
"He was very gracious, very humble and very grateful," recalled Anstey, of her meeting with Clowe. "He was not the least bit arrogant or egotistical. I was very impressed with how Ryane and all the players came across."
And while she might not watch hockey as much as most Maritimers do, Anstey does admit she's more aware of how Clowe and the Sharks are faring these days.
"I have watched him play and I do follow him more than before," said Anstey. "What I saw when I met him was someone who genuinely wants to give back to his community and is grateful to be playing a game he loves."