Dustin Brown, Kings look to hold court in 2010-11
NHLPA.com caught up with Ithaca, NY native recently at the launch of his 'DLo23' stick line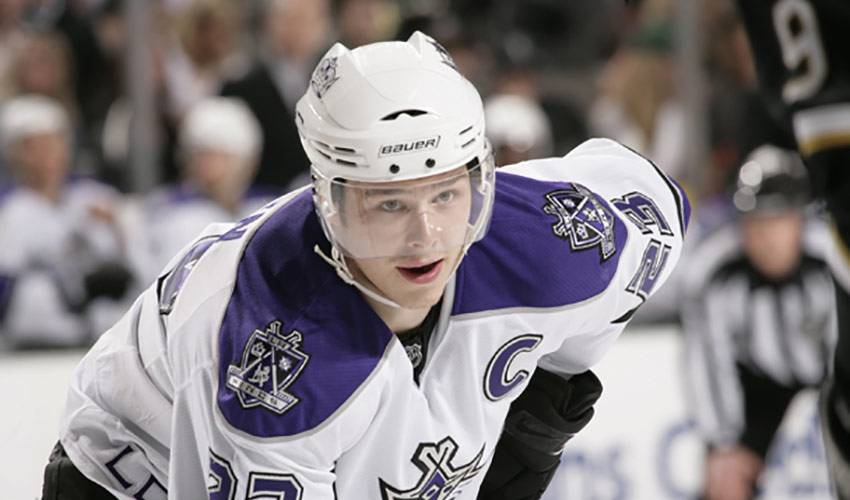 There's no denying that Dustin Brown, the player who wears the captain's jersey for the Los Angeles Kings, is tailor-made for success.
Things are indeed looking good these days for the 25-year-old Brown, who has played a significant role in putting the Kings back on the Stanley Cup trail.
Not only is he playing the best hockey of his NHL career, but the right-winger is also making headlines away from the rink in his role as the face of Combat Sports.
Combat Sports is in production of the "DLo23" stick which Brown will use for the 2010-2011 NHL season, which will also be available for players and fans across North America. The company is also working on an apparel line based around the right-winger.
"To be part of the whole process has been amazing," said the native of Ithaca, New York. "It's been a lot of fun to be part of it all. I'm very excited about my future with Combat Sports, and proud of the fact that my sticks will be made in North America."
Life, on and off the ice, he admits, is good.
"I certainly can't complain," said Brown, who was selected by the Los Angeles Kings in the first round, 13th overall, in the 2003 NHL Entry Draft, with his first game coming on October 9, 2003 against the Detroit Red Wings. "Last year was definitely a step in the right direction for us. I think we learned a lot."
Brown enjoyed a memorable 2009-2010 campaign, a season that saw him make his first NHL playoff appearance. He was also an assistant captain of the upstart 2010 U.S Olympic squad that lost 3-2 in overtime to Canada at the Winter Games in Vancouver.
Needless to say, Brown is eager to build upon those successes as Los Angeles established a franchise record with a nine-game unbeaten streak, and finished the season with 101 points, just the third 100-plus point season in franchise history.
"We're a young team and that means you'll have to go through some growing pains," said Brown, who solidified his spot on the Kings during the 2005–06 NHL season, mainly as a checking forward. "We knew success wouldn't happen overnight, but we also knew that we were making a footprint and pushing in the right direction."
Brown, who was named the Kings' captain on October 8, 2008, the fifteenth in franchise history, is the youngest player to wear the 'C' and the first American-born captain for Los Angeles.
It's a role he takes great pride in.
"I've been extremely fortunate in my career to play with great leaders," he offered. "Four guys that come to mind are Ian Laperriere, Mattias Norstrom, Rob Blake and Luc Robitaille. Ian, the way he plays, tells it all. Mattias and Rob were two guys that were quiet and led by example, but spoke when they had to. Luc had fun everyday and taught you that whether you played on the first line or fourth, you just always enjoy the game."
Admittedly a lead-by-example type, Brown likes what he sees in the Kings, a team that features a solid mix of youth and veterans throughout the lineup.
"There are two things that really stand out for me when it comes to our team," he said. "The first is that we are all really, really close. Almost every player says that about their team, but in terms of the room of itself, everyone is on the same page, everyone gets along. There are no issues. We are all working towards the same goal.
"The second thing is how this team was built. Management deserves credit for that. We haven't been together a year where there's been a tremendous amount of turnover. We've grown up together, we've learned together and we've grown together. Each year, we have all made improvements to our respective games and become better players."
It's no wonder Brown can't wait to get back on the ice.
Still, he's well aware the smartest path to the Stanley Cup is not looking too far down the road.
"When you look at our roster and how we played last year, there is definitely room to be optimistic," he noted. "Everyone here is hungry to take a shot at the Cup and the fans here in L.A. sense that. They are very supportive. I also think the Olympics really made people take notice of the game, too. It's an exciting time."
You might even say it's fit for a King.