Doan the Coyotes Pack Leader
The King Clancy Award recipient's commitment to his team & community does not go unnoticed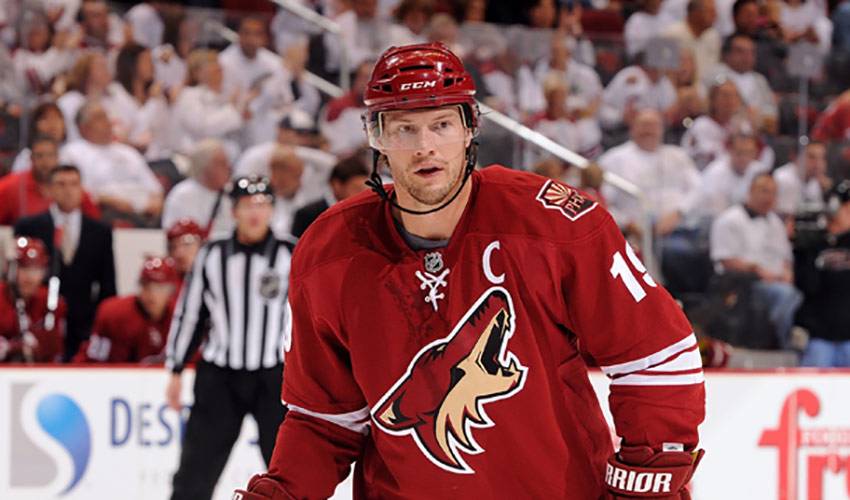 There's no debating Shane Doan's commitment to the game of hockey or to his teammates. But the argument could be made that one of the sport's most character players works just as hard away from the rink.
Beloved by those he plays with, respected by those he opposes, Doan, who has played all of his 14 seasons with the Winnipeg Jets/Phoenix Coyotes franchise, was an ideal choice for the 2010 King Clancy Memorial Award.
Given annually to the NHL player 'who best exemplifies leadership qualities on and off the ice and who has made a significant humanitarian contribution to his community,' Doan's King Clancy honour was indeed a fitting one.
Yet for Doan, the individual recognition was achieved through a collective effort.
"I recognize the fact that the reason I won the award is because our team was good," said the Alberta native, who was part of a Phoenix Coyotes club that earned their first playoff spot since the 2001-2002 season, and in the process, reached the 100 point mark for the first time in franchise history. "You look at our teammates and everything that they did, and they made it pretty easy as a captain. But it's a great honour, and I accepted it on the fact that we had great leadership in the room, and I totally recognize it's a team thing more than an individual thing."
There was plenty for Doan to be proud of in the 2009-10 season, one that many outside of Phoenix expected to be a long and difficult campaign for a team that has struggled to keep pace in the Western Conference over the past decade.
While a seven-game opening-round loss to the Detroit Red Wings was a bitter way to end their year, Doan, who was injured for the majority of the playoffs, had high praise for his teammates and the organization.
What was he most proud of?
"I think the fact that we were challenging San Jose at the end of the year when everyone said that we'd hit a wall at some point," offered Doan, who appeared in his NHLPA-recognized 1,000th regular season game in 2009-10. "Then at the end of the year we picked it up and were better in the last 15 to 20 games of the year.
"I think for me personally I had been on teams that we'd been right there and then fallen off. This year as a team to take it to another level and keep going, we were only three points behind San Jose to catch them in our division. They've obviously got a great team, but, again, next year you want playoff success more than anything."
No wonder the seventh overall selection in the 1995 NHL Entry Draft is eager for the new season to get underway.
"I recognized that I don't have a lot of years left of playing at the level that I want to," said Doan. "But the Coyotes have been phenomenal to me. The organization and the people that have been there the whole time with me, there is no way that I was leaving. It was exciting to turn it around.
"It was rewarding this year in the fact that we finished as high as we did. I'm sure people are still skeptical and we hope they are next year and we can add to those same questions."
A return to the playoffs would hold great personal significance for one of the league's most competitive leaders.
"I waited a long time to get to the playoffs and to then be sitting on the sideline watching my team play I was as frustrated as I've ever been in hockey," Doan admitted. "But it just drives you for this coming summer, and I can't wait to start again, which is kind of you think that the season lasts a little long, but you can't wait for it to go again.
You want to prove all the questions that everyone's going to have about whether or not we can do it again."
But it's not only the thought of a winning a Stanley Cup that drives Doan. It's not even game-winning goals or overtime victories that keep him coming to the rink.
The 33-year-old derives just as much thrill from the lead-up to the drop of the puck. "I enjoy it," said Doan. "You can get a little emotional. I can't wait to get a chance to play in the playoffs again, and I enjoy every bit of the game. The game is phenomenal. It's a great sport, and I love it."
And it's apparent his teammates love him, too.
During the past post-season, despite being unable to play, Doan wasn't a forgotten man.
"The first game I wasn't in the room," he recalled. "And then a couple of the guys, which meant so much to me, came to me and said, 'We want you in the room between periods, we want you in the room before games,' which was phenomenal for me. I mean, it was huge. I appreciated it so much because I wanted to be a part of it."
While he might be unwilling to admit it himself, Doan is a major part of a Phoenix team that appears to be, after years of hardship, on the rise.