Smile Like You Mean It
Duncan Keith has a new set of teeth to go along with his Stanley Cup & Norris Trophy from 2009-10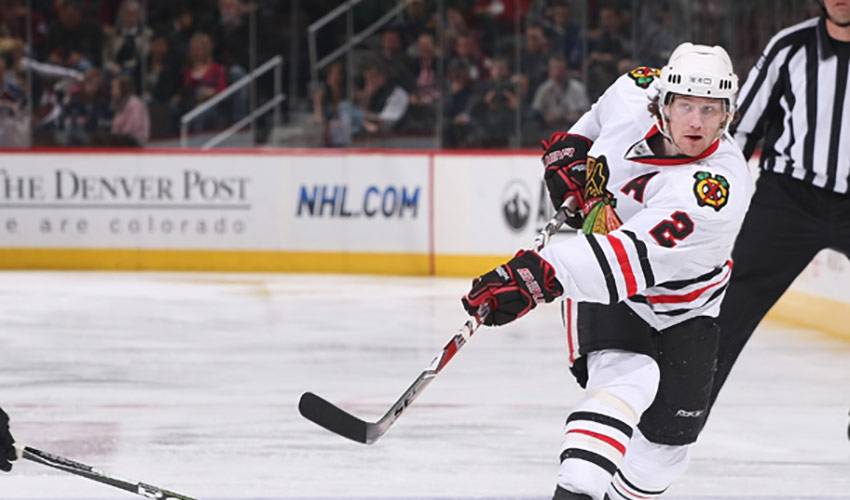 It might not have always looked pretty, but Duncan Keith managed to look good throughout the 2009-10 NHL campaign.
When the Stanley Cup final finally came to an end, Keith, one of several stars on the Chicago Blakchawks' blueline, was finally able to smile, after a hard-fought triumph over the Philadelphia Flyers.
He'll be the first to admit, though, his grin was anything but worthy of being featured in a magazine.
Keith showed just why hockey players have a well-earned reputation for toughness in after having seven teeth knocked out by a puck during Game 4 of this year's Western Conference finals against San Jose.
He returned soon after the accident to help the Blackhawks complete a four-game sweep of the Sharks and advance to the Cup finals for the first time since 1992.
The incident even spawned a Facebook group, "Duncan Keith's Missing Teeth," whose mission was "dedicated to finding those 7 missing soldiers lost in the heart of the battle of Game 4 against the San Jose Sharks."
"I think just coming from a small town, you know, Fort Frances (Ontario) and Penticton, British Columbia, people kind of looked at me with the long hair and the beard and no teeth, so I heard a lot of the jokes that I look like I'm from the woods and the bush," said the blueliner, who was selected 54th overall by Chicago in the 2002 NHL Entry Draft. "I am, you know. That's the way I am and where I am from, and I'm proud of that. But to lose my teeth was tough, and nobody wants to go through that. But a dentist did a good job, and I got some teeth in now."
The pain was eased considerably when Keith and his teammates hoisted the Cup, the first time the 'Hawks had done so since 1961. It was even more tolerable after the 27-year-old was honoured with Norris Trophy as the league's top defenceman.
"I just I can't say enough about Mike Green and Drew Doughty," said Keith, of his fellow Norris finalists. "I trained with Greener in the summer. I'm back and forth there in Penticton. He's always there. They had great years and to come out and be the guy who gets the award is kind of surreal a little bit.
"To think of the other defencemen who have won it, and been nominated, and the other Blackhawk players who have won it, Chris Chelios, Pierre Pilote to name a couple, to be in that group is kind of unbelievable."
On December 3, 2009, the Blackhawks announced they had extended Keith's contract simultaneously with teammates Jonathan Toews and Patrick Kane.
At $72 million over 13 years, Keith's contract was the most lucrative in team history. He finished the campaign with 14 goals and 69 points and ranked second in scoring among league defencemen behind Mike Green of the Washington Capitals.
Keith's output was the highest by a Blackhawks defenceman since Chris Chelios' 72-point season in 1995–96. His 26:35 minutes of average ice time was the second most in the league.
But it wasn't always perfect in 2009-10 for Keith.
"There's a guy by the name of Dr. Jim Gary. He's a sports mental coach, I guess, they call him now. But when I turned pro, back in Norfolk he's been a guy that's been huge for my career and developing the mental side of my game. I wasn't playing well, maybe the first round of the playoffs I started talking to him more in depth again and really just one talk I felt like I turned my game around. I've used him ever since I came into the Blackhawks organization. And as far as I'm concerned, he's the best thing we've got in that organization."
Many would say the same of Keith, who isn't the type to be satisfied with one memorable season.
"It's nice to have a contract, and it's nice to win this award and win championships," said the 'Hawks alternate captain. "But I think as soon as the summer goes by and training camp starts going again, all the hunger to come back and win again is right there. It's nice to enjoy it now, but once you strap on the skates again and everything's all about winning. And one year, one good year is not going to make me satisfied."
Another Cup win, however, would be more than reason enough for Keith to flash a winning smile.