Giving Thanks & Giving Back
Coyotes forward Paul Bissonnette lends a hand on Thanksgiving at a Phoenix shelter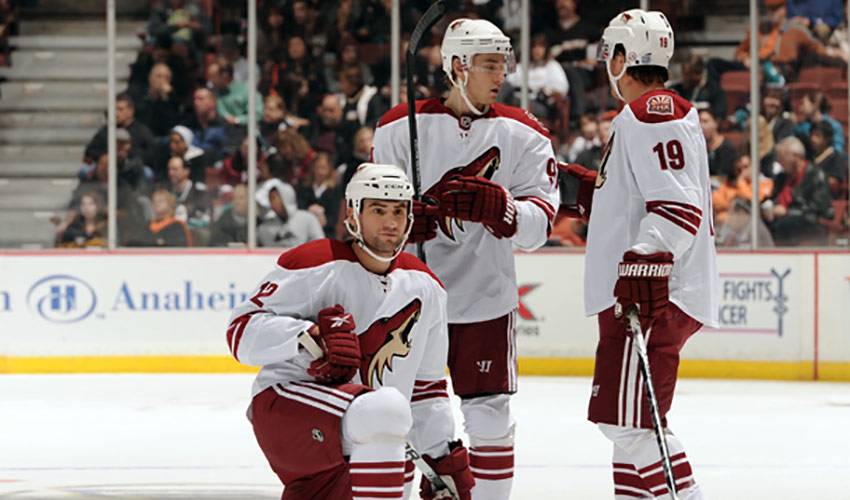 Although he didn't have any personal plans for U.S. Thanksgiving, it didn't stop Paul Bissonnette from getting into the spirit of the holiday.
His game is based on dishing out hits and uppercuts, but on Thursday, Bissonnette, along with some of his Phoenix Coyotes teammates, dished out turkey dinner and all the trimmings at a local-area shelter.
"I actually just finished," Bissonnette told NHLPA.com over the phone.
"It was great. It went really well. For me, I didn't have anything going on for Thanksgiving. I just thought it would be nice to grab a few of the other guys on the team who didn't have anything to do, and go down and help out for a bit. I'm glad we did."
Standing an imposing 6'3", weighing in at 220 pounds and sporting some serious tattoos, Bissonnette, the 121st overall selection of the Pittsburgh Penguins in the 2003 NHL Entry Draft, was anything but an intimidating presence on Thanksgiving. In fact, he was a welcome sight for those who depend on the shelter.
"I didn't really have any in-depth conversations, but I was lucky enough to have the chance to talk to a lot of people," said the native of Welland, Ontario, who, during the 2003-04 season, served as the captain of the Ontario Hockey League's Saginaw Spirit. "It was nice to be able to talk to people and see how happy they were to get a nice meal. You see people who are dealing with a lot. Some might have mental health issues, but there are some people who have lost their jobs and need to depend on the shelter."
For Bissonnette, who began his professional career in 2005 with the Wheeling Nailers of the ECHL, it was a rewarding experience.
"If there's such a thing as a good selfish, then this was it," explained the left-winger, who was picked up on waivers by the Coyotes on October 1, 2009. "I really got a lot of out if it personally. To be able to meet people, see them face-to-face, and know they appreciated it, that's a good feeling."
The good feelings don't stop there for Bissonnette.
Although he less than 100 regular season games of experience at the NHL level, has yet to appear in a big-league playoff game and sometimes finds himself watching Phoenix games from the press box, Bissonnette is a happy man.
"I'm definitely a happy guy," said the forward who played 15 games for the Penguins in 2008-09. "Things are going well and I can't complain. I might not play all the games, but when I do, my goal is to make the most of the opportunity. I'll make sure the puck gets deep, I'll forecheck hard and if I have to the drop the gloves, I will."
Bissonnette, who suited up for 41 games with the Coyotes in 2009-10, likes the scrappy attitude of the Western Conference club, a team that dismissed their longshot tag last campaign, finishing second in the Pacific Division and making the playoffs.
Expectations, he admits, have only heightened in 2010-11.
"It's funny you say that about expectations," said Bissonnette. "After the first 10 games or so, we were playing .500 hockey. We won a couple of games after that, but it was still a bitter feeling in the dressing room. We were ahead of last year's pace, but it wasn't good enough for us. We wanted to be better. It's strange how one year can change everything."
Phoenix has turned it up a notch since their sluggish start, winners of seven consecutive games, as they set their sights on even loftier goals.
"The pressure comes from within," offered Bissonnette. "We don't play in a big market, we don't get the same press and the building isn't always full. But for us, we just have to focus on being a good team. The first part of the season, we struggled. Now, we are playing well and we expect to continue that way. We have a good bunch of guys here, strong leaders and players who work hard to make the team a success."
He's hoping the good times continue to roll.
"Chemistry is an underrated thing," said Bissonnette, who has more than 21,000 followers at his Twitter account @BizNasty2point0. "But that's what we have on this team. Last year, we had a great season. Now, we want to build on that. We have a good environment in the room. I'm happy to be part of it."
It's one of many things Paul Bissonnette is thankful for, something he was no doubt reminded of when he reached out to lend a hand to those in need.