Burnzie's Battle Honours
Brent Burns receives surprise military awards at Minnesota Goals & Dreams event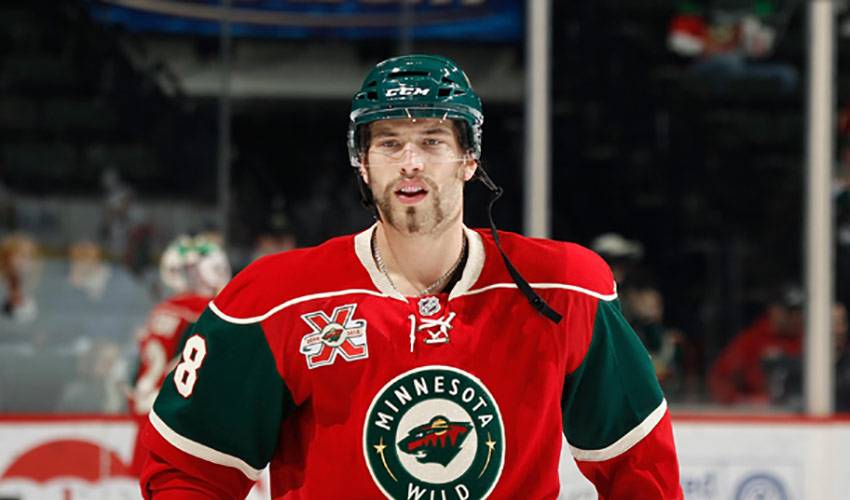 Earlier in the month, the NHLPA's Goals & Dreams fund was part of a very special night in St. Paul, Minnesota, as they were invited to meet with several military families from the state, who wanted an opportunity to thank Goals & Dreams for an equipment grant they received earlier in the year. Defending the Blue Line, a non-profit organization that helps supports the families of deployed soldiers with the costs of playing hockey, had requested an equipment grant from Goals & Dreams and, with the support of Minnesota's Brent Burns and Anaheim's George Parros, the request was awarded to the tune of 100 sets of equipment for local kids.
Burns and fellow Wild teammates Josh Harding, James Sheppard and Clayton Stoner were in attendance for the event with the recipient families, and in a surprising twist that even his wife kept a secret from him, Burns became a recipient himself, earning several military awards for the charity work he has done with military families, something that Defending the Blue Line president and co-founder Master Sergeant Shane Hudella described was for "all the generosity and time that he's shown to our troops and always being a first-class guy, taking an interest in what we do. "
Hudella, who has worked closely together with Burns over the past year and a half on several initiatives with Defending the Blue Line, nominated him for the accolade, which was then matched by other branches of the military and approved.
Burns, who is very intrigued by and respectful of the military and its history, humbly said that being given the awards "wasn't needed, I don't do it for that. But, when I think of the military, it's a different lifestyle, the respect they have for one another. I'm still amazed by the straightened backs and the "Yes, sir" and Yes, ma'am" when they see a superior, so to be recognized by them is a very special honour."
Hudella, who has served in the Army National Guard since 1988, met Burns while attending a military event during a Wild game at Minnesota's Xcel Energy Center. Burns was injured at the time and sought out the military members, as Hudella said, "like a moth to a flame, and then he spent a good part of the night talking to us."
Burns has relatives who served in the Canadian military, and he has always had a piqued interest in the subject. He told NHLPA.com that he used to get in trouble in school for always picking his father's military books when a book report was assigned, and that he had planned to go into a military field, namely the Special Forces, had his hockey dreams not been realized. After making the NHL, Burns decided to use his status as a hockey player to let him give back to military families and to help them anyway that he could. Defending the Blue Line became the perfect fit for him.
Burns has a suite at the Xcel Energy Center called Burnzie's Battallion, which he uses to host military families for Wild home games. He hosted over 500 military members and their families last season, most of whom Hudella says are on two weeks of reprieve before being redeployed back to Iraq or Afghanistan. Hudella also said that Burns has gone to state military bases several times, which he calls a "huge morale booster for the troops," and that the big defenceman is the program's go-to-guy for autographed memorabilia that is used to help a child that is having difficulty with their mother or father being gone.
"I love meeting those guys to talk, it's been a pretty cool relationship," Burns said of his work with military members. "They like to hear our little stories about what we do in the room and on the road, and I like to hear any of theirs. The two groups are very similar, in their beliefs, often with their upbringings, their work ethics and it's very easy to work together."
Hudella, who grew up in the hockey-mad state of Minnesota, spoke just as highly of hockey players he's met through Defending the Blue Line as Burns did of the military members he has, saying that they "are genuinely nice, working-class guys, that even though they may get a great pay cheque now, they'd still be great guys even if they weren't pro hockey players."
"They're the best of the best."