You Wanna Take This Outside?
Crosby knows the rivalry with the Caps is intensifying; predicts 2011 Winter Classic will have playoff feel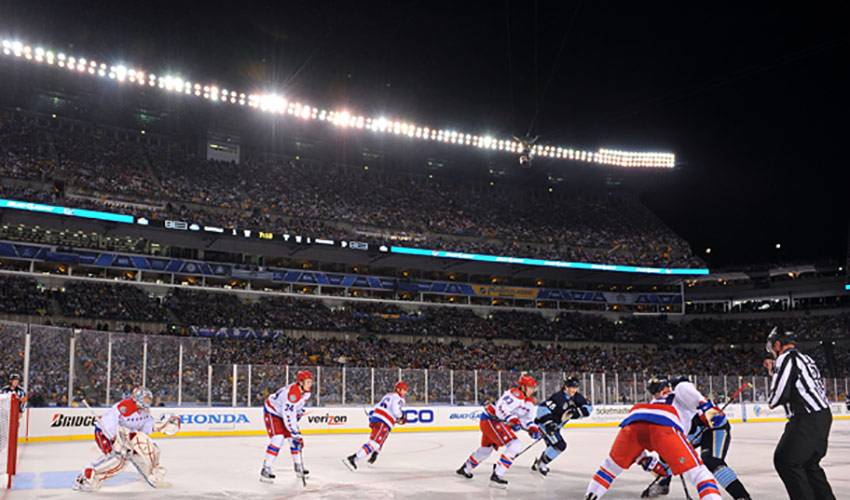 He's wreaked havoc on the opposition on indoor ice throughout 2010, but on New Year's Day, the hockey world will once again see what Sidney Crosby can do in the great outdoors.
It has, without a doubt, been a year to remember for one of the game's greatest players.
Early in 2010, he scored the game-winning overtime goal that gave Team Canada a 3-2 win and a gold medal at the Winter Olympics in Vancouver.
But the superstar known far and wide as 'Sid the Kid' was just getting started.
Playing perhaps the finest hockey of his brilliant NHL career, Crosby, the dynamic Pittsburgh Penguins' captain, will lead his team onto the ice at Heinz Field, home of the National Football League's Pittsburgh Steelers, to take on their bitter rivals, the Washington Capitals, in the 2011 edition of the Outdoor Classic.
"I don't think the feeling of playing a National Hockey League game against a big rival, I don't think that wears off," said Crosby, who scored the shootout winning tally against the Buffalo Sabres in the 2008 Winter Classic held at Ralph Wilson Stadium. "I think we all feel pretty lucky to be in the game. For some of us who have played in one already, it's another opportunity to be part of a pretty unique event. The fact that we have it here in Pittsburgh against a rival and that it's become such a big event, I think we all just feel lucky to be a part of it."
Come rain, shine, sleet, snow, or otherwise, Crosby believes the Eastern Conference heavyweights will be ready to put on a show.
"To be honest, I think both teams will be the first to tell you that no matter what the conditions or the stoppages, that we're both happy to be in that game," said the Nova Scotia native, who won his first Stanley Cup in 2009, becoming the youngest captain in NHL history to win the championship. "I don't think you're going to hear any complaints. We expect to deal with that.
"If anything, we just cross our fingers and hope that all conditions are well just more for the crew working on the ice too, because they're not going to have an easy job. I think whatever happens, whatever the forecast is, whatever the weather is, we just have to be on our game. Everyone will be fine. I don't think you'll hear any complaints."
Regardless of what Mother Nature has in store for Saturday's game, there is one certainty: Crosby seems virtually unstoppable these days.
On December 29th, Crosby's 25 game point-scoring streak was finally put to an end, as Sid was unable to get on the scoresheet in a 2-1 shootout loss to the New York Islanders. The streak, which began on November 3, 2010, was the longest the NHL has seen in 20 years.
While he fell well short of Wayne Gretzky's record of 51 consecutive games with scoring a point, the 23-year-old admits his pursuit of the mark hasn't quite sunk in yet.
"That feels like it's a whole other world away, to be honest with you," said Crosby, who became the youngest player to win the NHLPA's Ted Lindsay Award and the Art Ross Trophy, both in 2007. "But I think at this point for me I definitely, especially the last week or two, I feel like there has been a little more attention to it and things like that.
But to that level, I don't think maybe I realized it, and probably don't feel like it's at that point. But probably getting a little bit of that feeling as far as realizing that people are following a little bit more.
"It's hard to imagine somebody watching a game, they're watching Wayne Gretzky play every night and kind of expecting that after 40 games, to expect the 41st and 42nd and so on," he continued. "It's incredible to think that he did that over the course of 51 games. I can't even imagine it, really. People are in for quite a treat when they witness that. Like I said, the last couple of weeks I probably realized or felt a little bit more attention towards it. But I can't imagine what that was like."
Crosby, however, is well aware that the rivalry between the Caps and Penguins continues to intensify, a rivalry that has been on full display for sports fans recently on HBO's 24/7. It is exactly why he expects the New Year's Day game to have a distinct playoff feel to it.
"I think it's certainly grown," offered Crosby. "You look at the playoffs and you look at the games that we've played against them in the last few years, it's pretty easy to build a rivalry that's very intense. They're physical and they've been really close games, so I think that's a pretty natural progression as far as the two teams are concerned. I think that's good for everyone. I think both teams bring out the best in one another."
These days, it seems everyone, Washington included, who brings out the best in Crosby.