Seeing the Stars Aligned
Stephane Robidas had a good feeling about the Dallas Stars team heading into 2010-11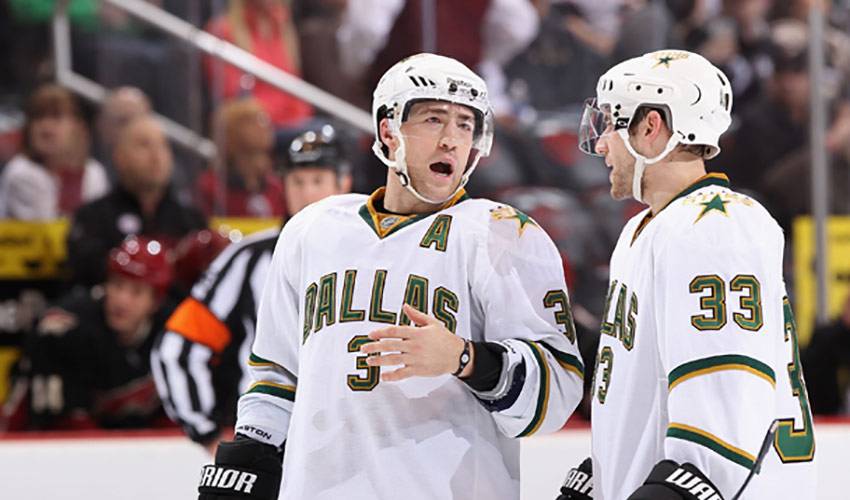 While many in the hockey world might not have seen it coming, Stephane Robidas figured the Stars were aligned for Dallas long before the puck dropped on their 2010-11 NHL season.
It was early in training camp when Robidas, one of hockey's most dependable defencemen, got a sense of where the Stars were headed.
"There was a very good feeling right from the very start of training camp, something that made you believe we were capable of having a good year," said the native of Sherbrooke, Quebec, who was the 164th overall selection of the Montreal Canadiens in 1995. "We knew we had a solid offensive team and a good defensive group. It was just a question of putting it all together. But that was something we knew we could do."
A team capable of scoring their fair share of goals, however, also needed to complement that facet of their game with a more disciplined defensive approach.
Opening training camp in Charlottetown, Prince Edward Island, home province for both Brad Richards (born in Murray Harbour) and Steve Ott (born in Summerside), proved to be an ideal place to kick-start the campaign.
"I think everyone really bonded," said Robidas, who was claimed by the Atlanta Thrashers on October 4, 2002 in the NHL Waiver Draft, and subsequently dealt to the Dallas Stars for a sixth-round selection in 2002.
"It was a great idea to have our training camp there," he said. "You got a sense that everyone was really energized and very enthusiastic about our chances."
While optimism ran high within the organization, the fact remained that Dallas had missed the 2008-09 and 2009-10 playoffs, finishing third and fifth, respectively, in the Pacific Division.
A new approach, however, had Robidas, who was traded to the Chicago Blackhawks in November 2003 for Jon Klemm and a fourth-round selection in the 2004 NHL Entry Draft, before signing as a free agent with Dallas in 2004, believing a post-season berth was well within their grasp.
True to Robidas' words, Dallas got out of the gate quickly and hasn't slowed down, as they find themselves in the upper echelon of the Western Conference standings.
"I think the system we implemented this year really helped balance our offence and defence," said the Stars' alternate captain, who was selected play in the 57th NHL All-Star Game in Montreal in 2009.
"Everything seemed to just fall into place. It's something that we all believed in."
Having Robidas help anchor the Dallas blueline corps was just one more reason to think Dallas could make a return to the Western final eight.
There's certainly no questioning his resilience.
In game five of the Stars' 2008 NHL playoff series against the Anaheim Ducks, Robidas took a clearing shot from Todd Marchant off the face. A broken nose, along with needing stitches, didn't keep him out of the game for long. He returned wearing a full face-mask and played a strong game despite Dallas coming up short 5–2.
The next game in Dallas, Robidas scored the game-tying goal shortly before he would set up Stu Barnes for the series-clinching goal, as Dallas went on to defeat the Ducks 4–1 and take the series 4–2 on home ice.
Robidas was also heralded as Canadian sports television network, TSN's "No Guts, No Glory" winner, as the 2008–09 NHL season's toughest player. He was selected after he broke his jaw in a game against the Phoenix Coyotes; he missed just a single shift after being injured and went on to play more minutes than any other skater in that game.
The 5'11", 180-pounder is now closing in on the 700 games-played mark in the NHL, far more than he ever envisioned skating in.
"I can't say that's how I planned it to be," Robidas laughed.
"To be honest, I wanted to play one game in the NHL. That was what I wanted to do. And now it's at almost 700. I feel very lucky and very blessed to have played that many games."
He's looking to add many more.
"I'd be honoured if I could make it to 1,000 games. That would be an amazing milestone to reach."
For now, though, the veteran defenceman is looking for a return to the playoffs and a shot at winning the Stanley Cup.
"We are confident in one another," noted Robidas. "We have goaltenders that we can count on and good balance throughout our lineup. We just want to keep building on the momentum."