A Goal Oriented Approach
With a list of goals in mind, Tim Thomas continues to work on accomplishing them all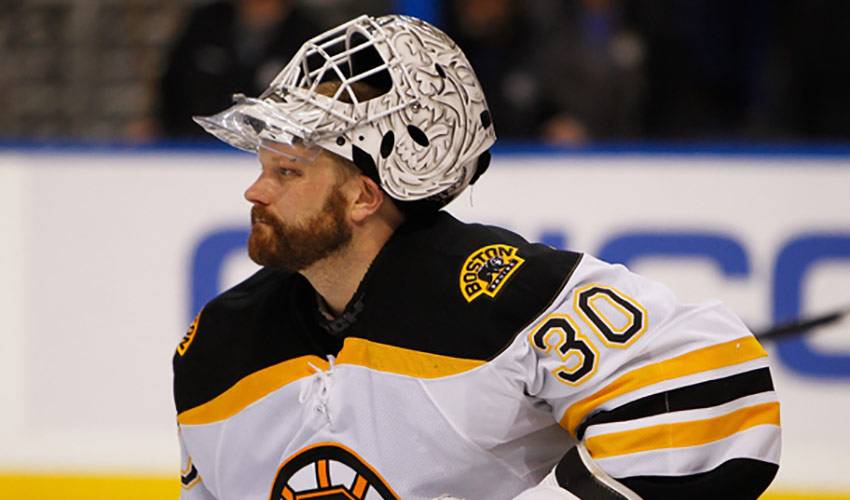 He has an unorthodox playing style, he's undergone surgery to fix an ailing hip and his NHL career has been a rollercoaster ride. But through it all, Tim Thomas's belief in himself has never wavered.
His big-league career has taken more twists and turns than he could have ever anticipated. Yet the man who is the last line of defence for the Boston Bruins just isn't the quitting type.
"I've tried to get better every year in my career," he said. "It wasn't like I went from a guy who couldn't play street hockey to playing in the NHL. That's my point. I've just kind of been there all along, plugging along. Just with goalies, for you to get your chance it's much harder because there are much fewer positions. It just took me a long time to get my chance."
Thomas has no doubt made the most of the opportunities that have come his way.
"A lot of the stuff that I've accomplished this year are goals that I actually set for myself last summer," said Thomas, who toiled for several years in the minor leagues and Europe before making it to the NHL at age 28, with the Bruins, and emerged as their starting goaltender at age 31. "One goal I did have was to be a Vezina finalist. That's one of the things I thought of last summer."
Thomas, who broke the record for save percentage beating Dominik Hasek's record of .937, with a .938 percentage, in 2010-11, saw that goal become a reality when he was named, along with Roberto Luongo and Pekka Rinne, as the finalists for the award.
He was also pegged as a major key in Boston's playoff fortunes.
Finishing third in the Eastern Conference, the Bruins rallied from a two games to none deficit against their Original Six rival Montreal in the first round to win in seven games, before besting the Philadelphia Flyers in four games in their semifinal matchup.
A shaky start against Montreal didn't do wonders for the team's Cup aspirations.
"I think we had the confidence before we went into the playoffs that we could win against those teams, specifically, that we played," said the native of Flint, Michigan, who was selected 217th overall by the Quebec Nordiques in the 1994 NHL Entry Draft. "But it took us a little while before we got engaged in that first series for whatever reason. I don't know exactly what those reasons were. That includes myself, too.
"But beating Montreal in Montreal the first time in overtime there in Game 3 really did help our confidence. But our confidence was good going into the playoffs, but I just think it's grown, obviously, with the success that we've had."
Having Thomas between the pipes is certainly reason enough to have a positive outlook.
The recipient of the 2009 Vezina Trophy as the league's best goaltender has never been better, guiding Boston through a strong regular season campaign and a date in the East final against the Tampa Bay Lightning, a team, ironically enough, that Thomas had a tryout with in 1999.
It's hard to fathom that one year ago Thomas went under the knife to repair his hip.
"It is amazing," said the 37-year-old. "I haven't taken too much time to really focus on how different it is this year than last year, because still too busy putting all my focus and energy toward trying to accomplish more. As far as the hip surgery making me have to rethink my game, yes and no. When I had the surgery and I'm recovering and rehabbing from the surgery, I did wonder how it was going to affect the way that I played or the way that I had to play. But actually when I got to playing and realized how good the hip was, it actually allowed me to play the way that I wanted to.
"So I didn't have to really change anything," he continued. "I actually had to change less than I had to change even last year when I was playing with the injury. So it kind of put me back to a spot where I didn't have to change much, I could just play. I think that's added to my success this year."
Thomas would love to cap off his memorable campaign with a Stanley Cup parade through the streets of Boston.
It's a scenario he's thought of on more than one occasion.
"One goal, one dream that I thought a lot about was raise the Stanley Cup over my head."