Becoming a Beloved Bruin
Tim Thomas is carving himself a spot in Boston sports lore with his play in the Stanley Cup Final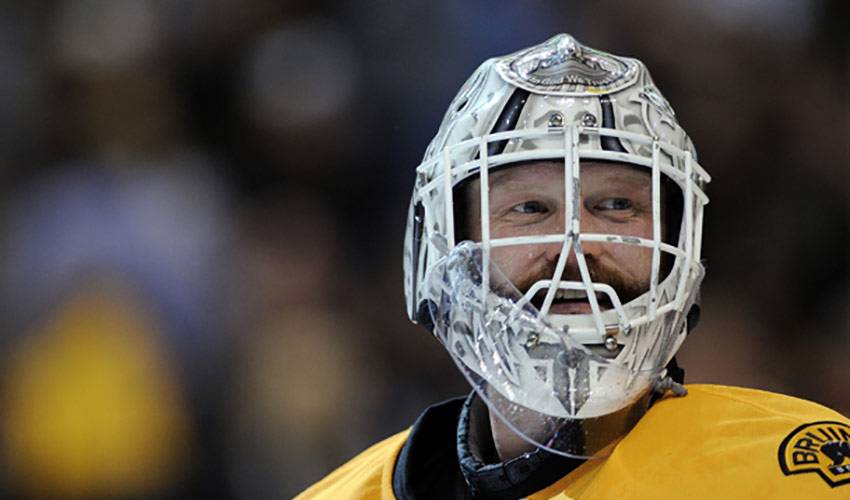 Tim Thomas is in the zone.
That could be the understatement of the Stanley Cup Playoffs. But having given up just one goal total in Game Three and Four against the Vancouver Canucks, wins that squared the Final at two games apiece, there's simply no doubting Thomas these days.
"I felt like that for a lot of this year, to be honest with you," said the Boston backstopper, who broke the record for save percentage beating Dominik Hasek's record of .937, with a .938 percentage in 2010-11. "I have felt so good in the Final so far. I'm just going to keep doing the same thing that I've been doing to, you know, try to have the same success that I've had. Just between games I try to get as much rest as I possibly can and keep my body as maintained as possible."
The plan seems to be working just fine.
After losing both games to the Canucks in Vancouver, including a tough overtime loss in Game Two, the series returned to Massachusetts. When talk turned towards the possibility of it being a short Final, Thomas and his teammates responded with a pair of standout performances, including an 8-1 triumph in Game Three and a 4-0 shutout in Game Four.
Thomas notched his third shutout of the postseason on Wednesday evening, making 38 saves, his fourth straight game with more than 30 stops.
And while his on-ice style is the epitome of unorthodox, Thomas's calm, cool and collected demeanor has been a rallying point for a Boston squad eager to hoist their first Cup since 1972.
"We learned the lessons throughout the season that you have to put the games that we lost behind you," said Thomas, who was selected 217th overall by the Quebec Nordiques in the 1994 NHL Entry Draft, playing several years in the minor leagues and Europe before making it to the NHL at age 28, with the Bruins. "I think we did a good job between Game 2 and 3 in that. I think actually we did a good job of that between Game 3 and 4. Just because we won Game 3 didn't mean we were going to go out there and have it be a cakewalk, and it wasn't. I think that's one of the things we've done.
"But every time this year that we've faced adversity as a team, we've rose to the challenge. We needed to do it one more time because we were down 2-0. Now we've done that for two games. The challenge for us will be to keep doing that."
Having Thomas in the crease is certainly reason enough to like your chances.
The Michigan native, who emerged as the Bruins' starting goaltender at age 31, was the winner of the 2009 Vezina Trophy as the league's best goaltender and was a member of Team USA in the 2010 Winter Olympics in Vancouver.
He has become, not surprisingly, one of the city's most beloved citizens. Thomas can definitely feel the love.
"Our crowd has been phenomenal, especially in these playoffs," said the 37-year-old, who was named a finalist for the 2010-2011 Vezina Trophy. "During the regular season, sometimes I'm not sure how much energy home crowds really add to games. But I know playing at home in these playoffs has been a big advantage for us and it's helped us. They were extremely loud. We played well. We rewarded the fans that have stuck with us. So that's helpful. We're focusing on what we have to do to have success. I think we've done a pretty good job of that the last two games. That's what we're going to focus on going forward."
Yet amid all the frenzy, fanfare and pressure of a Cup Final, Thomas has been able to skate away from it all on off days, content in spending quality time with his family.
And while he's only too happy to accept requests from his kids for what they can do with their time, there's one thing, at least for now, that's off the list.
"I like to spend some time with my kids and spend some time by the pool with this nice weather that we've had. That's really about all we've had time for. It isn't like we've had a ton of time at home. That's pretty much all that transpires there. My little boy is trying to get me to play hockey. I'm like, 'I'm a little bit too tired… wait till this summer.'"
By that time, Thomas might have plenty of passion to play the game, perhaps reliving one of the most memorable seasons a goaltender has ever had.