A Giant And A Gentleman
An imposing figure on the ice, Derek Boogaard was a passionate, caring & charitable man off it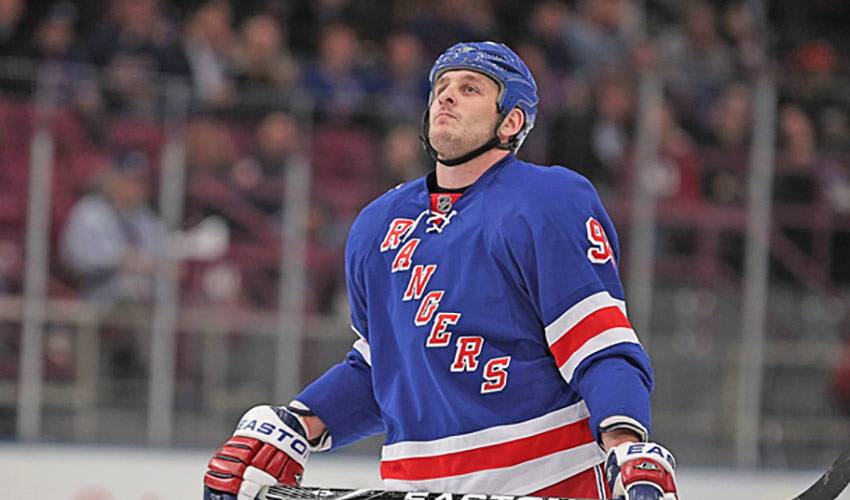 He was one of hockey's most identifiable enforcers, a player with a big presence on the ice and a big heart away from it.
Shane Hudella has all the time in the world to talk about Derek Boogaard, his good friend, the man he refers to as "the epitome of a gentle giant."
Hudella, the founder and president of the Minnesota-based Defending the Blue Line, a non-profit organization created by soldiers whose mission is to keep hockey alive for the children of military heroes, is still reeling over the death of Boogaard, an NHLPA member who was respected equally both inside and outside of the game.
"I know it's been all over the news, but Derek really was the great guy that everyone has been talking about," said Hudella, of the 28-year-old native of Saskatchewan, who passed away on May 13. "But I don't know if anyone really understood just how passionate he was about making a difference. The work that he did for us was remarkable. He reached out to us and wanted to further our cause."
Boogaard, who played in the Western Hockey League (WHL) for the Regina Pats, Prince George Cougars and Medicine Hat Tigers, was selected in the seventh round, 202nd overall, by the Minnesota Wild in the 2001 NHL Entry Draft.
His physical play and his reputation as one of the game's premier enforcers was certainly well-earned.
But despite his imposing size – he stood 6'8" and tipped the scales at 260 pounds – Boogaard was beloved by those he met off the ice, a person whose warm demeanor made him a fan favourite in Minnesota, New York and beyond.
"He was such a humble guy, someone who truly cared about making a difference," recalled Hudella, of the forward who signed a four-year contract with the Rangers on July 1, 2010. "He looked at playing in the NHL as being a true gift. He enjoyed it all. He loved looking out for his teammates and he took his commitments off the ice with the same passion."
Brandon Prust, who played with Boogaard in New York, and was roommates on the road with the imposing forward, has similar recollections.
"I remember him coming in to training camp and here's this big, tough guy on the ice," said Prust. "He was big and scary when he played, but that's not who he was when the game ended. He was calm and nice, just a great person. He didn't have a mean bone in his body."
There are countless times, as Hudella recalls, where children that are part of the Defending the Blue Line program, literally and figuratively looked up to Boogaard.
"Here's a guy that stands 6'8" walking out of the dressing room and the kids look up and see this mountain of a guy," remembered Hudella. "The kids thought he was awesome. He was absolutely there for them in every way. He was a nice, caring man. Derek would be the first one out of the locker room after a game and the last to leave.
"He would get pictures taken with the kids and they just loved it. He wanted to be there to do that. To them, he was a giant overstuffed teddy bear."
Prust saw Boogaard in the very same light.
"He was a big teddy bear, a gentle giant. He was my roommate on the road and I won't ever forget the good times we had. Whether it was watching TV, going out for dinner, or ordering in, we had a lot of laughs."
Prust was relieved he never had to drop the gloves with his former teammate.
"I never did have a fight with him when we played against one another," noted Prust. "There aren't too many guys I wouldn't fight in this league. With Derek, I was genuinely scared of him. I can't say that about anyone else that comes to mind."
To Hudella, Boogaard was also a close and respected friend.
"It's truly sad," he admitted. "But to see the letters and notes we've received…it really is touching. We've had people write to us from 30 different states and provinces across North America and from five or six different countries, sending their thoughts on Derek. It's very comforting to know what people thought of him."
Boogaard appeared in 277 NHL regular season games, tasked with the unenviable role of squaring off against some of hockey's toughest players at a moment's notice.
And regardless of how long his career would have gone on for, Boogaard spoke with Hudella about a life in the military once he hung up his skates.
"He wanted to be in the military, he talked to me about it a lot," said Hudella. "He was adamant about it. Once he took care of his family and friends, it's what he wanted to do. I remember I once told him, 'Derek, you're 6'8." How are you going to fit in a tank? But he was serious about it."
Moments after speaking with NHLPA.com, Hudella texted back with one last thought on Boogaard.
"I think it's good that so many outlets are focusing on what a great man Derek was," noted Hudella. "More people should stop for a minute in today's hectic world and ask themselves, 'What will I be remembered for?' I think Derek did that and the world is a better place because of it."
There are many, Hudella and Prust included, that don't need any convincing.
Derek Boogaard Memorial Donations
In lieu of flowers, the family of Derek Boogaard requests donations be made to Defending The Blue Line. His family would like to see Derek's legacy live on by supporting military kids & the game he loved. Donations may be mailed to: Defending the Blue Line, c/o Boogaard's Booguardians Memorial Fund, 1206 N. Frontage Road Suite B, Hastings, MN 55033; or made online at www.defendingtheblueline.org.