Mo' Money? No Problem!
NHLPA members join the Movember cause, growing 'staches in support of prostate cancer & men's health issues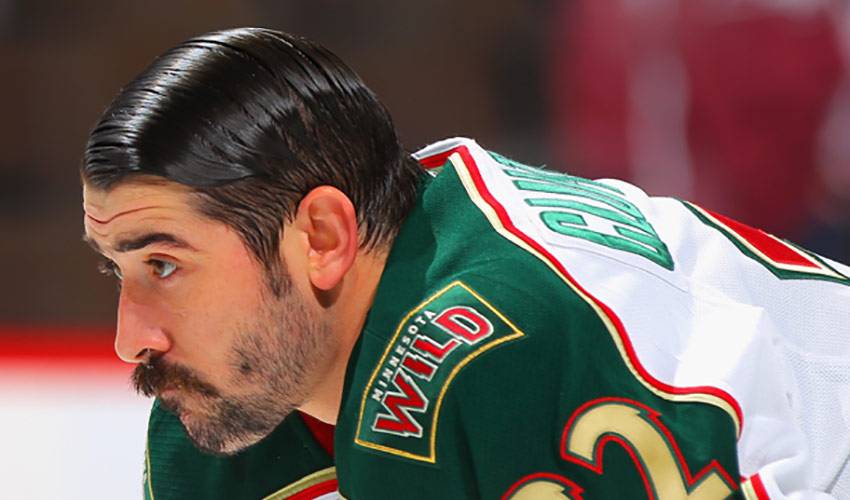 They come from different countries, play on different teams and sport very different looks, but hundreds of NHLPA members are united in their support of Movember and prostate cancer awareness.
The mustaches fashioned by players on the Minnesota Wild, like many of their counterparts on other teams across the NHL, range from stylish to scary, fashionable to funny.
, one of several Wild players who grew mustaches in support of Movember, the annual November initiative that raises funds and awareness for men's health, specifically prostate cancer, his involvement doesn't have anything to do with looking good.Greg ZanonBut for
, his is excellent. Not everyone's is perfect, but the most important thing is that everyone is having fun supporting an extremely worthwhile cause. We're glad to do it."Cal Clutterbuck"Mine looks alright, I suppose," said the veteran defenceman, who has appeared in 400 regular season NHL games. "There are some good ones on our team.
The funds raised in Canada support the most prevalent cancer among men in the country, prostate cancer.
Funds raised are directed to programs run directly by Movember and to their men's health partner, Prostate Cancer Canada. Together, the two work together to ensure that Movember funds support a range of innovative programs in line with their strategic goals in the areas of awareness and education, survivorship and research.
In the United States, the funds raised support prostate cancer, as well as other cancers that affect men. The money raised is then allotted to programs run directly by Movember and their men's health partners, the Prostate Cancer Foundation and LIVESTRONG, the Lance Armstrong Foundation.
Since its beginnings in Melbourne, Australia, Movember has grown to become a global movement, inspiring more than 1.1 million to participate, with formal campaigns in Australia, New Zealand, the U.S., Canada, the UK, Finland, the Netherlands, Spain, South Africa and Ireland.
In addition, people from Russia to Dubai, Hong Kong to Antarctica, Rio de Janeiro to Mumbai, and many more countries, have also stepped up to support this worthy cause.
So, too, have several NHLPA members on the San Jose Sharks.
, his is pretty patchy. I think he started growing his moustache two weeks before Movember got underway."Logan Couture definitely has one of the best. Colin White"I think mine is coming along okay, but it looks pretty greasy," said defenceman Jim Vandermeer. "There are definitely some jokes and teasing going around and everyone is having a good time making fun of one another. (Fellow blueliner)
How does Couture, one of the game's top young stars, respond?
"I actually did get a head start on things," said the forward, who was a finalist for rookie of the year honours in 2010-11. "It's funny that we're talking about this right now because I was just online checking to see how much money we raised as a team. It's fun to do and we're all enjoying it."
As for his assessment of his teammates' facial hair, Couture admits it's an equal mix of the good, the bad and the ugly.
"Colin White's, his is pretty good. Jason Demers is funny and Justin Braun's is just terrible," joked Couture. "But it doesn't matter what it looks like, this is all about us and the other guys around the league lending our support to something important."
Brent Burns, another Sharks defenceman, might not be getting thumbs-up from his wife when it comes to his Movember look, but he's happy to be on-board.
"I'm definitely honoured to be part of this," said Burns. "I usually have some facial hair going, so it's been a pretty easy transition for me. Plus, you get to be a little lazy not having to shave for a while."
, captain of the Montreal Canadiens, might have lukewarm reviews for his own mustache, but he's not about waver in the final days of the initiative.Brian Gionta
has the best one going. It's pretty impressive."Erik Cole"I have a decent one, not very thick, but I'm trying," Gionta told NHLPA.com, during a recent Canadiens road trip. "
And the worst one?
is fashioning a handlebar mustache. "He won't admit to that, but it's the truth."Hal Gill ," laughed Gionta, whose teammate PK Subban"(Defenceman)
Gionta is thrilled, but hardly taken aback, to see league-wide player participation.
"We're all just proud to get together and do this as a team. To see so many guys doing it on other teams really isn't a surprise at all. It's the hockey player way."
For more information on how to support your favourite players and Movember, follow the links below:
http://ca.movember.com/