The Fruits of Labour
Zenon Konopka brings a blue-collar style on the ice and a savvy business and charitable approach off it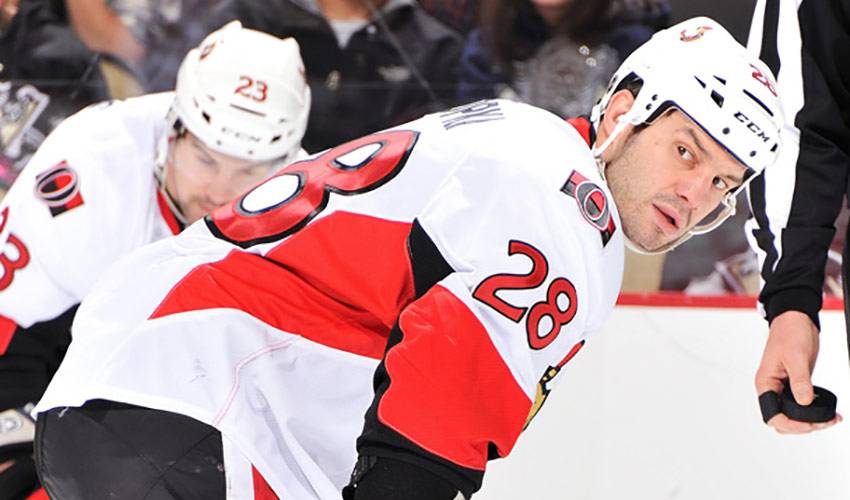 Zenon Konopka
, respected hockey player and successful businessman, deserves a toast for his latest off-ice venture, one that will have people raising a glass while a worthy charity receives recognition and funds.
Whether it's sticking up for his Ottawa teammates or running a successful business, Konopka, a veteran of nearly 250 NHL regular season games, is certainly a dedicated man.
Recently, the native of Niagara-on-the-Lake, Ontario, launched his new red and white wine line, appropriately called ZK28, during the annual NHL all-star weekend party, this year in Ottawa. Made by Palatine Hills Estate from his hometown, a dollar from each bottle sold will be given to www.stopconcussions.com.
"I've always enjoyed wine," said Konopka, who grew up on a fruit farm that yielded grapes, apples, plums, peaches and more. "I have some familiarity of what goes into making wine, but it's something you can always learn more about. I think that's one of the most compelling things about wine…it makes you want to know more."
As for the charitable side of the initiative, Konopka was eager to offer his support to what he believes is something all in the hockey world can relate to.
Stopconcussions.com was co-founded by former NHLPA member Keith Primeau, whose mission is to spread awareness on the cause, effects and consequences of concussion awareness.
"Obviously, it's been an issue that players have had to deal with and after speaking with Keith, I felt it was something that we could work together on to bring recognition to their message," said Konopka, who signed as a free agent with the Senators on July 5, 2011. "It was important to me to align this with a charity."
Konopka, whose hockey career has seen him play in Idaho, Utah, West Virginia and Russia, is busier than he's ever been. But the former captain of the Ontario Hockey League's Ottawa 67's, who had 86 points in 61 games in his final junior campaign in 2001-02, prefers it that way.
Uniting his passions – hockey, charity and business – doesn't always leave much time for sitting back and kicking up his feet, but Konopka finds satisfaction in his often hectic lifestyle.
"I really enjoy everything, but obviously, hockey is the main focus," said the forward, who has also suited up with the Tampa Bay Lightning, New York Islanders, Columbus Blue Jackets and Anaheim Ducks. "But I don't have any complaints whatsoever."
Konopka owns and operates Pure Press, a supplement company he launched over five years ago, that produces therapeutic grape seed oil. He also owns a minority stake in Vin-Aire, producers of a popular wine aerator that takes mere seconds to decant a glass of wine.
On the ice, he continues to receive kudos for his strong physical presence and faceoff skills, a blue-collar player who relishes his role on a Senators team working towards a return to the Stanley Cup Playoffs. For his part, Konopka, who won a Memorial Cup championship with the 67's in 1999, is willing to do whatever it takes to help Ottawa net a top-eight spot in a tightly-contested Eastern Conference.
"I want to contribute whatever I can on the scoresheet, but I don't mind doing the little things, either," said the 31-year-old, who was the most penalized player in the league the past two seasons. "The bottom line is that we all bring something to the rink that can make a difference. It's a long season and you have to be able to endure through the tough times and gain confidence when things are going your way."
He sees his business ventures in much the same way.
"If you want something to work sucessfully, you have to be prepared in all aspects and be committed to every detail
," said Konopka, who still resides in Niagara-on-the-Lake during the off-season. "I enjoy the challenges that come with each aspect of what I do."
Whether it happens to be in a business suit or a hockey jersey, Zenon Konopka continues to work overtime to make sure he's always up for those challenges.