Between The Bluelines With Steve Ott
New Sabres forward chats with NHLPA.com about fishing, family and on-ice rivalries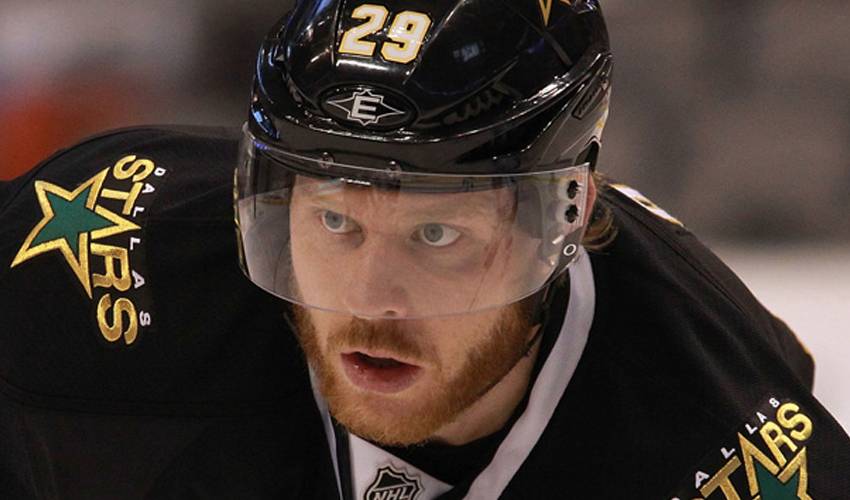 For Steve Ott, who was recently traded from Dallas to Buffalo, life is all about water and water under the bridge.
The Ontario Hockey League product (Windsor Spitfires), who met up with some of his new Sabres teammates at the press conference where he was introduced in Buffalo, has been doing plenty of boating and waterskiing this summer at his cottage, in between training sessions.
Here are 5 things you need to know about the 29-year-old centreman:
WHAT FLOATS HIS BOAT: "I've always loved boating for as long as I can remember. I get that from my father. Now, I have a boat to go out and cruise around and one for fishing. I really just enjoy doing anything on the water. If it's fishing early in the morning, going out for a quick trip or having a full day out on the lake, I just love it. I see my daughter's love for the water, too. We just bought her a pair of water skis and she's really into it."
THE BIG PICTURE: "I had a gym built in the cottage, which is great not having to go too far. You wake up in the morning, go down to the gym and you can get in a really good workout. There are a lot of big windows, so you get to look right out at the water and see what's going on out there. I love it."
NO SABRE-RATTLING: "When I had my press conference, I got to meet a lot of my new teammates. Two of the guys I got to meet were Patrick Kaleta and Cody McCormick, guys I have both fought before. And just as you'd expect, they are great guys, very welcoming. That's the way it is in hockey. You can get under someone's skin, drop the gloves, battle it out and then once you're teammates, it's all water under the bridge. You shake hands, sit down for a beer and anything that happened on the ice, it's forgotten."
TAILOR-MADE: "You look at the young talent they have in Buffalo and you have plenty of reason to be very optimistic. You get a real sense, from top to bottom, that they are serious about winning. I'm an energy guy and that's what I bring to the team. I really see it as a good fit. You have great fans, fans that are very passionate and vocal. I couldn't be happier."
THE SUMMER SIDE OF LIFE: "You never take for granted the time you get to spend with your family and friends during the off-season. Obviously, you want to be playing for as long as you can once the regular season over, but you appreciate the moments you get to do some fun activities. Any chance I get to be around the water, I'm happy. But I don't think I have to worry about trading in my hockey stick for a fishing rod or waterskis."
He's known for his witty remarks to the opposition, but Steve Ott, a veteran of 566 big-league regular season games, is also capable of delivering on the scoresheet and beyond, a multi-talented player that will now patrol centre for the Buffalo Sabres.
And while he can certainly rub his opponents the wrong way, Ott, who scored his first NHL career hat trick at home against the San Jose Sharks on March 31, 2010, is just the type of guy you want wearing your jersey.
"What happens on the ice, for the most part, it's heat-of-the-moment exchanges that are usually forgotten," said Ott. "The great part of hockey is in knowing a guy who you had a heated battle with and now call a teammate…you can just laugh it off, move on and go out there and work together to win. And that's the way it should be."
Find out more about Steve Ott by visiting his Player Profile page.