Sedin Twins Boost the Spirits of a Triple A Midget Team With a Surprise Visit
Daniel and Henrik Sedin recently surprised a Vancouver Triple A Midget team after a tough loss.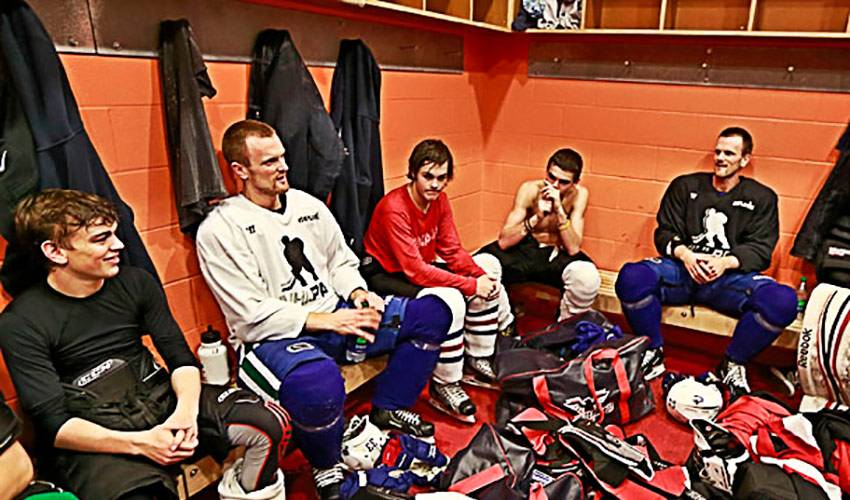 When the Vancouver Thunderbirds Triple A Midget team showed up to one of their regular scheduled practices at Hillcrest Arena last week, they had no idea they would be lacing up to hit the ice with two iconic NHL star athletes.
Many players have been organizing impromptu practice skates during the owner-imposed lockout, building the #FoundAPlaceToSkate movement, but Daniel and Henrik Sedin wanted to really shock the players. Instead of being introduced to the team by coach Grant Cumberbirch, the Sedins secretly joined the players on the ice as they were doing laps around the rink.
"It was fun. We jumped into the skate unannounced and for a minute most of the guys didn't notice we were there. There were some pretty surprised faces when they looked over and saw me," said Henrik Sedin.
After coming off a big loss the night before, the Thunderbirds were expecting a difficult practice. The presence of two of the game's biggest stars definitely changed the mood and within minutes teammates were grinning ear to ear and gathering in groups to speak with Daniel and Henrik. As the practice continued the players were treated to a dazzling display of on-ice skill that most only dream of.
"It was great to have them out, it showed true leadership. The whole team was really happy. The best part? Great passes. Soft, tape-to-tape every time. You wish you could have that all the time," said Thunderbirds player Spencer Fargey.
After the practice wrapped up, the twins stuck around to pose for photos with the players and chat with them in the locker room to answer their questions about what it's like to play professional hockey.
"It took me back a few years, that's for sure," said Daniel Sedin. "I remember when I was young looking up to the older guys, and know that it's important not to forget the influence that we have."
This practice visit is just one of the many activities the Sedins have been doing in Vancouver throughout the fall and winter to benefit their local community. Instead of travelling back to their hometown to play overseas this season, the Sedins decided to remain in British Columbia because Vancouver feels like home to them now.
"To have two of the game's elite players come to a minor hockey league practice and be so generous of themselves, be so engaging and humble, you could not ask for better role models in professional sport," explained Coach Grant Cumberbirch.
For more #FoundAPlaceToSkate coverage, visit: http://www.nhlpa.com/news/giving-back