Between The Bluelines With Erik Cole
Habs forward happy to be back and looking forward to making a playoff push in Montreal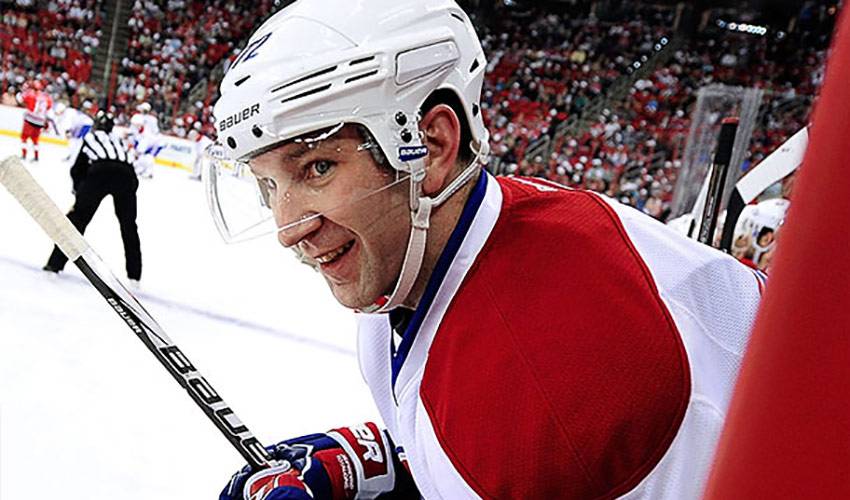 He might have had a huge season in his first campaign with the Montreal Canadiens, but Erik Cole's sole focus is on doing what he can to help get the Original Six franchise back in the Stanley Cup chase.
Although he hails from New York, make no mistake about it: Cole, who signed a four-year deal with Montreal on July 1, 2011, feels right at home in one of the NHL's most passionate hockey cities.
Here are 5 things you need to know about Erik Cole:
WHAT A FEELING
: "Just after the lockout ended, it felt like one of those days, one where you feel good about everything. I had just got a haircut, grabbed a Starbucks coffee for my wife and then headed home. I was feeling pretty good. It was one of those days you've been waiting for now that the lockout is over. It was great to see all the guys at the rink. For the first time in a long time, you could sense the excitement and optimism."
I'M A BELIEVER:
"Last year, it was deeply disappointing for all of us to not make the playoffs. The purpose of me coming to Montreal was to be in the playoffs and to help bring another Stanley Cup to the city. It didn't work out last year, but I really believe in the players. There is a new coaching staff and new regime in place and you get a real sense of the enthusiasm and desire to make this a success."
HAPPY IN HAB LAND:
"Hockey and this city go hand-in-hand. Everyone was craving it and you could see how much it impacted everyone. A good number of fans were out for our first skate when the lockout was over and that was great to see. They are excited as we are, if not a touch more. I was thrilled when I signed here. We have a great group of guys and we want to win. We want to get in the playoffs and build from there."
GAME ON: "You think about all the key divisional games and all the rivalries, how every point is meaningful. You just want to get out there, get back in the swing of things and make sure you don't let any games slip away. It really is true…every point counts."
WE ARE FAMILY:
"Of course, like any time you move your family, there are adjustments you go through. But everyone is happy. My son, he's 8, you throw a hockey jersey on him and he's thrilled. My daughter, who is 11, has played a lead role in a school production of the Wizard of Oz and now she's in a production of Annie. They're happy."
He netted 35 goals and was an offensive sparkplug for the Canadiens in 2011-12. This year, Cole, whose son plays Novice hockey with teammate Brian Gionta's son, is hoping he can produce similar strong numbers.
But for the man who hoisted the Cup over his head in 2006 with the Carolina Hurricanes, there is only one thing that truly matters.
"Every year, the only thing you target is making the playoffs," said Cole. "Last season was disappointing for us. This season, we are all focused on achieving that goal."