Cole Mining Success in Montreal
Offensive forward grew up a Habs fan & will now suit for the bleu, blanc et rouge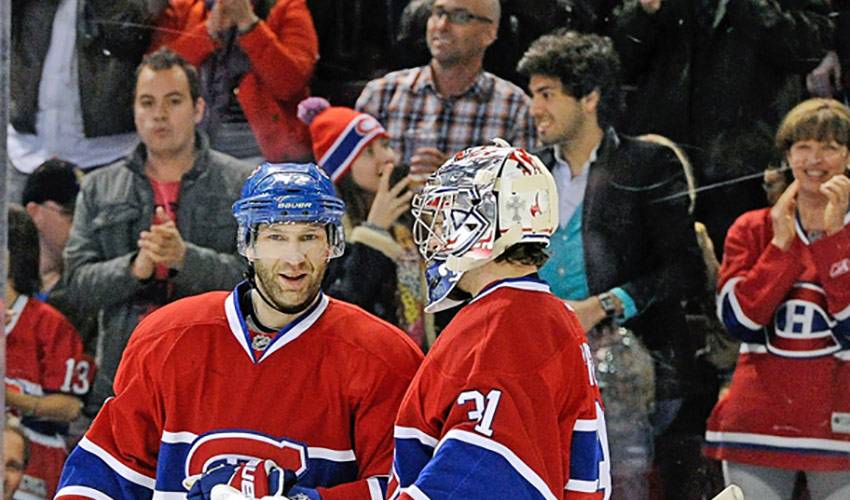 Throughout his NHL career, Erik Cole has tormented the Montreal Canadiens. Now, followers of the bleu, blanc et rouge won't have to worry about that any longer.
It's hard to decide as to who is happier about the four-year contract Cole signed as an unrestricted free agent with the Habs on July 1.
On one hand, the veteran forward, who just happened to be a Canadiens fan growing up, will be a welcome sight in Montreal colours, considering he has 14 goals and 25 points in 28 career games (his top numbers against all teams) against the Original Six squad.
On the other hand, Cole, who played almost his entire in Carolina, with the exception of suiting up with the Edmonton Oilers for part of one season, is simply thrilled when he speaks of his new team.
"Honestly, I'm still in disbelief," said the 32-year-old, who is coming off a campaign in which he appeared in all 82 games and had 26 goals and 26 assists. "I wasn't sure what would happen, where I would be going and who was interested. But the first call to my agent was from Montreal. When it was finally done, I was pretty excited. Who wouldn't be?"
One of the key players in helping Cole come to Montreal was Canadiens' forward Brian Gionta.
Cole was a teammate of Montreal linemates Gionta and Scott Gomez when the trio played on the U.S. Olympic squad that competed at the 2006 Olympic Winter Games in Turin, Italy.
"My wife and I talked to him and he answered a ton of questions for us," noted Cole, a nine-year NHL veteran. "I'm sure we drove him crazy at some point, but he was very helpful. Everything was perfect. We wanted the kids to have a good school to go to and Brian had nothing but great things to say about the city, the people and the fans."
Before the rubber stamp was put on the deal, Cole's agent made a call to the Hurricanes.
"It was the right thing to do," said Cole, who had an NHL career-best 29 goals and 61 points in 2006-07, following a season in which he recorded 30 goals and had 59 points in only 60 games. "But this was a great opportunity for me."
One he intends to make the most of.
"Playing in that building…there was always something special about it, an aura that you sensed every time you played there," offered Cole, who grew up in Oswego, New York, a city located on Lake Ontario in the north-central part of the state. "The arena, the city and the fans, there's such an energy in Montreal. It's nice to be here and nice to get this chance. It's strange how things work out. I'm just thrilled."
Cole admits he's eager to help the Canadiens make a serious Stanley Cup run in 2011-12.
"There are lots of players that can make a difference every night on this team," said Cole, who was selected by the Carolina Hurricanes in the third round as the 71st overall pick in the 1998 NHL Entry Draft.
"One who you certainly think of is Carey Price. He had a fantastic year. He's been through some rocky roads and people might misread his laid-back demeanor, but that doesn't mean someone doesn't care. He's an amazing goaltender and is always so calm in the net. It'll be nice to play with him rather than to have to face him."
The winger has equally high praise for Montreal's blue line.
"Their d-corps…trying to play against them was never easy," said Cole, who was a First-Team All-Conference selection and East Second All-American Team selection in 1998-99, during his collegiate hockey career with the Clarkson Golden Knights. "I really just want to help the team be a success."
A member of the 2006 Stanley Cup Carolina squad, Cole has played in a total of 43 career playoff games.
He's hoping to add some more post-season experience with the Canadiens.
"Like I said before, I really just can't believe it," said Cole. "This is fantastic. How can you not want to perform playing for Montreal?"
Those words are soothing ones to the ears of Habs' fans, who no longer have to worry about Cole torching their team on the scoresheet.
He's on their side now.