Praise From Players And Fans
Mathieu Darche announced his retirement this week and immediately received messages of support from players & fans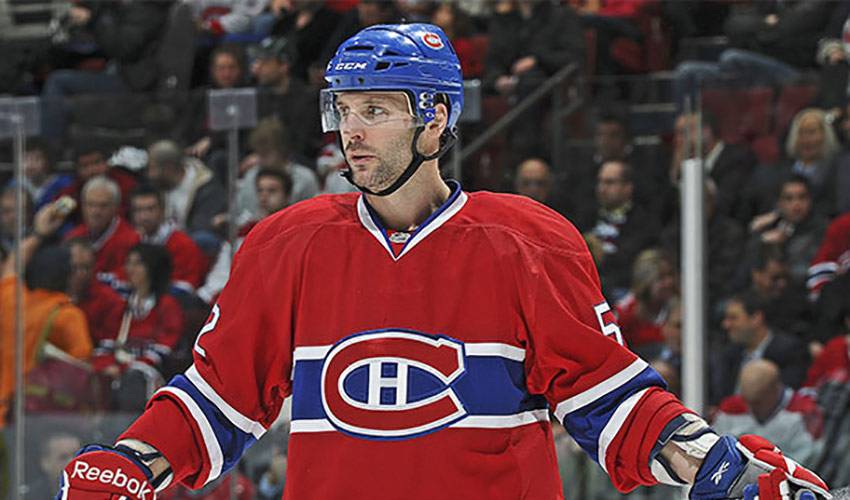 Mathieu Darche, a veteran of 250 NHL regular season games, found a picture perfect way to announce he was calling it a career.
He wasn't looking for publicity, a press conference or pity when he came to the decision to step away from playing hockey. But, the night before it became public, the 36-year-old Darche came up with a unique game plan.
"After my son had hockey practice, I grabbed his skates, hung them up in a spot in the garage, snapped a picture and posted it on Twitter," said the Quebec native. "I joked with my wife about the idea and I just went with it. I really wasn't looking for press."
Darche's original delivery of his retirement garnered plenty of positive reaction from players and fans, including former Montreal teammate Hal Gill, who also took to Twitter to praise the forward for his hard-working, unselfish approach to the game.
I love players like @matdarche52 PK, PP, block a shot, take a hit to make a play. #git'erdone twitter.com/Skillsy75/stat…

— Hal Gill (@Skillsy75) February 19, 2013
Gill wasn't the only one to reach out to Darche.
"I was so surprised at all the guys who went on Twitter or texted or called," said the forward, who was undrafted, but caught on with Columbus in 2000-01. "It meant a lot what Hal said. He was a great teammate and he's a great person. To have the support of the players is really special and to have fans do the same is a great feeling."
The former McGill University graduate even got a call from a fellow Redmen.
"My phone rang and it was (Detroit Red Wings head coach) Mike Babcock," recalled Darche. "I had met him once, briefly, back in 2001, when he was coaching in the American Hockey League. And he took the time to call me. I always followed his career because of our connection to McGill, but for him to do that, it was very kind."
Darche himself has ample praise for those he skated with and against, even the players that proved to be frustrating opponents.
"The toughest guy for me was Chris Pronger," offered Darche, of the towering veteran defenceman. "You stood in front of the net, you paid the price. Nicklas Lidstrom, he was another one that was hard to go up against. He just never seemed to make a mistake. You could forecheck him, thinking you were forcing him to do something he didn't want to, and he'd find a way to make a play. And Sidney Crosby, he's just unbelievable in his pure talent."
While his game was never built on flash or finesse, Darche did the so-called little things, blocking shots, corralling the puck on the penalty kill and getting it out of harm's way, attributes that endeared him to his teammates and those in the seats.
It's how Darche would like to be remembered.
"I guess what I'd be most proud of is that whenever I played, and I did have some bad games, is that it was never for lack of effort. I gave it my best every time I put on that sweater. I tried to make a difference."
Darche more than accomplished that away from the rink. Hospital visits, autograph signings, charity initiatives, he was always quick to lend his support. Upon learning of his retirement, people associated with the Montreal Canadiens' Children's Foundation sent Darche a photo taken from an event he had attended.
A welcome reminder of the admiration and respect he was afforded over his time in the NHL.
"That was really a kind gesture on their part," noted Darche. "I told them if they ever need me that they can always call. On every team I played for, we always had a connection with the fans. But in Montreal, it's a very unique and special relationship between the players and the fans. Now that I'm retired, it doesn't mean those relationships have to come to an end."
As for where he'll land next, Darche isn't quite sure at this point.
"I'd love to stay associated with the game, so we'll see," he said. "I'll take some time and see what happens."
Perhaps he'll find another memorable way to make that announcement.