Rask Not Easily Rattled
Tuukka Rask has been a stoic & focused rock for the Bruins between the pipes in the 2013 Stanley Cup playoffs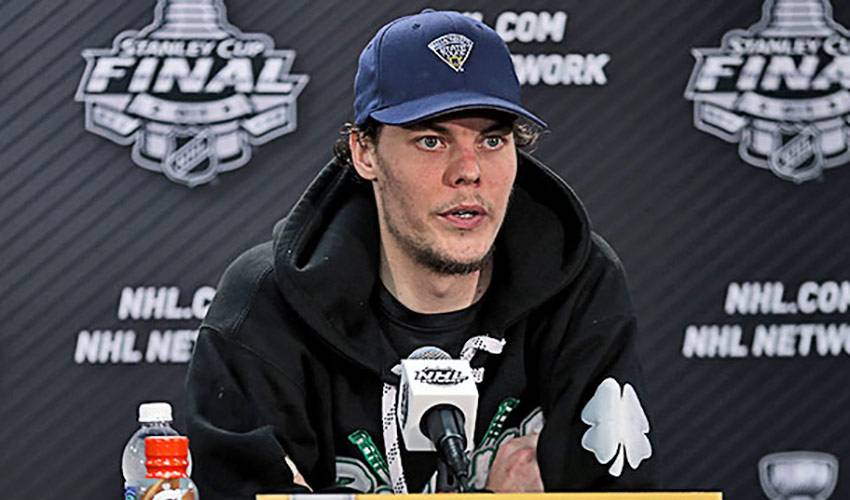 For those who know him best, there are times that Tuukka Rask seems to have a zero tolerance for allowing goals. Literally.
He can't remember the exact game or the precise moment, but it was a scene Johnny Boychuk had become familiar with throughout the 2012-13 regular season and Stanley Cup Playoffs.
Standing behind a tangle of bodies with little, if any, visibility of the puck blistering towards him, Boston's man between the pipes would somehow, someway find a way to stop the shot.
"You couldn't even count the times Tuukka would come up with a save when you figured it was a sure goal," said Boychuk, of the 26-year-old Finnish bacsktopper, who has been the backbone of a Bruins squad bent on winning their second championship in three years. "You'd be thinking, 'There's too many bodies in front of him. What's he going to do?' And then he just does what he's been doing for so long."
The numbers are downright stellar.
Rask, after winning 19 games, accompanied by five shutouts and a 2.00 goals-against average in 36 games in 2012-13, has amped it up even more in the post-season. In 19 games, he has 14 wins, three shutouts and a 1.64 goals-against average.
Not surprisingly, Rask's name has been bandied about frequently as a top contender for playoff MVP honours.
The man behind the mask, however, has a loftier goal in mind.
"It's always good to play in the playoffs," said Rask, who came to Boston via a trade with the Toronto Maple Leafs in 2006. "I don't try to prove anything to anybody else but myself and my teammates. This spring has definitely been successful so far for our team. We'll just try to keep that going."
While there is no shortage of fanfare about his play, Rask isn't the type to get swept up by the adulation. Instead, he is quietly determined, focused on the task at hand.
"You try to see things in your head, what might develop in the game and just prepare yourself like any other game, not over-think those situations," he offered. "We don't like to talk about ourselves too much on a high note, not try to push ourselves to the front page."
But that's just where Rask and his teammates find themselves these days.
After an improbable comeback to win Game Seven in their Eastern Conference quarterfinal against the Leafs, Boston ousted the Rangers and then swept the No.1 seed Pittsburgh Penguins to put them in the final.
Rask was once again at his best in Game Three of the Stanley Cup Final. He turned aside 28 Chicago shots, withstanding a late barrage from the Blackhawks to secure the 2-0 win and a 2-1 series lead.
"Having that confidence in your goalie, to know he'll be at his best when you need him the most, it's a great feeling to have," said Boston defenceman Andrew Ference. "When things get hectic, he's calm and ready for whatever comes his way."
Forward Daniel Paille agrees.
"I can't say anything more about Tuukka Rask. He's been there all playoffs and that's a big reason why we're to the point we're at right now."
The opposition has found out the hard way No.40 is not easily ruffled, even when they get one by him.
"You still have to go game by game and not get carried away by any wins or losses," noted Rask.
And endeavor to do what he sets out to accomplish each time he stands in front of the 6-foot wide and 4-foot high cage.
"Just try to stop every puck," he shrugged.