Can't Wait To Get Started
Brooks Orpik and the Penguins were not happy with how the 2013 playoffs ended and are hungry to prove they are still a top team in the NHL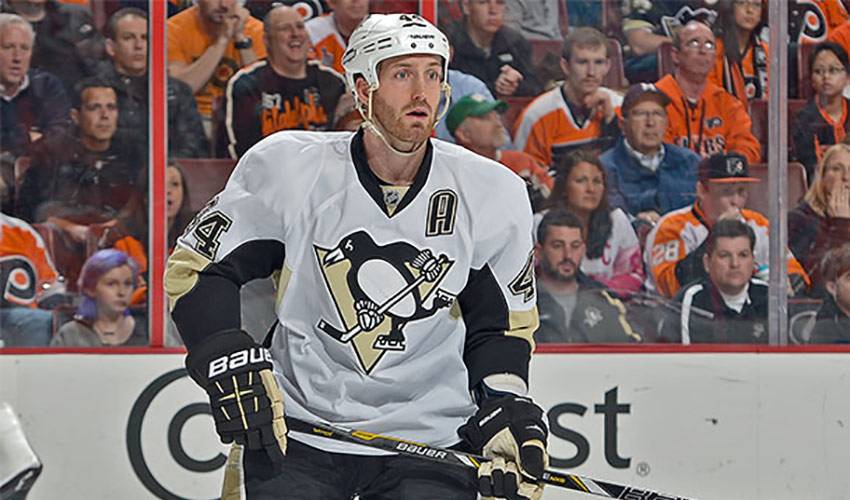 Brooks Orpik isn't the type of defenceman who brings just one notable skill to the rink. He's much more than that.
Need someone to neutralize the opposition's top threats? Need someone to lower the boom with a thunderous hit? Need a player to keep a one-goal lead intact?
You get it all in the form of a well-respected veteran and one of hockey's most well-rounded blueliners.
Orpik has certainly got game, but not an ego to match.
"You recognize very early on in your career that you can't be out of step with the players in this league," said the 32-year-old California native. "Consistency is the key, but not only for what you do on the ice. You understand the value of conditioning and being in great shape when you get to camp."
You'll also see a very motivated Orpik when training camps get underway.
A series sweep at the hands of Stanley Cup runner-up Boston in the Eastern Conference final didn't sit well with No. 44 and his teammates.
"There is no easy two points in this league and once you get into the playoffs, it becomes even tougher," said the Stanley Cup winner (2009). "You don't need to remind yourself of that fact once the post-season gets going. There's so little room for error.
"It's truly the greatest feeling when you win the Cup," he continued. "But it's a horrible feeling when you get knocked out. It's tough when you see another team winning it."
Orpik is determined to play his part in putting the Penguins in prime position for another championship run in 2013-14.
He certainly likes what he sees on paper.
"When you look at our roster, you can't help but be optimistic," offered Orpik, who scored the overtime goal in Game 6 against the New York that advanced the Penguins to the second round of the 2013 Playoffs. "But it all begins from the first game. You want to start strong and maintain that level of consistency throughout. Once the playoffs start you have to be even better. We have some of the top players in the world on our team. We also have guys that can step up and make a difference every night."
Expect the alternate captain and Penguins' 2010 and 2011 Defensive Player of the Year winner to be ready when the puck drops on the new season, one that gets out of he gates with a three-game homestand against New Jersey, Buffalo and Carolina.
"Whether you've won the Cup or not, you have that motivation to get back out there long before the first game," said the member of the 2010 U.S. Olympic Team that won a silver medal, who was also invited to the upcoming USA Hockey Olympic Orientation Camp in Washington. "You really can't wait for things to get started."