Elliott Always Primed & Prepared
Blues backstopper Brian Elliott combines rest & hardwork in the summer to be ready to go when the season starts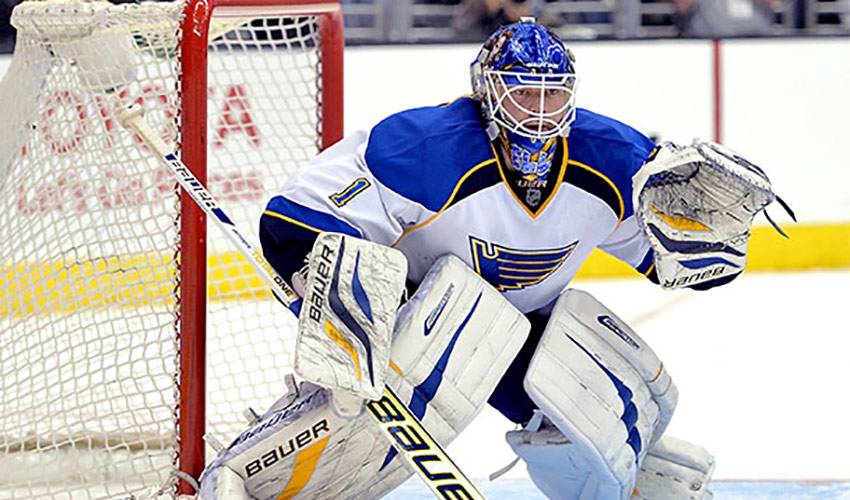 Mentally tough and physically sound, Brian Elliott is primed and prepared to handle hockey's top shooters well before the drop of the puck.
It's not a sight his coaches or teammates like to see when he's between the pipes, but one they're more than comfortable to watch away from the game: a goaltender intently focused doing his own version of a juggling act.
"I like to do some juggling before we go out on the ice," said the 28-year-old St. Louis Blues backstopper. "It takes my thoughts off the game and gets me relaxed."
That, coupled with a dedicated off-season workout regimen, has elevated Elliott into the top tier of NHL goalies. In 2011-12, the Newmarket, Ontario, native won a slew of awards, including best save percentage (.940) in the history of the game.
A former ninth round, 291st pick of the Ottawa Senators in 2003, Elliott is undoubtedly ready every time he's called upon.
"I like to keep things fresh," admitted the 6'2", 200-pounder, who employs a butterfly style. "It can get a little repetitive just going to the gym to workout. I've done yoga and Pilates, which has really helped me, especially with balance. The main thing for me is to find ways to improve every aspect of my game. And that's why you need to keep an open mind."
Depending on how the previous season ended, missing the post-season, going deep in the playoffs, is how Elliott plans out his summer training.
"The general rule of thumb is that you take three or four weeks off, maybe two," offered the former University of Wisconsin-Madison standout. "You need some time to unwind, to get away from the game and relax. For me, that's spending time with family and friends, along with some fishing. If you rush into it and do too much work too early, I think that's a hindrance. Rest can be a very big weapon."
Blues supporters will be happy to know Elliott is rested, but ready to do his part in making this year a memorable one in St. Louis.
"The more you play in this league, the more you understand what's required to be successful for an entire season," he said. "You know every night you play, you are going to be facing the best players in the game. You want to find the right balance for being mentally and physically sound."
One thing fans of the Western Conference club won't have to worry about is Elliott giving up his big-league gig for that of street performer.
The 2012 All-Star Game participant is happy to save his sleight of hand act for the crease.
"I don't know if my juggling skills are that good," said Elliott. "I think I'm better suited to be doing what I'm doing now."