Harvard Business program gets high marks from NHL players
Brian Elliott, Sam Gagner, Darnell Nurse and James van Riemsdyk are already utilizing the knowledge they've gained in preparation for life off the ice.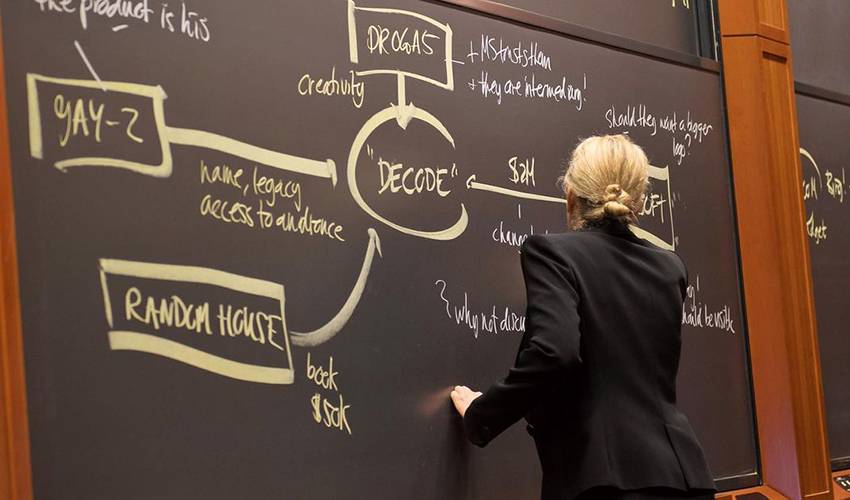 Feature Photo: IG / @anitaelberse
---
Current NHL players are handing out high marks to a Harvard Business School program tailored to athletes.
Brian Elliott, Sam Gagner, Darnell Nurse and James van Riemsdyk are a few of the recent players who took advantage of the NHLPA's athlete development resources to help connect with Harvard's Crossover Into Business program, which works to help professional athletes gain deeper insight into the business world and prepare them for off-ice ventures during and following their playing careers.
Harvard Business School (HBS) Professor Anita Elberse, an award-winning teacher and scholar, heads the semester-long program specifically tailored to professional athletes.
The program is designed to equip the athletes with the tools required to be successful in business and matches athletes with a pair of Harvard Business School MBA student mentors, who work with the athletes to help develop their business acumen to make sound business decisions.
"I think that is a definite trend, that there is more awareness," said Elberse. "The more examples athletes see of other athletes who are building businesses and aren't afraid to say that they are into business and find it a good way to spend their time, I think that makes it easier for the next generation to jump on board as well."
As one of the youngest female professors to be promoted to full professor with tenure in HBS history, Elberse wanted the Crossover program to help athletes get into the mindset of contemplating life beyond the game and to start thinking about future business opportunities while they are still playing.
"I'm no longer surprised," said Elberse, of an athlete's ability to do well in the program. "I never was thinking that this is going to be hard for the athletes, but I've learned over the course of doing the Crossover program for the past four years – and being involved with athletes for even longer – that quite a few of them would very easily fit into our MBA program, and no one would notice is my sense."
Gagner, an NHL veteran of 886 games, took a lot from his experience in the program.
"I did Crossover Into Business, and a small, 75-minute case study I did with Professor Elberse, and they were both really helpful. I'm thankful I was able to take part in both of those. If any guys ask, I think it's a great resource. I'm very thankful that Anita and her team are able to offer the course. Just gaining knowledge in a lot of different areas is very helpful. Whatever you decide to do when you're done, it was great learning resource. I really enjoyed it and I feel like I'm better off for it."
van Riemsdyk echoed this sentiment.
"The way it was run was perfect, especially in regards to our schedule. It was a really approachable program, where you could build your schedule as it worked out. When I was on the road, it was something to look forward to. It challenges you and it challenges your brainpower in a much different way than you are used to. I would highly recommend it. I had a great experience."
Nurse, who scored a career-best 16 goals as part of 36 points in a 56-game shortened season, noted the value of getting a hands-on learning experience.
"A lot of successful athletes and artists involved in the business world take a very hands-on approach. They don't just delegate all the work to others, but instead play a major role in their business ventures."
Current and past pro athletes who have enrolled in Crossover Into Business include tennis players Caroline Wozniacki and Bethanie Mattek-Sands, New York Knicks player Reggie Bullock, Orlando Magic shooting player Terrence Ross, former NBA player David Lee and former Olympic figure skater Ashley Wagner.
Teamwork – a skill familiar to all athletes – has been a cornerstone of the Crossover program according to Elberse.
"The thought was that if we can get our Harvard MBA students to mentor them, there's no limit to the number of athletes we can serve. We hope that we help them. I think we play a relatively small role, but we hope that we help them find their path in business, whatever it might be, whether that's further education or to test a business plan they've been working on, or they feel they can join a company – we hope that we help them get ready for the next step."
"The class gave me the opportunity to look at the business world through a different lens with the help of my mentors," offered Nurse.
A veteran of 797 regular-season NHL games, van Riemsdyk believes he is already reaping benefits from the program through off-ice pursuits while also preparing him for a post-playing career.
"I always consider myself a naturally curious person. Over the course of the past few years, I've taken more of an interest in being more entrepreneurial and doing some different start-up investing, investing in privately held companies, and things like that. Having some experience with that, through connections that I've made, when this opportunity came up, it seemed like a no-brainer to learn from people that have much more experience than I do."
Elliott, who has accrued over 500 NHL games since his four seasons at the University of Wisconsin, was grateful for the chance to be back in a classroom setting again. The 36-year-old goaltender, who was inducted into the UW Athletic Hall of Fame in 2017, also had high praise for the program.
"I think it was important for me to take the course because I have been out of that classroom environment for almost 15 years after graduating from University of Wisconsin and it was really valuable to prove to myself that I still have those abilities, that I still am able to get back into that frame of mind and open up my mind to a further education. What I can take away most from the experience is mostly the self-confidence that during and after my hockey career I can be successful in all different aspects of business."
Elberse also teaches The Business of Entertainment, Media, and Sports – a four-day course that has attracted some of the biggest names in sports, music and Hollywood – which counts Zdeno Chara of the Washington Capitals and P.K. Subban of the New Jersey Devils among its previous students.
"It really is amazing to see how much they are into it," Elberse offered up of athletes in the classroom setting. "We set a minimum bar where we want them to read 'X' amount of cases and everyone participates in the kick-off, which includes several cases, discussions and sessions. We also want people to do the final exam, which is the athlete analyzing a case and presenting. But many athletes go way beyond what we set as the low bar. We've had athletes do 20 or so cases in a semester. They really embrace that challenge."
Just as they do when competition is introduced at the start of the program.
"The athletes are very good at operation in teams, so we wanted that component," stated Elberse. "The other component we wanted to introduce is that the person who does the best in the final presentation wins the championship ring. That idea of winning gets the athletes going more than anything. They take that very seriously."
Receiving gracious e-mails and texts from athletes who take the course are a constant for Elberse. The Netherlands-born scholar views that feedback as the result of a team effort.
"It's great to see, but it's really the work of MBA students, who do the bulk of the work. It's nice to show them the impact they have had on the athlete. They really love to get the feedback and many of them stay in touch with the athletes for months and sometimes years after they've gone through the program."
Gagner is grateful for those he has met through the program and how the experience has influenced the way he views his NHL career and post-hockey future. He is optimistic as to what lies ahead for himself and his family.
"When I look at my career and especially the past few years where I've been sent to the minors a couple of times. … I think a lot of times you could look at that as a negative, but for me, it makes you understand that your career comes to an end at some point. I think you feel like you're going to play forever, so when things like that happen, it makes you think while you're playing as to what the transition will look like. I felt like doing a course like this was very helpful in that sense."
The experience with HBS is one that van Riemsdyk both enjoyed and would encourage his peers to consider.
"It was great on so many levels, including getting to meet some great people who are part of the course, and who are part of the Harvard program. There were so many enlightening insights into the business world. I wanted to dive into things a step further and have that chance to challenge your own perspectives and points of view, to have new things to think about and learn about."