EA SPORTS ANNOUNCE PATRICE BERGERON AS FAN-SELECTED NHL 15 COVER ATHLETE
Boston Bruins forward selected to lead new generation of hockey viideogames after more than 10 million fan votes.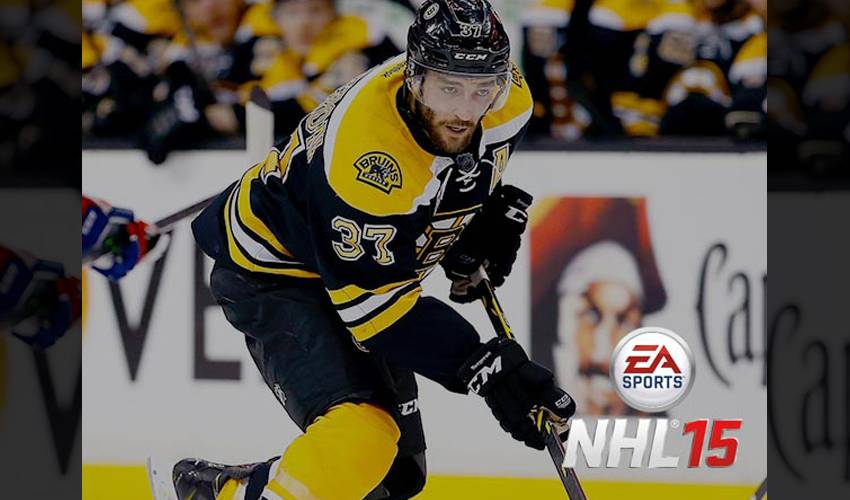 REDWOOD CITY, Calif., - June 24, 2014 - Electronic Arts Inc. (NASDAQ: EA), the National Hockey League (NHL®) and the National Hockey League Players' Association (NHLPA®) announced today that Boston Bruins forward Patrice Bergeron has been voted by hockey fans to be the EA SPORTS™ NHL®15 cover athlete, kicking off a bold new generation of hockey videogames for the award winning franchise. Bergeron topped Montreal Canadiens defenseman P.K. Subban following more than 10 million votes from hockey fans around the world. Earning 4 wins and 5 nominations for Best Sports Game at Electronic Entertainment Expo (E3) 2014, NHL 15 is the next leap forward in the genre-defining franchise from EA SPORTS.
"Being featured on the cover of NHL 15 is a dream come true," said Bruins center Patrice Bergeron. "The fact that the cover is selected entirely by fans is an incredible feeling. The passion and support from hockey fans, especially Bruins fans, is unlike any other sport and I'm so grateful to everyone who voted for me."
"Congratulations to Patrice Bergeron for being chosen by the fans as the EA SPORTS NHL 15 cover athlete," said Adam Larry, NHLPA Director of Licensing and Associate Counsel. "We enjoyed seeing the passion that fans displayed in supporting the eight NHL players participating in this year's NHL 15 vote campaign, as well as the entertaining activations from the players who were vying for the title. This program is a great way to kick off a big year for the NHL videogame franchise."
"We would like to congratulate Patrice on this incredible honor and to recognize the outstanding fan support that helped him earn the NHL 15 cover distinction," said Dave McCarthy, NHL Vice President of Consumer Products Marketing. "Once again, we were amazed with the level of engagement, creativity and support exhibited by our teams and our fans that truly exemplified the unrivaled level of passion and commitment only found in the NHL."
NHL 15 ushers in an exciting new era of hockey videogames with the most detailed and authentic hockey experience ever delivered. Introducing true collision physics for all 12 players on the ice, NHL 15 delivers a level of realism for a new generation of game consoles that allows players to be immersed in the sights, sounds and feel of the sport like never before. Players can now look, move, play and think like an NHL athlete with detailed new player modeling and an expansive new set of tools, including the Superstar Skill Stick and Vision AI that heighten on-ice control and player intelligence.
Emotions run high in NHL 15 as players compete in arenas filled with dynamically modeled fans that react to the play on the ice like they would in real life. Announced by an all-new broadcast team led by veteran NBC Sports hockey commentators Mike 'Doc' Emrick, Eddie Olczyk and TSN on-ice analyst Ray Ferraro, NHL 15 takes revolutionary steps forward in authentic game commentary.
NHL 15 launches on September 9, 2014 in North America and September 12, 2014 in Europe on Xbox One, PlayStation®4, Xbox 360® video game and entertainment system, and the PlayStation®3 computer entertainment system.