The Way They Worked
NHLPA members discuss the impact their parents and grandparents had on their work ethic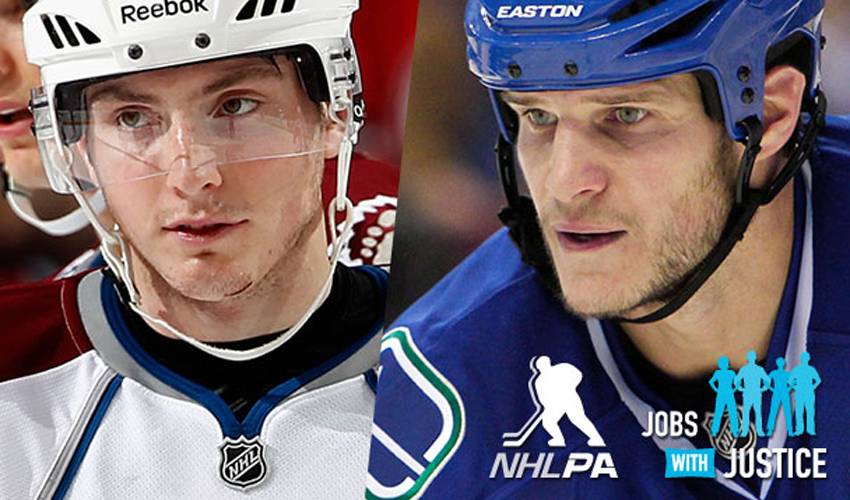 While it was their own talents and tenacity that helped them realize their NHL dream, Matt Duchene, Kevin Bieksa and Kevin Westgarth will tell you Labour Day and Grandparents Day hold special meaning when it comes to their respective big-league careers.
The Way They Worked, an initiative spearheaded by Jobs With Justice, provides athletes and others the opportunity to pay tribute to their parents and grandparents, the chance to share memories of people who have had significant influence on their lives.
For Duchene, one of hockey's top young talents, many of the life skills and work ethic he developed came through what he learned from his parents and grandparents.
"My parents were always extremely driven, smart people who worked very hard for everything they got," said the 23-year-old Colorado forward. "They showed what it takes to be successful in life and it is something I have never taken lightly or sloughed off. I always make sure that I'm giving 100 per cent in everything I do."
Which is precisely what he came to see in his grandparents' approach to work.
"Both my grandpas worked with their hands," noted Duchene, who won an Olympic gold medal with Team Canada at the 2014 Winter Games. "My Grandpa Duchene was a transport truck mechanic, and still to this day, does a lot of woodworking and construction. He built the house he and my grandma currently live in.
"My Grandpa Brown was a dairy farmer and did that for a very long time," he continued. "He was very successful at it. I'm so proud of what hard-working grandfathers I have. The example they set for my parents and for myself was and still is valuable. Anything worth getting in life is worth working for."
Kevin Bieksa, known for his blue-collar approach to the game, certainly understands and appreciates hard work.
The veteran defenceman, who is closing in on 550 NHL regular season games, hasn't forgotten the impact both his parents and grandparents have had on his hockey career.
"The most important character traits I saw in my grandparents were hard work, focus and sacrifice," said Bieksa. "They came over to Canada to give their kids and grandkids a better life, working hard for decades and decades doing manual labour working without complaint. It was all with the purpose of being able to give their family more. It allowed my parents to my put my brothers and I into hockey at a young age.
"My parents have followed admirably in my grandparents' footsteps, where they really value hard work and doing things the right way," continued the Vancouver blueliner. "My fatherly formerly worked for the Ontario Federation of Labour, but switched teams last year to the BC Federation, to be closer to his grandkids. My mom has worked in retail for 35 years, although she is still quite young!"
The alternate captain remains grateful for the support of his family.
"My parents have watched me play hockey my entire life and spent more time in the cold rink with a coffee than they probably would have liked," recalled Bieksa. "Without their support, there is no chance I get as far as I have in the game."
Westgarth, currently a free agent, echoes Biesksa's sentiments.
"Mom and dad always instilled the value of hard work and perseverance in all aspects of life," said Westgarth. "It has been the reason I've been able to live my dream of playing in the NHL. I've always been amazed at the time and commitment they put into hockey, all while working 6 or 7 days a week as veterinarians. It's inevitably something to pay it forward to my children, as I'll never be able to thank them enough."
For more Labor Day information and to share your own family work stories, visit
www.thewaytheyworked.org
.