Ekblad Is Exceeding Expectations
Elite-level talent & a strong support system of family, friends & teammates are making Aaron Ekblad's NHL transition a successful one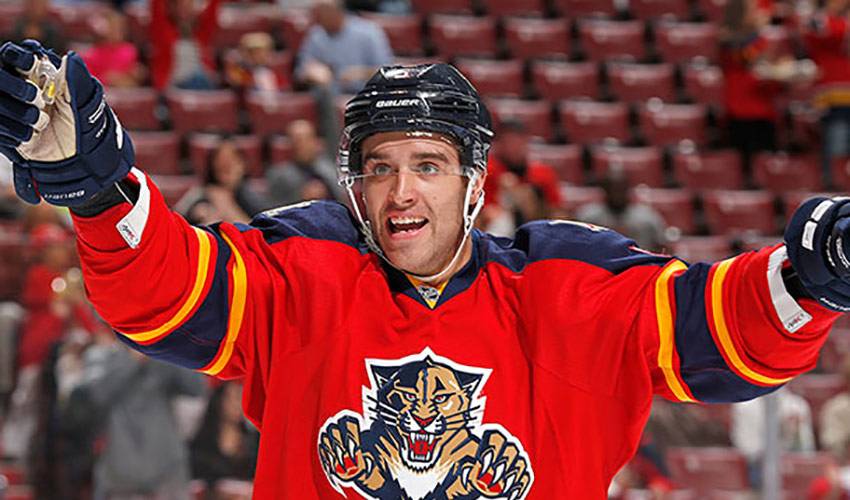 For any athlete, the expectations that come with being a No. 1 draft pick could be overwhelming enough to impact your performance. That's certainly not the case for Aaron Ekblad.
There is no shortage of anxieties hockey players deal with on every NHL Draft Day. When will they hear their name called? Who will they be playing for? Will it be the right fit for their style?
A young defenceman who had made his mark during his Ontario Hockey League career with the Barrie Colts was dealing with those same questions as he sat in the stands with family and friends at the 52nd edition of the annual event that took place in Philadelphia.
Ekblad, who recorded 53 points, including 23 goals, in his final season of junior, didn't have to wait long to find out what jersey he'd be wearing when the Florida Panthers selected him with the first overall pick.
"It's pure relief," he recalled. "I have never been a part of such a suspenseful event in my entire life, and I think my parents can say the same. It's a very special moment."
But, not one that made Ekblad feel unnerved.
"I believe in myself and I'm confident, and I think if you don't believe in yourself and you're not confident, you're putting yourself behind the 8-ball right off the bat," he offered. "There's always a burden of expectation that's always going to be there, but it's what you make of it, that pressure and all that is just motivation for me."
Now, nearly 40 games into Florida's 2014-15 season, Ekblad has very much looked a motivated player, appearing in every game with the Panthers. He's scored five goals, recorded 22 points, fashioned a plus-nine rating and has two game-winning tallies. He's also logging plenty of ice time.
If the blueliner is feeling any pressure, he's certainly not showing it.
And if he ever does, Ekblad knows where he can turn to.
"There's help everywhere, my parents, my brother, all my friends, it's a great support group," he said. "I know guys that play in the NHL right now that I could turn to at any point and they'd be able to give me the best advice out there."
And perhaps he'll recall the words he spoke in late June, in the moments after his name went into the hockey books as a No. 1 NHL draft pick.
"I'm willing to step into a role and play a team game," offered Ekblad. "I take pride in being a good teammate. I'm there to learn at first. I'm going to be learning from some great players, some young guys who have just stepped in, some older players who have had storied careers. It's going to be a learning curve for me, and I want to keep that as short as possible so I can start making an impact."
Mission accomplished.