Fast friends through WCH 2016, Ekblad and Trouba take on slow-paced hobby
It appears as though one of hockey's top defenceman has some serious game on the high seas.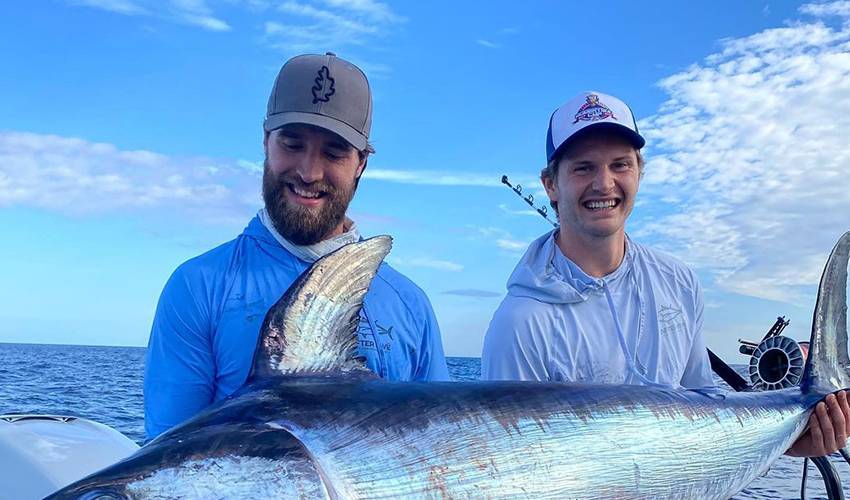 Feature photo: IG / @aaronekblad5
---
Aaron Ekblad isn't fishing for compliments.
It appears as though one of hockey's top defenceman has some serious game on the high seas.
During the 2020 off-season, the 24-year-old Ekblad decided to take up offshore fishing, a decision, at least early on, that didn't yield much success.
But a patient hand, coupled with some homework, and a little fishing luck, soon netted the blueliner some impressive catches.
The fishing life began with something that sounds very much like the famous line from the movie Jaws: Ekblad was going to need a bigger boat.
"I decided that for what I wanted to do, I needed something a little bigger, so I ended up trading my boat in for another one after four months. With this ocean [Atlantic], you want something that's pretty capable. So, after that, I started fishing and my buddy, [New York Rangers defenceman] Jacob Trouba decided to get into it with me."
The two became friends when they played on Team North America at the 2016 World Cup of Hockey.
"That's when we met. His wife and my fiancée became friends in south Florida going to the same medical school. During the off-season Jacob and I hang out. We'll go golfing or fishing, depending on the day."
Ekblad laughs when he recalls the duo's initial adventures on the waters.
There were more than a few occasions when the defencemen literally came back to shore empty handed.
"At first, it was a struggle. We ended up going out for 10-hour days and we didn't catch a single thing. Then, it was kind of teaching ourselves through YouTube videos, looking for ways to increase our odds of catching something, which really helped. There's a local guy here, RJ Boyle, and I piggybacked on some of the videos he made and taught myself how to do some different things."
Those study sessions eventually paid off.
The catch of the day has included some monster fish that Ekblad has proudly displayed on his Instagram page.
About two months ago, a photo of Ekblad and Trouba each holding up a mahi-mahi was accompanied by the caption, 'Madness.' A week earlier, the pair was photographed – there was also a video – with a massive swordfish.
"I love it [fishing]," said Ekblad. "It's awesome. It's a great way to spend time away from the rink. Being out on the water is obviously beautiful. We've caught pretty much everything except yellowfin tuna, but that's more of a Bahamas thing. We've caught wahoo, swordfish, yellowtail snapper – which is one of my favourites – and grouper… love that too."
Neither player is interested in engaging in a little friendly fishing competition whenever they head out.
All that matters, noted Ekblad, is that one of them reels something in.
"Honestly, we just try and put as many fish in the boat as we can. We just like going out there and enjoying ourselves."
Their biggest competition comes in the form of some of the ocean's most notorious predators, creatures looking to take a bite out of their fun.
Ekblad has seen his fair share of familiar fins in the water over his estimated 250 fishing hours logged.
"A lot of sharks. We've hooked hammerhead sharks. A lot of times when you're reef fishing for yellowtail snapper and other reef fish, you end up seeing a ton of bull sharks. Every once in a while, you'll be reeling in a fish, and if it gets too heavy and just starts screaming off the reel, it's a bull shark that's coming and taking your fish. You break off the line pretty quickly."
The first shark sighting managed to slightly rattle Ekblad.
"For sure. Sometimes, when you're reeling a fish in, the sharks get pretty close to the boat and kind of buzz by your kneecaps. It can be a little nerve-wracking."
But not enough to spoil any day spent on the Atlantic.
As to where his dream fishing spot would be, Ekblad opts for a south Florida setting.
"I think we'd head to the Florida Keys and start with some reef fishing for yellowtail, then to the Islamorada Humps to catch some blackfin tuna, and on from there to catch some swords."
Wherever he happens to find himself on the water, the first overall pick in 2014 is in his happy place.
"Is there any comparison between fishing and hockey? No. Fishing is slow-paced. It's completely different and maybe that's why I love it."