TLA Profile: Carey Price
An elite level talent between the pipes, it's not hard to see why the Habs' net-minder is so widely respected by his NHL peers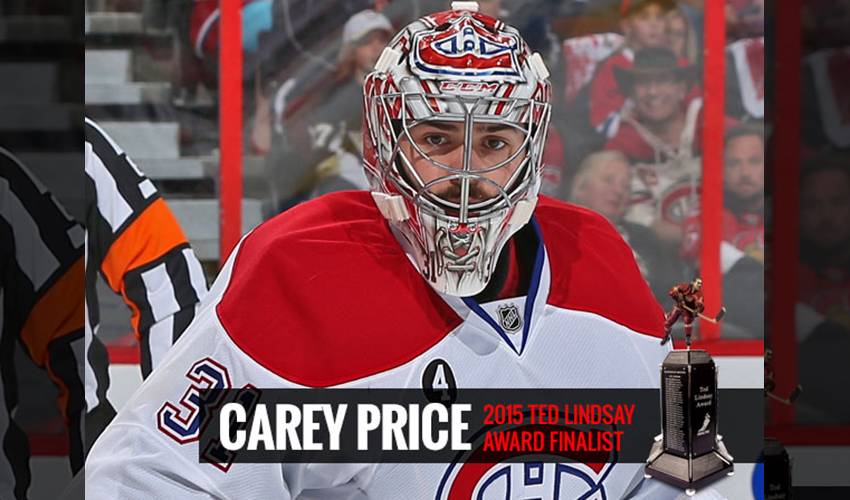 Carey Price, of Anahim Lake, British Columbia, Canada, played 66 games for the Montreal Canadiens during the 2014-15 regular season, and helped lead the Canadiens to the second best record in the NHL. Price led the league in wins (44 – a new franchise-best), goals-against average (1.96) and save percentage (.933), which earned him finalist nominations for the Hart Memorial Trophy and the Vezina Trophy. He also claimed the William M. Jennings Trophy, along with Corey Crawford of the Chicago Blackhawks. Price would become just the second Canadiens player to receive the players' Award, following Guy Lafleur (1975-76, 1976-77, 1977-78), and he would also become only the third goaltender to receive the Award, joining Mike Liut (1980-81) and Dominik Hasek (1996-97, 1997-98). Price is a first-time nominee for the Ted Lindsay Award and he is the first goaltender to be nominated since 2011-12 (Henrik Lundqvist).
***
Dale Weise's respect for one of the greatest goaltenders in the game came long before the two would become teammates.
For the first 162 games of his NHL career, spark-plug winger Weise didn't see a great deal of Montreal backstopper Carey Price in game situations.
In some ways, he was grateful for those few opportunities.
"Before I came to Montreal, I always had a huge amount of respect for Carey as a goalie," said Weise, who was dealt to the Habs from Vancouver on February 3, 2014. "I thought he was one of the best in the world. Once I became a teammate of his, my respect grew to another level."
It wasn't just what Weise saw Price do during games that impressed.
"He competes on every puck in practice, he's out early every day and stays on late," noted the 26-year-old forward. "I never scored on Carey as an opponent and I'd like to say I score on him in practice, but there's very few. If I do score, I don't rub it in because then he will stop me the next 20 times and it wouldn't be good."
Weise isn't alone in failing to get the better of Price, regular season, playoffs, or otherwise.
The British Columbia native led goaltenders in a slew of categories in 2014-15, including wins, goals-against average and save percentage, earning him status as a Hart Memorial Trophy and Vezina Trophy finalist.
It certainly came as no surprise to Weise to see Price's name on the short-list for this edition of the coveted Ted Lindsay Award.
"Carey deserves to be a finalist because in my mind, he was the most important player to his team this year," offered Weise. "He's extremely hard-working, he's humble and he's so talented, that every day I get to practice and play with him, it's an honour."
One of hockey's biggest talents doesn't come with a big ego.
"He's an amazing teammate, who never calls guys out for screening him or if someone was to tip it in his own net," said Weise. "He takes blame for goals and games when he shouldn't have. He's just a stand-up individual."
And the type of player and person that teammates are willing to do anything for.
"What makes Carey such a game-changing goaltender is the fact he is on every night," praised Weise. "Carey makes game-changing saves as regular saves every single night. It's an incredible feeling going into a game knowing he is going to be the best player every night."