Putting Things In Perspective
Bringing smiles to the faces of patients from the Children's Hospital of Eastern Ontario is immensely rewarding for Bobby Ryan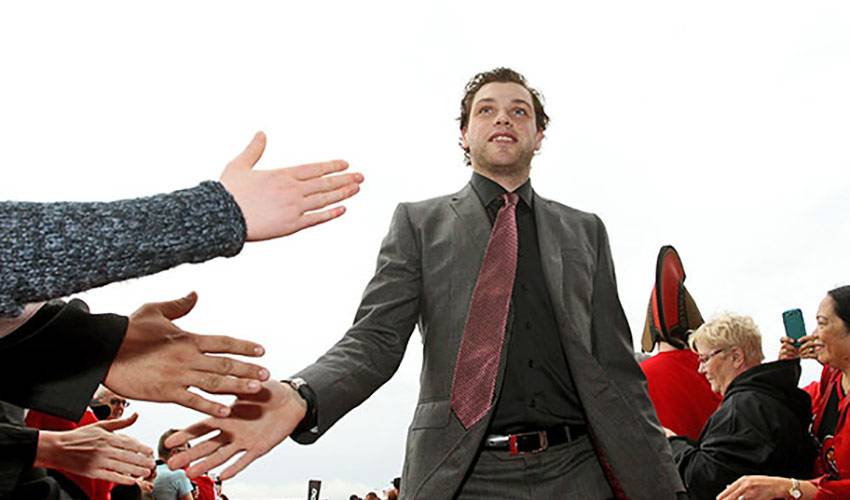 "If you ever need to put anything into perspective, I think moments like those are the ones that do it." For Bobby Ryan and his wife, Danielle, giving back to the Ottawa community has been a life-changing experience.
He terms it one of the easiest decisions he had ever made his life, a chance to make a difference in the lives of young kids dealing with serious illnesses.
In October of 2014, Ryan announced he had purchased a private suite for Senators home games for eight seasons, a suite known as Bobby Ryan's All-Star Kids, which hosts up to 16 children, youth and their families.
For the 2014-15 season, the Children's Hospital of Eastern Ontario (CHEO) was the exclusive charitable partner for Bobby Ryan's All-Star Kids.
Former Ottawa defenceman Wade Redden had done something similar through his Wade's World initiative during his time playing in the Canadian capital.
Ryan's heartfelt gesture enables kids who might not have the chance to catch a live NHL game with a night to remember.
"When you walk up to those smiling faces, how can you not be moved by that?" said Ryan. "You saw the impact of what past players had done and what current guys are doing in Ottawa, and I had talked with my wife about a way to do something similar."
While his name is the one associated with the endeavor, Ryan will tell you it is a team effort.
"It's something that's very important to Danielle (whom he married in June) as well," he said. "It's so easy to be immersed in your everyday life, to get caught up in things. When you see some of the struggles that other people have to endure, you realize that even the smallest of gestures can make a big difference."
While the sting of losing a game can often linger, Ryan has found a momentary distraction from coming out on the wrong end on the scoresheet.
"How could you not be affected by a smiling kid just wanting to say hello when you are leaving the arena?" he noted. "I'm just like anyone else – you take losing hard. But, when you see that kind of reaction, it gets to you."
His work through All-Star Kids is the type of initiative that grabs headlines and garners kudos throughout the sporting world and beyond.
Yet, like is the case with so many other NHL players, there are plenty of hospital visits, community functions and much more that goes unnoticed.
Those moments, Ryan offered, are just as special.
"You see it all around the league," he said. "It's something you are proud to be a part of."