Goligoski & The Stars Play Their Way
Alex Goligoski and the Dallas Stars play fast, physical and in control of the puck, a combination that is proving tough to stop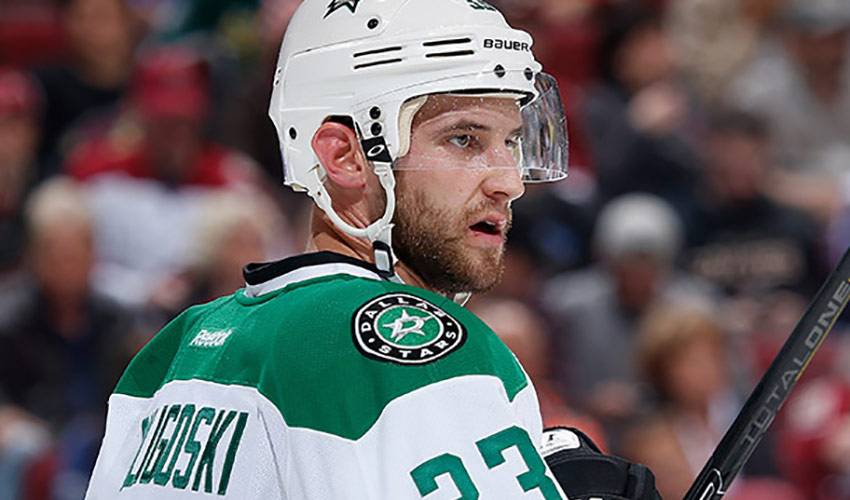 "I love the way we want to play the game. We want to control the puck, play fast and make teams uncomfortable." Alex Goligoski and the Dallas Stars put together a phenomenal regular season. Now, they've set their sights on a much bigger prize.
They hold the Western Conference's No. 1 seed, posted 50 wins and 109 points in 2015-16. The Central Division champs came into the playoffs holding a hot hand, winners of eight of their last 10 games.
It's all even sweeter considering that last year around this time, the Stars were sitting on the sidelines when the Stanley Cup chase started.
"I think our team plays with a little chip on our shoulder," said Goligoski, who has been one of many bright spots for Dallas in 2015-16. "Missing the playoffs was a huge disappointment for the group we had last year. We have a really competitive group of guys."
While team confidence is high, so too is the understanding of what it will take to achieve their ultimate goal.
Utilizing the blueprint that resulted in ruling the roost in the West, Goligoski noted, is imperative.
"I love the way we want to play the game," said the alternate captain and veteran of 562 NHL games. "We have a lot of dynamic players, creative players that want to make plays. There's always that fine line, but in such a long season, I think sometimes too much structure can take away from growth. Our coaches have been great at both allowing our group to explore a little bit and also reeling us in when we've needed it. It's made us a better team today."
Goligoski, who has been with the Stars since a trade in early 2011, is playing some of the best hockey of his career. The Minnesota native played in all 82 regular season games, where he contributed 36 points and posted a career-best plus-21 rating.
What's the secret to his success?
"That's a tough one," admitted Goligoski. "I think it's a combination of things. I've been extremely fortunate to be healthy. I've learned from and played alongside some phenomenal people, players and coaches. I think experience is invaluable if you can take a lot from it. For myself, the more I play against a certain player, team, coach, the better I feel. I think being able to gather information and recognize tendencies can really help you grow as a player, especially a defenceman."
The 30-year-old, who has skated in 27 career post-season contests, is hoping it all adds up to a championship campaign.
"Everyone came into training camp this year really motivated," said Goligoski, who had a goal in Dallas' 5-4 win on Sunday, a victory that moves them on to round two of the Western Conference Playoffs. "We put together a great regular season and we couldn't wait for the post-season to get going."