Ward For The Win
Clutch playoff performer Joel Ward had two goals in Game 6 to help the Sharks reach the Stanley Cup Final for the first time in their history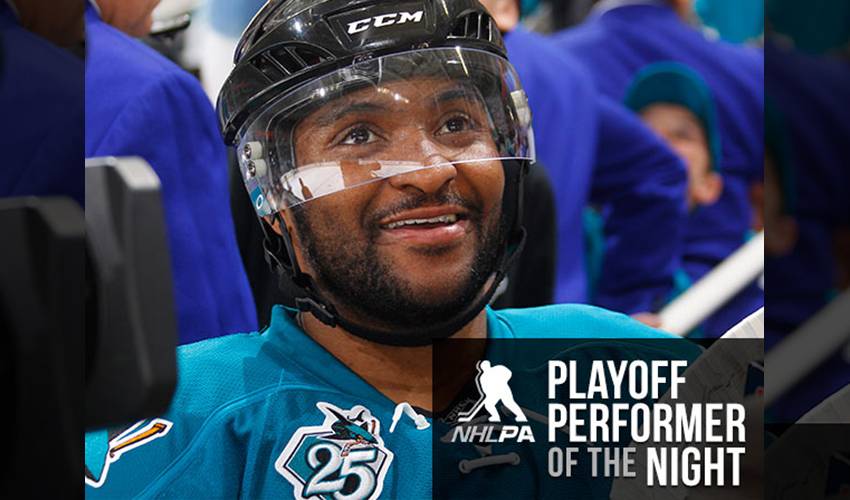 Joel Ward skates away with PPOTN honours after helping lead San Jose to a 5-2 win over St. Louis in Game 6 of the Western Final, as the Sharks now swim off to the Stanley Cup Final.
The versatile veteran netted two goals in the victory, scoring one in the second period and another in the third.
STAT PACK: Ward recorded two shots, was a plus-2, blocked two shots, had two takeaways, and took 24 shifts in 16:09 of ice time.
DO YOU KNOW THE WAY TO SAN JOSE?: "I'm a big believer that if you're a clutch playoff performer, that's something that's a gift," said head coach Peter DeBoer, of Ward. "That doesn't go away. I had Mike Richards. He was that type of guy. I've had different guys over the years that have had that ability, and that's not a flash in the pan. That's something that consistently they have the ability to rise to the occasion this time of year. The playoffs fit him. He's a big, heavy guy. I don't think it was any secret, this roster here, considering L.A., Anaheim, St. Louis, we had to get bigger, heavier, harder to play against so that we could play this time of year. Everybody that Doug (Executive Vice president and GM, Wilson) brought in had some of those types of characteristics."
WAY TO GO, WARDY: "Ward is just a big-time player," said Joe Thornton. "Last year when I was watching the post-season, Wardy was a huge part of Washington. I think they miss him this year. You saw again tonight, when the game gets a little bit more important, Wardy always shows up and has a big game."
ZEAL IN TEAL: Ward's two tallies, including his fourth career game-winning goal in the postseason, enabled him to register consecutive multi-goal games for the first time in his NHL career (regular season and playoffs). Prior to Game 5 and 6 of the 2016 Western Conference Final, Ward had only recorded one other multi-goal game in his previous 69 career playoff contests (also Game 5 of 2011 CSF at VAN: 2-1-3 w/ Nashville).
UP AND ADAM: Ward's hockey idol was former New York Rangers forward Adam Graves. "He was just a player that I gravitated towards, a guy that might have been somewhat unheralded," said Ward, of the two-time Stanley Cup winner who skated in over 1,100 NHL games. "I've always had an appreciation for the unsung hero types, the athletes that might not always get the recognition they deserve."
P.E.I. PROUD: Ward spent four years at the University of Prince Edward Island where he earned a sociology degree and played hockey for the Panthers. "I always felt that there was a need for good two-way players and over time, it's something I've taken a lot of pride in, to be responsible in your own end, to make a play that can create another positive play, whether it's a scoring chance or using the boards to clear the zone."
WHAT'S FOR DINNER?: "In a lot of ways, it seems like yesterday," said Ward, of his university life. "To this day, I'll talk to my buddies that I went to school with and we still get a kick out of those times, pushing a grocery cart around the store, figuring out what we would eat for the week. I always love looking back at those days."
NICE START IN NASHVILLE: Ward scored his first NHL goal in his first game with the Predators, on October 10, 2008.
GOAL RUSH: In 2014, playing for Team Canada at the World Championships, Ward began on the fourth line, but moved up and saw more ice time as the tournament progressed. In eight games, he had nine points. Six were goals.
THREE CHEERS: On November 1, 2013, Ward scored his first career hat trick, as the Washington Capitals beat the Philadelphia Flyers 7-0.
HAPPY BIRTHDAY: Ward shares the same birthday (December 2) as NFL quarterback Aaron Rodgers, pop singer Britney Spears, actress Lucy Liu, and former tennis star Monica Seles.
HONOURABLE MENTIONS: Logan Couture had one goal and two assists for the Sharks. Patrick Marleau had two helpers and Brent Burns was a plus-4 for San Jose. Vladimir Tarasenko had both goals for the Blues.