My Top 5 | Jordan Martinook
Which Adam Sandler flick made the cut, which Will Ferrell movie makes him laugh the most, and what 1977 hockey classic has he seen more times than he can remember? Grab some popcorn and check out this week's edition of My Top 5.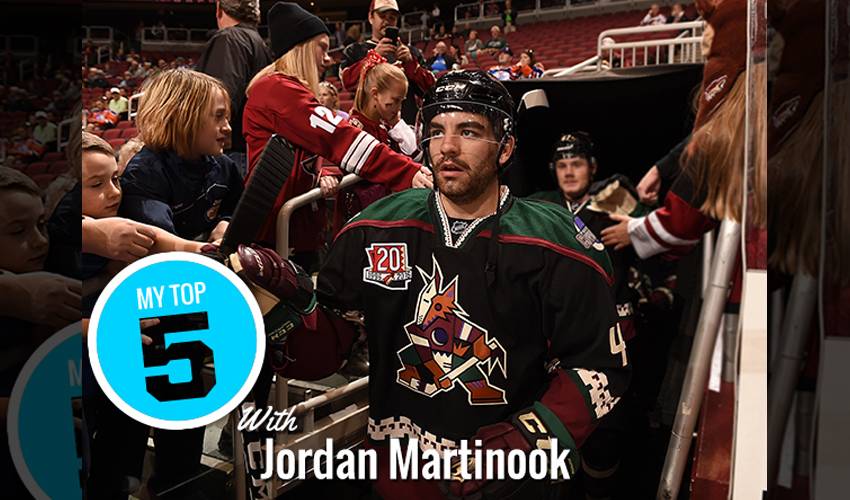 His first NHL goal happened to be a game-winning tally, in Arizona's 2-1 win over Pittsburgh on October 10, 2015. When the former Vancouver Giants alumnus isn't patrolling left wing for the Coyotes, he loves to kick back and watch one of his all-time favourite movies.
My Top 5: Jordan Martinook
1. Brother act
"I really enjoy watching Step Brothers. It's just a great comedy. I bet that I could quote 90 per cent of that movie. All the one-liners and the way Will Ferrell and John C. Reilly play of one another – it's awesome."
2. Are you ready for some football?
"I like Varsity Blues a lot. I enjoy sports movies and that one would rank right up there with the best ones I've seen. It has a little bit of everything in it."
3. There's a catch
"I'm a big fan of the movie Catch Me If You Can. I'm also a big fan of Leonard Di Caprio and he was excellent in that movie. "
4. The good old hockey game
"I couldn't tell you how many times I've seen Slap Shot. Even in Pee Wee hockey – we were watching it on the bus – and the parents were wondering why we were watching it. Just a classic movie. It's the best hockey movie of all time."
5. Tee it up
"Happy Gilmore is one that makes you laugh right from the start. I've seen that one more times than I can remember, too."