Eaves fitting in with Ducks
New teammates. Beard barbs. Cy Young digs. Patrick Eaves is fitting in just fine in Anaheim.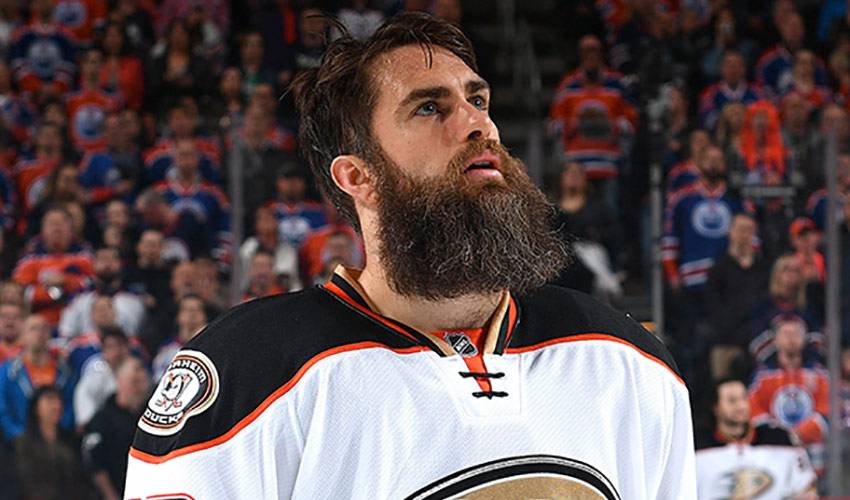 New teammates. Beard barbs. Cy Young digs. Patrick Eaves is fitting in just fine in Anaheim.
Dealt from Dallas to the Ducks on February 24, Eaves, an 11-year veteran, didn't have to wonder too long about how he'd fit in with his new team.
In fact, all he had to do was look at his phone right after the trade was announced.
"Right after I got traded, I started receiving texts from guys," said the 32-year-old forward. "I grew up playing with Ryan Kesler in the U.S. program (they were part of the team that won the 2004 World Junior Championships) and it was awesome to reunite with him. He texted me right away. Then Ryan Getzlaf, Kevin Bieksa and a lot of the other guys started texting, saying, 'Can't wait to see you.' That made me feel really comfortable. I've been playing against Getzy and Perry since we were teenagers, and now I get to play with them. Being welcomed that way was a nice start."
Eaves first opportunity to meet his new teammates face-to-face came on the road before a game against a state and conference rival.
"We had an afternoon game in Los Angeles, so I got to meet the guys at breakfast," said the veteran of 624 NHL regular season games. "It was just a very easy situation to walk into. That makes everything a lot better. It's a big unknown when you are traded. But everyone made it so easy. I was very fortunate. It was an easy transition. If you can get comfortable early, it transfers right over."
And that's precisely how things have played out.
After a 4-1 loss in his Ducks debut, Eaves recorded two goals and two assists in the next three games. In 20 games with Anaheim, he's lit the lamp 11 times and added three assists.
His efforts haven't gone unrecognized by his teammates, who have on occasion taken to calling him Cy Young, a reference to a hockey player whose goal-to-assist ratio would make an impressive baseball pitching record.
"It's been brought up a couple of times, but I'll take it," said Eaves with a laugh. "That's never a bad thing. You must be doing something right, I guess."
His famous beard has also drawn some commentary in the dressing room.
Eaves, however, holds a decided advantage heading into the playoffs, a time when players put their razors away.
"A couple of the guys are working on it," he noted. "They give me crap a little bit, but it's all in good fun. The younger guys are working really hard at it, but they're not quite there yet. I'll keep an eye on them."
His main focus, however, will be in helping the Ducks in their quest to hoist the Stanley Cup.
"It's a really-tight knit group," said Eaves. "It's a nice mix of veteran guys and really young, talented players. It's pretty cool to see the relationship between the veterans and the young players. I noticed it right away."
There's no doubt Ducks players have taken notice of the beard-sporting, goal-scoring winger, the one who's sometimes known as Cy Young.