Torey Krug Sticks to Academic Game Plan
"I was only in the principal's office one time and that was in the third grade because of a competitive game at recess," said the recent Michigan State University graduate Torey Krug while recalling his younger academic days.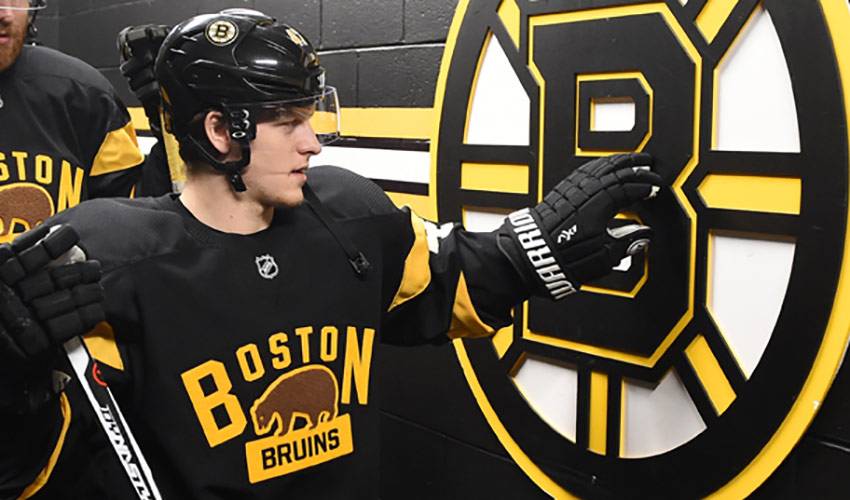 Whether it's earning his stripes at the NHL level or earning his college degree, Torey Krug deserves top marks for perseverance and commitment. There was a point in time when the young man from Michigan wasn't sure a big-league hockey career was in the cards.
What Krug did know, however, was that a good education was a must. He reminded himself of that throughout his time at Michigan State University, where he enrolled as a finance major and pre-law student eight years ago.
It only took 7 years, but I finally graduated from @michiganstateu. #studentathlete @MSU_Hockey thank you to those that made it possible

— Torey Krug (@ToreyKrug) May 5, 2017
When the Boston Bruins signed him as a free agent in 2012, the scholastic game plan changed. But Krug's commitment to one day netting a degree remained the same.
"I guess from a hockey career standpoint, nothing was ever given to me," said the defenceman, who played three seasons for the Spartans, winning CCHA Player of the Year honours in 2012 while being named a finalist for the Hobey Baker Award. "It was something that was always earned. I was committed to the process. When I went to Michigan State, I was committed to earning my degree. I wasn't just going to go and take anything for granted."
And Krug didn't.
As he got closer to attaining his degree, Krug's Boston teammates began to take notice.
"During the season, when they realized I was taking classes – I obviously wasn't going around announcing it – and they saw me reading on the bus or plane, they wanted to know what was going on and they'd ask," he recalled. "Throughout the season, there was a little bit of love."
And when he told his family and announced on Twitter that he attained his political science degree (he originally enrolled as a finance major), the love grew.
"I'm number three out of four in my family in terms of age – there are four boys," noted Krug. "I was the last one to graduate. It's exciting for my parents to see that. It was a great for our family. All four boys have graduated. My dad (Kyle) is really proud. My mom (Cheryl) is the one that me made promise to finish. My wife Melanie – I went to school with her at Michigan State – really helped to keep me motivated through all of this. Everyone in my social circle knows the commitment that it's taken to get to this."
Krug admitted he was caught off guard by the response he received after taking to social media.
"You don't realize how many people it touches and how many people it might inspire," said the 26-year-old, who has skated in 322 NHL regular season games. "There were a lot of retweets and replies when I posted it on Twitter. I received a lot of great messages. One said, 'I'm in community college and struggling to finish, but I'm going to continue to pursue it.' There were a lot of messages like that. You realize you can help push people to achieve their goals in life. For me, it's pretty cool to see that. I didn't realize the weight that it carried with so many people. It took off and it really took me aback."
Would Krug, who graduated high school with a 4.0 GPA, term himself a model student?
"I was a smarty pants and the teachers always loved me," he said with a laugh. "Things came naturally for me in high school. It was a shock when you get to university because of the time management you need to succeed and how thorough you need to be. I was only in the principal's office one time and that was in the third grade because of a competitive game at recess."
Coming off his best season, offensively speaking, Krug is grateful for the chance to play the game he loves. He's just as happy to have a degree that was seven years in the making.
"Just like my hockey career, I was committed to taking it (education) to the next level."