Krug settling into St. Louis ahead of Blues debut
Torey Krug is settled in and ready to make his debut in St. Louis as a new member of the Blues.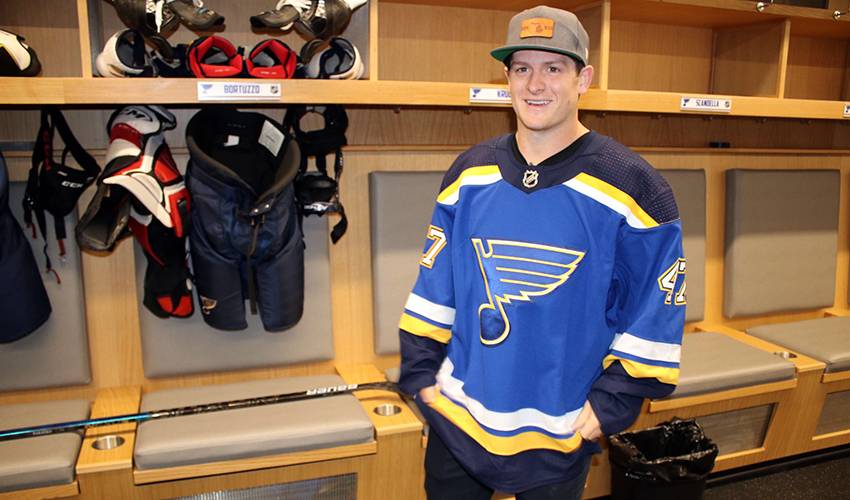 Feature photo: @stlouisblues
---
Torey Krug's first road trip as a member of the St. Louis Blues, just happened to be to St. Louis.
He was up at five in the morning and on the road not long after, driving from his former NHL home in Massachusetts to his new NHL address in Missouri.
Along for the ride was Fenway, the family's English bulldog, as well as a carful of boxes that carried assorted items for the Krugs' new digs.
"I was excited to get there and get to work," he told NHLPA.com. "Fenway, she's alright, but she was a little uncomfortable I think because the car was jam-packed with stuff. She didn't have all the room that she wants."
While it was cramped quarters for the long drive, Krug, who signed a seven-year deal with the Blues, is already feeling comfortable as a member of the Western Conference club that claimed the 2019 Stanley Cup.
He's not the only one.
"When I was driving, I was really excited about just getting there, the thought of creating a new home for my wife [Melanie] and our daughter Saylor. We're doing well. The pandemic has allowed me to be at home during these developmental times so I could watch Saylor grow. She's a fast learner, she's eager and she's adventurous, so it's been nice to be home over that time. The last little while in Boston, we were just trying to enjoy the city. Now, we're excited about being in a new place."
It seems his new teammates feel the same way when it comes to having Krug in the fold.
The defenceman has already spoken with several Blues players.
"I've actually heard from most of the guys, whether it's been through text messages going back and forth. I've also talked to a few guys on the phone. I went to St. Louis a month or two back, and actually met up with some of the guys that were still there. We had the chance to get to know one another a bit. I'm really excited. I think it's going to be a very good fit, personality-wise. I seem to be cut from the same cloth as the guys. I'm in the same age group as a lot of the guys who are in their prime."
The similarities don't stop there.
"On the ice, the Blues and the Bruins are almost a mirror image of one another. I'm hoping it's a seamless fit."
Although he's no longer with the Original Six squad, the 29-year-old blueliner can count on having support from one of his biggest fans.
Liam Fitzgerald, who has come to be known as "Fist Bump Kid," was born with Down Syndrome and diagnosed with cancer when he was just three years old.
Six years ago, a video of Liam fist-bumping Bruins players received widespread play on social media.
Krug has developed a close bond with the Boston superfan, now cancer-free, and penned a heartfelt letter to his friend after he signed with St. Louis.
"When he walks in a room, he just takes it over. The love just pours out of his heart. He's a very happy kid and he loves everybody. That's very apparent after spending just one minute with him. He's one of my biggest fans and I'm one of his biggest fans. He's overcome so much in his life and he's continued to do that. He's a loving person. You just admire someone who loves so much."
Krug also appreciates what that friendship has taught him over the time they've known one another.
"I keep coming back to it – every time I talk about Liam, it's about how much he loves people. It goes to show that it's in our hearts. It doesn't matter who you are, what you do for a living, what your background is – we're all here to be the best person we can be, and to show love to others. I met Liam years ago, years before I became a dad. Just getting to know him has been really special for me."
Now that Krug, who has played all 523 of his NHL games with Boston, is in St. Louis to start the next chapter of his NHL career, he'll look to settle into his new home, and enjoy some more cherished time with his family.
"The first thing on out checklist was to get a Christmas tree to make our new place feel like home right away."
He'll also continue to dedicate time to up his dad game ahead of the NHL season, but Krug will soon get a chance to take to the ice with his new teammates after the NHLPA and NHL recently announced an agreement to play a 2020-21 regular-season schedule of 56 games.
"No matter much you sharpen those dad skills, you're never the mom," said Krug with a laugh. "The moms deserve all the credit. But I certainly enjoy the time I've had with my wife and daughter. Everything is great, both on and off the ice."