Bruins advance with 7-4 win over Maple Leafs in Game 7
The Boston Bruins didn't need overtime this time, and they didn't even need all four third-period goals to send the Toronto Maple Leafs home for the summer again.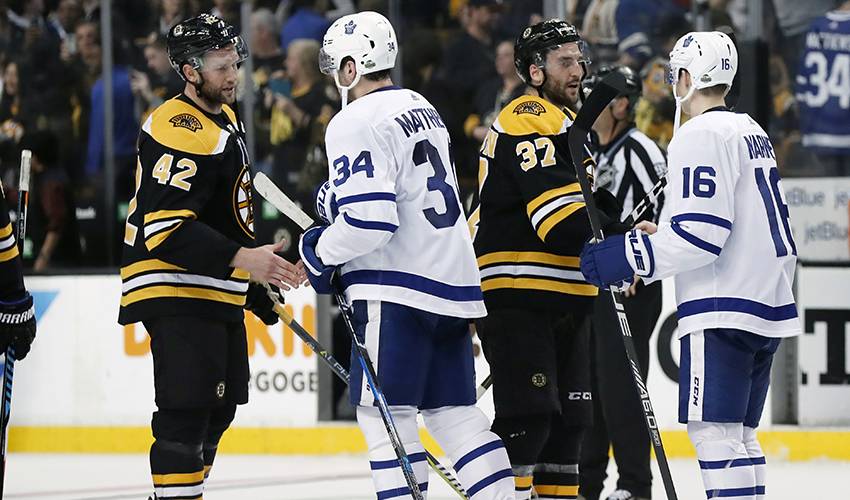 BOSTON — The Boston Bruins didn't need overtime this time, and they didn't even need all four third-period goals to send the Toronto Maple Leafs home for the summer again.
Five years after an unprecedented rally from a three-goal, third-period deficit to eliminate Toronto in Game 7 of their first-round playoff series, the Bruins scored four straight goals to beat the Maple Leafs 7-4 and advance to the Eastern Conference semifinals.
Rookie Jake DeBrusk scored twice, including the go-ahead goal with 14:35 to play . The Bruins will open the second round in Tampa Bay on Saturday against the Lightning, who finished off New Jersey in five games last Saturday.
"They've had some time to rest, and if they had any injuries, probably get a little healthier," Bruins coach Bruce Cassidy said. "But, that's the advantage of winning in five. ... But we are battle tested now, and we've got to bring that mentality into the next round."
Despite the final score, the teams were tied or separated by one goal for the first 51:59.
"For entertainment value, that was probably one of the better Game 7s you'll see," said Bruins goalie Tuukka Rask, who stopped just 20 of 24 shots. "It was only a one-goal game going into the third and we shut it down and scored some good goals."
Kasperi Kapanen put Toronto ahead 4-3 with a short-handed goal in the second. But Torey Krug tied it early in the third, and DeBrusk gave Boston the lead when he slid the puck through Frederik Andersen's legs right before being flattened by defenceman Jake Gardiner.
DeBrusk slid into the boards on his backside and didn't even have time to climb up off his knees before he was mobbed by teammates.
"Jake had a real coming-out party in the series," Cassidy said. "He scored going to the net, dirty areas. That's always the first thing: play inside, be willing to get hit, fight for your space. That's playoff hockey. They weren't freebies. They've been real greasy, as advertised."
David Pastrnak made it 6-4 with 8:21 to play, and Brad Marchand flipped one into the empty net with 51 seconds left to set off a celebration in the stands.
Danton Heinen scored his first NHL post-season goal, Patrice Bergeron had a goal and two assists, and David Krejci had three assists for the Bruins. In his first NHL post-season series, DeBrusk had seven points in seven games.
"Uh, it went pretty well," he said sheepishly. "Obviously, with the win it was special — something I'll never forget. I'll never forget this series just in general, first playoffs. I was really happy to contribute."
Andersen had 29 saves for the Maple Leafs, who have not won a playoff series since 2004. They came close in the first round in 2013, when they rallied from a three-games-to-one deficit against Boston and took a 4-1 lead in Game 7.
"It's always disappointing," said Patrick Marleau, who scored twice for Toronto. "Obviously, you're trying to win the Cup. To fall short once again, it's heartbreaking every time."
Notes: Bruins coach Bruce Cassidy, in his first full season on the Boston bench, was named a finalist for the Jack Adams Award as the NHL's coach of the year. ... Celtics Hall of Famer Tommy Heinsohn was the honorary fan banner captain, getting the crowd riled up before the game. ... The Bruins are 14-12 in Game 7s and Toronto is 12-11. ... Boston's Kevan Miller had two assists for his first multi-point playoff game.... Travis Dermott also scored for the Maple Leafs. ... The Bruins scored two 4-on-4 goals after matching penalties opened up the ice.
___
More AP hockey: https://apnews.com/tag/NHLhockey
Jimmy Golen, The Associated Press